Recessed TV boxes eliminate cable clutter near flat-screens
New from Legrand.
Feb 11th, 2014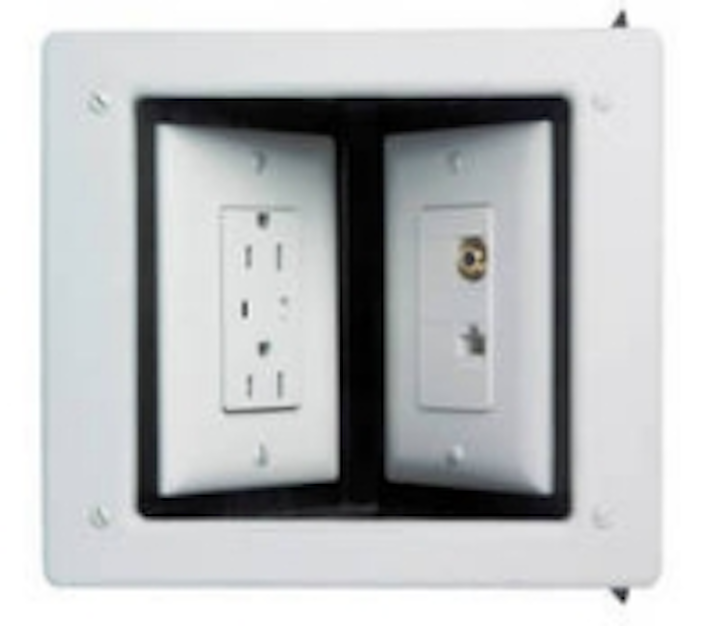 Legrand has announced the availability of its new Pass & Seymour line of recessed TV boxes. The boxes are intended for use with flat-screen TVs, reducing the clutter associated with a variety of cabling. Plugs and multimedia connections are conveniently recessed behind the wall surface. The company says the new boxes are designed to provide a snug-to-wall placement "for New and Old Work applications" in hospitality, education, commercial and residential environments.
Four versions of the Pass & Seymour recessed TV Boxes are available; these include one "New Work" box and three "Old Work" boxes.

-- The New Work boxes are aimed at new commercial construction projects. These two-gang boxes are constructed from factory-assembled steel and contain an integral 35 cubic inch electrical box. The product ships with an adjustable trim ring that is suitable for various thicknesses of wall board. There is no field assembly required.

Related product: Wall-mount enclosures suit new or retrofit installations

-- The Old Work boxes are designed for remodeling jobs updating spaces to take advantage of wall-mounted TVs in an existing wall. There are single-gang and three-gang models with metallic electrical boxes. They are available in kits that include surge-protection devices, wall plates, screwless finish plates and low voltage connectors. They have a molded-in rectangular cut-out template to make installation easy and fit in a standard 2x4 wall cavity.

"The new range of recessed TV boxes have steel electrical boxes that accept conduit, and all products are designed to fit in a standard 2x4 wall cavity," comments Thomas Roy Sr., product line manager, Legrand Electrical Wiring Systems division. "The TV2MW has a unique bracket that allows face or side mounting. This means that, if desired, two boxes could be mounted -- one on each side of the same steel stud."