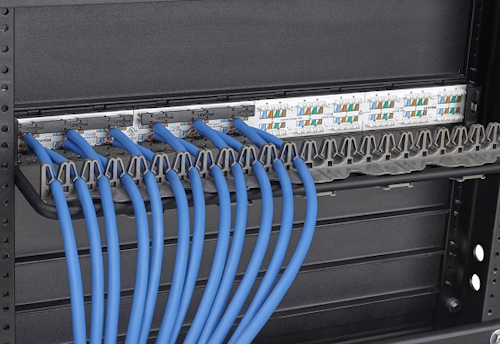 Leviton has introduced its new Cable Management Clip, designed to give installers faster, neater and more efficient management of their category-rated cable.
The Cable Management Clip (49005-CMC) attaches to the Leviton Standard Cable Management Bar (49005-CMB), which is included with Leviton Flat 110-Style and QuickPort Patch Panels. The clip easily snaps onto the bar without the need for tools and holds cables in place without requiring ties or wraps. The clip can support up to 24 cables, and is ideal for handling larger, heavier cable such as Category 6A.
Leviton's flat and angled 1RU fiber, UTP panels now support shielded Cat 8 connectivity
The company notes that the individual spring clips provide additional bend radius control and create a cleaner layout in dense installations. They also improve the visibility of labeling and legends on individual cables.
"Network cabling installers and IT managers require the right cable management in racks and cabinets to simplify maintenance, speed up installation, and create proper cable bend radius protection. The Cable Management Clip saves time and provides a simple way to manage individual cables on the rear of patch panels," comments Jennifer Yanni, product manager for Leviton Network Solutions. She adds, "When installing 24 cables, our tests find the clip to be 90 percent faster than securing cables individually with ties or fasteners, and 42 percent faster than tying down 6-cable bundles to a rear cable bar."
The Cable Management Clip is available through Leviton's extensive distribution network. To learn more, visit www.leviton.com/ns.