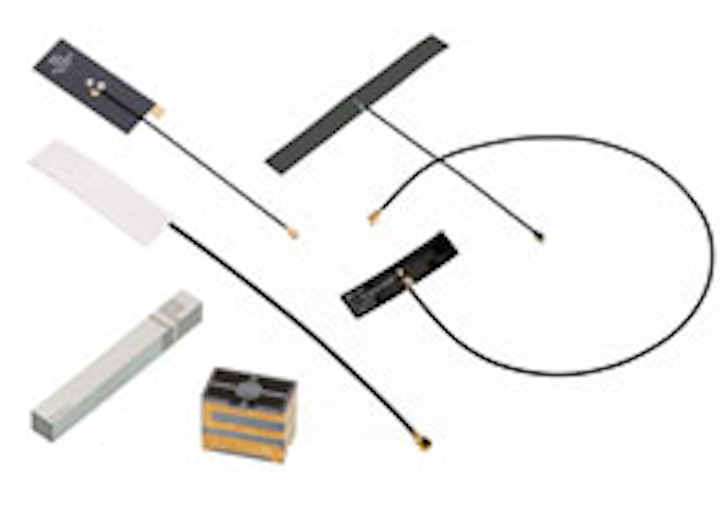 Heilind Electronics, among the top global distributors of electronic components and and authorized distributor for Molex, is now stocking a wide array of ready-to-use Molex antennas for use in IoT (Internet of Things) automotive, industrial and medical applications. As noted by the distributor, "With a growing number of devices relying on connectivity via wireless and Bluetooth technology, antennas are playing an integral role – particularly in the development of hardware across the ever- growing suite of IoT products in the consumer, commercial, industrial and infrastructure spaces."
Molex wins Chicago Innovation Award for Automotive Ethernet Platform
Molex designs and manufactures custom antenna solutions for a range of wireless and mobile applications, focusing on small multiband and complementary antennas employing MID/LDS, flex, stamped and ceramic technologies. The Molex portfolio of antennas on offer at Heilind incorporates the latest wireless technologies, including Bluetooth/Wi-Fi, GNSS, combo, cellular and NFC. The ready-to-use antennas are available in multiple form factors, offering systems design engineers space and cost-saving opportunities.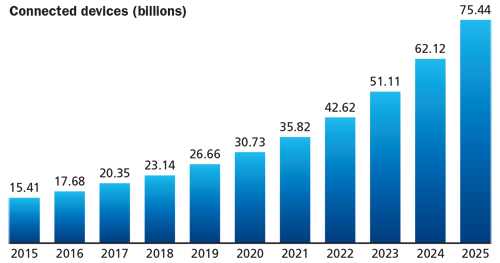 The above market projection graph from Statista indicates the staggering expected growth (CIM Jan. 2019 article follows) in worldwide connected devices through 2025. From 2018 to 2019 alone, the growth will be 3.52 billion devices.
Notably in the U.S., the FCC has developed a revolutionary method for enterprises to access cellular spectrum that is called Citizens Broadband Radio Service (CBRS). CBRS sets aside 150 MHz of radio spectrum for use by anyone. CBRS-capable infrastructure requests radio spectrum from a cloud service for use by the enterprise. This access method enables enterprises to build their own private LTE in a building or geographic area without negotiating leased access to radio spectrum from a service provider. Private LTE and, eventually, private 5G offer all the benefits of secure and mission-critical communications while allowing the enterprise the total control required in industrial IoT use cases.
Over the next few years, most smartphones and IoT devices are expected to feature CBRS-capable radios. Many enterprises are planning today for CBRS. Information about CBRS can be found at cbrsalliance.org.
Visit Heilind's website for more information about its Molex Antenna Portfolio.
Molex launches full data center solutions line