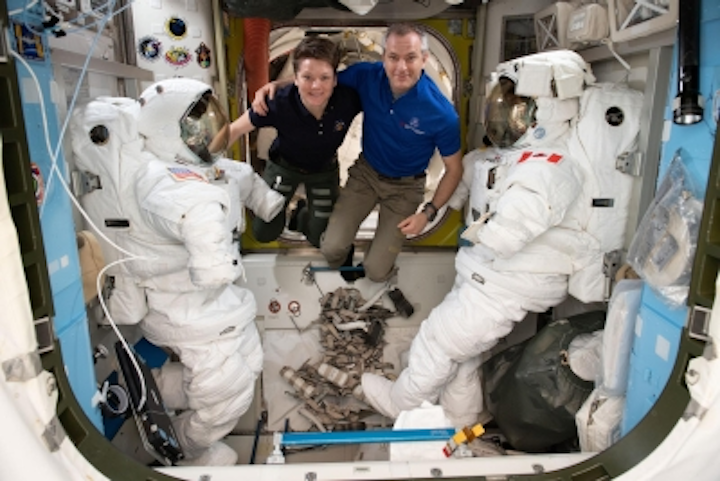 During a six-plus-hour spacewalk on April 8, U.S. astronaut Anne McClain and Canadian astronaut David Saint Jacques installed Ethernet cables on the exterior of the International Space Station to upgrade the wireless communication system on the ISS and to improve its hard-wired communication system.
The April 8 spacewalk was broadcast live on NASA TV. While McClain and Saint Jacques were performing the cabling installation, NASA TV's narrator described their activity. NASA Tweeted a video clip of the cable installation (embedded below) during which the narrator explained, "Saint Jacques and McClain are now at the U.S. lab and are working to get under the MMOD shield—that's the micrometeoroid orbital debris shield. They'll be de-mating and mating some cables to provide additional Ethernet to the International Space Station."
Also within the video clip Tweeted by NASA, McClain says, "I see the J1 connector; am I good to disconnect it?" The response is, "That's affirmative. You're good to disconnect the T1 from the J1."
Astronauts @AstroAnnimal and @Astro_DavidS translate on the truss structure working on upgrades to the power systems on the station. #AskNASA | https://t.co/cBNqC61h27pic.twitter.com/dugJRDV2Eo

— Intl. Space Station (@Space_Station) April 8, 2019
CBSnews.com's William Harwood reported on the April 8 spacewalk. Harwood explained, "McClain and Saint-Jacques planned to press ahead with work to connect [E]thernet cabling at the forward end of the station's Destiny laboratory module that will extend wireless connectivity for science instruments mounted outside the station."
The astronauts spent much of the six-plus-hour spacewalk replacing a faulty solar-array battery and installing backup power cables.