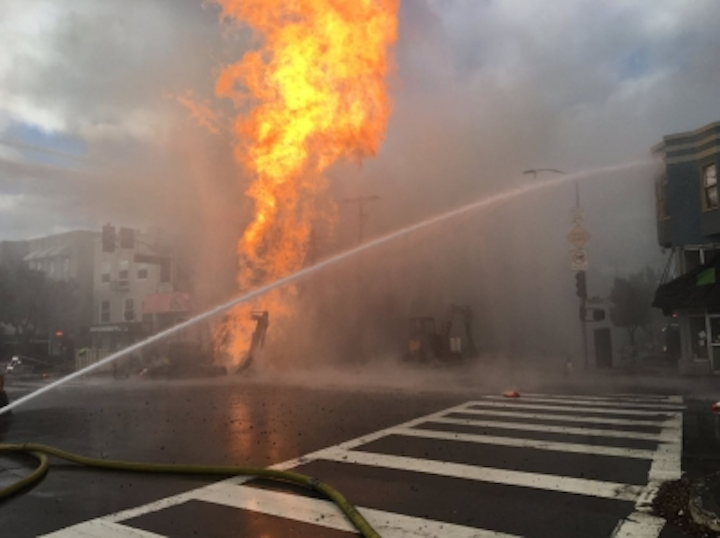 The National Transportation Safety Board (NTSB) is investigating how and why a crew installing fiber-optic cable ruptured a Pacific Gas & Electric (PG&E) gas line in San Francisco that caused an explosion on February 6. Several San Francisco media outlets reported that the explosion was caused by a subcontractor for MasTec, which was hired by Verizon to install fiber-optic cables in the city.
Nobody was injured in the blast, but it damaged or destroyed five buildings, including a popular restaurant, and the fire burned for multiple hours. The NTSB announced on February 6 it "launched a go-team to investigate the excavator-damaged PG&E natural gas main with the release of gas and subsequent ignition that led to fire."
According to reporting in the San Francisco Chronicle by J.D. Morris, Sarah Ravani and Gwendolyn Wu, the fact that an excavator severed the gas line could be crucial in the investigation. PG&E spokeswoman Andrea Menniti told the Chronicle that state law requires contractors to hand-dig within 24 inches of a gas line. The Chronicle also reported that MasTec named subcontractors Advanced Fiber Works and Kilford Engineering Inc. as companies that were involved in the excavation.
According to OpenGovUs, Kilford Engineering is a San Francisco entity that has been in business since October 19, 2018.
SFFD's Tweet from the scene on February 6:
#020619WF1 UPDATE MEDIA UPDATE AT 310 pm at Parker and Anza pic.twitter.com/AUBYCh1Ler

— SAN FRANCISCO FIRE DEPARTMENT (@SFFDPIO) February 6, 2019