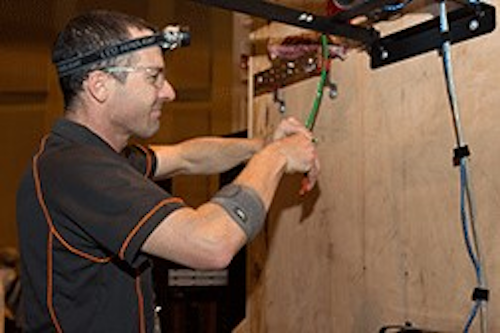 BICSI recently introduced its revamped information and communications technology (ICT) Cabling Installation Program. When announcing the revisions, BICSI said the goal of the program "is to produce highly competent cabling installers, providing a career path consisting of four progressive courses and credentialing exams. This approach allows students to begin with basic fundamentals and build upon that knowledge."
The four credentials offered through the program, are: Installer 1, Installer 2 Copper, Installer 3 Optical Fiber, and Technician. Installer 1 is a non-renewable certificate.
In its announcement, BICSI emphasized that the program implements a comprehensive training format, including talking points and discussion topics. Candidates in the program learn to conduct site surveys and install, terminate and test copper and optical fiber cable to the highest level of specification. Each course offers four-and-a-half days of intensive cabling installation training, followed by hands-on and multiple-choice credential exam. The program was developed by experts in the field and from information found in BICSI's Information Technology Systems Installation Methods Manual (ITSIMM), 7th edition.
BICSI's president, Brian Ensign, commented, "With our newly revised ICT Cabling Installation Program, BICSI is on the cutting edge of training for cabling installers and technicians. Individuals taking BICSI Installation courses can be certain they will be learning the most-advanced techniques in the industry, as well as the latest codes, standards and best practices. This program is the product of hundreds of hours of development, testing, knowledge-sharing and preparation from a very dedicated group of volunteers and staff members. I would like to sincerely thank them for all their efforts in making this program the best yet."
On its website, BICSI provides some detail on the curriculum for each course of study—including material on which candidates are tested, suggested study materials, course materials, and exam information. For example, BICSI says, "BICSI Installer 1 candidates are tested on their ability to understand and apply a comprehensive collection of installation-specific information. After achieving your Installer 1 designation, you will demonstrate your ability to successfully terminate various types of copper connectors; properly explain the importance of safety and professionalism toward optimal job performance; discuss pathways, spaces, bonding and grounding and firestopping; make decisions based on applicable codes, standards and best practices; choose the correct tool or methodology for specific tasks."
The association similarly describes the Installer 2 Copper, Installer 2 Optical Fiber, and Technician courses.
BICSI said courses are currently scheduled around the United States, including in Georgia, Ohio, Tennessee, Maryland, Washington, Oregon, and at the association's headquarters in Florida. "New locations are constantly being added," BICSI concluded.
You can find more information on BICSI's Cabling Installation Program here.