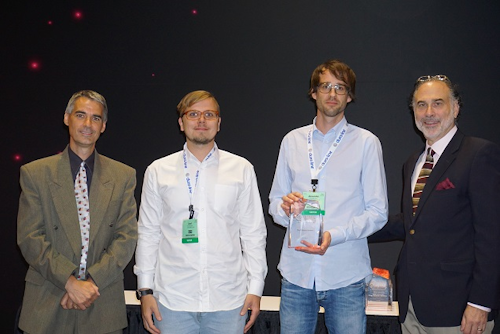 Josef Hofstaetter (second from L) and Alexander Geng (second from R), respective CTO and CEO of PATCHBOX GmbH, receive the 2017 Cabling Innovators award from Cabling Installation & Maintenance chief editor Patrick McLaughlin (L) and publisher Alan Bergstein (R).
PATCHBOX GmbH, a developer of tools and systems for organizing network cabinets, announced that its announced that its PATCHBOX system was recognized by the judges of the annual Cabling Installation & Maintenance Innovators Awards program. The awards were presented at the 2017 BICSI Fall Conference (Sep. 24-28) in Las Vegas.
PATCHBOX GmbH was honored with the judging's Gold-level award for its PATCHBOX network cabinet cabling solution. Per its website, the company contends, "The PATCHBOX revolutionizes patching and cable management in network cabinets. Today's biggest issue in keeping network cabinets tidy is mainly affected by cable over-length of patch cords. The exceeding amount cable gets tangled up in cable organizers or other cables, growing a messy cabinet over time and making it soon almost impossible to work with. The PATCHBOX is a patented, fully modular system that provides the user with the exact cable length needed - always! With its pulley system integrated into cassettes it is able to automatically pull back unneeded cable over-lengths. The result is an always neat and tidy cabinet, giving you an unrivalled overview of what is connected. This way PATCHBOX allows 10x faster maintenance compared to any other system on the market. Since it comes ready to install, there is no unnecessary unpacking of every single cable, no twisted cables and less waste, speeding up installations by a factor of 8. Because the PATCHBOX is modular it can be delivered in pre-defined color combinations of cables, offering companies with multiple branches or just several network cabinets a very easy way to standardize their IT infrastructure throughout the entire enterprise."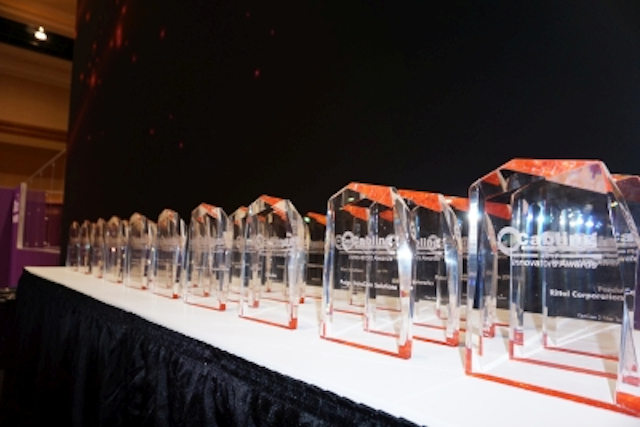 A total of 45 awards, in Silver, Gold and Platinum levels, were distributed to honorees in the 2017 Cabling Innovators Awards program. The program culminated with a ceremony at the BICSI Fall Conference on September 25.
"It is great to get honoured by our industry as one of the most innovative products on the market," commented Alexander Geng, CEO of PATCHBOX GmbH. "As we are serving IT guys ourselves, we understood the pain of cabling and maintenance, therefore it was easy for us to imagine what could improve our lives. Turning that imagination into a physical product has been a great journey and product design is a never-ending process. We already have new innovations in the pipeline that we are sure will benefit the entire industry."
Company and product entrants to the Cabling Installation & Maintenance Innovators Awards program were judged based on key criteria including: innovation; value to the user; sustainability; meeting a defined need; collaboration; and impact on the industy.
"The judging panel consisted of cabling and communications system specifiers, designers, integrators and managers with vast professional experience," said Alan Bergstein, publisher of Cabling Installation & Maintenance. Bergstein added, "This prestigious program allows Cabling Installation & Maintenance to celebrate and recognize the most innovative products and services in the structured cabling industry. Our 2017 Honorees are an outstanding example of companies who are making an impact in the industry."
The 2017 Cabling Installation & Maintenance Innovators Awards Honorees will be featured in the November Issue of Cabling Installation & Maintenance magazine, as well as on http://www.cablinginstall.com.
Search the Cabling Installation & Maintenance Buyer's Guide for companies, new products, press releases, and videos: