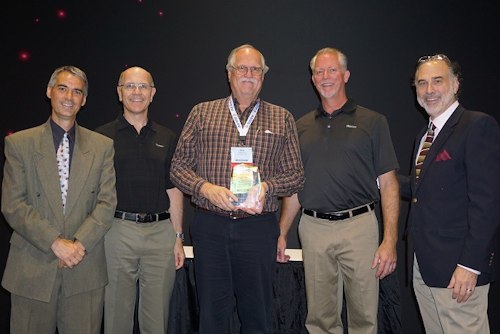 (From center L to R) Panduit's Dennis Renaud, vice president, enterprise business; Ron Nordin, director of research; and Mike McGrath, director, product management and engineering, receive the company's 2017 Cabling Innovators awards from Cabling Installation & Maintenance chief editor Patrick McLaughlin (L) and publisher Alan Bergstein (R).
Panduit (Tinley Park, IL) announced that its OptiCam 2 Fiber Termination Tool, which the company contends "revolutionizes fiber termination by providing a calculated insertion loss," was awarded a Platinum-level honors in Cabling Installation & Maintenance's annual Cabling Innovators Awards. The awards were presented on September 25 at the 2017 BICSI Fall Conference (Sep. 24-28) in Las Vegas.
The Platinum award is one of four awards Panduit received in the 2017 competition. Additional awards included the company's:
• Angled termination solution for terminating jacks and field term plugs – Gold honoree
• Center for Education and Economic Development project in Mission, Texas – Gold honoree
• HD Flex Fiber Cabling System – Silver honoree
The Platinum-winning OptiCam 2 tool was launched earlier this year by Panduit, a leading global provider of network infrastructure solutions. The simple-to-use tool helps fiber installers by making fiber terminations fast, easy, and foolproof. An on-tool screen walks users through a simple three-step termination process and delivers a calculated insertion loss so installers immediately know they have a good connection. A companion mobile app captures and delivers robust project data.
The Angled Termination Solution, recognized with a Gold award, is anchored by an angled wire termination cap which simplifies the termination of bulky cable in tight spaces, such as office furniture, raceway and outlet boxes. It also helps with managing cable bulk on the back of a patch panel. The angled termination caps can be used with Panduit TG-style jacks and will soon be available for the recently introduced Field Term Plug.
The company's other Gold award went to a Mission, Texas, project: the Center for Education and Economic Development (CEED), in conjunction with Frontera Consulting of McAllen, Texas. CEED is a business incubator, housed in an innovative connected building, with technology supported by a Panduit infrastructure.
Capturing a Silver award was Panduit's HD Flex Fiber Cabling System, a high-density fiber enclosure that routes more fibers in a smaller space, while simplifying cable management.
"Innovation is the foundation of everything we do at Panduit, so it is rewarding to be recognized by the structured cabling industry as innovators," said Andy Stroede, senior vice president of research and development at Panduit's Jack E. Caveney Innovation Center. "Our collaboration extends beyond the walls of Panduit, so we have in-depth insight into the issues and challenges that our customers and partners are facing, and we delight in finding innovative solutions for those issues."
Alan Bergstein, publisher of Cabling Installation & Maintenance said, "This prestigious program allows Cabling Installation & Maintenance to celebrate and recognize the most innovative products and services in the structured cabling industry. The judging panel consisted of cabling and communications system specifiers, designers, integrators and managers with vast professional experience. Our 2017 Honorees are an outstanding example of companies who are making an impact in the industry."
Criteria used in the Innovators Awards ranking included: innovation, value to the user, sustainability, meeting a defined need, collaboration and impact. The 2017 Cabling Installation & Maintenance Innovators Awards Honorees will be featured in the November Issue of Cabling Installation & Maintenance magazine as well as on http://www.cablinginstall.com.
Search the Cabling Installation & Maintenance Buyer's Guide for companies, new products, press releases, and videos: