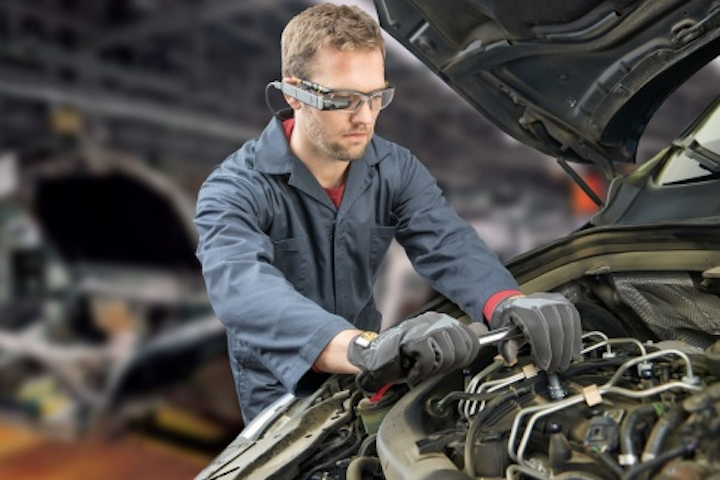 Toshiba's Client Solutions Division (CSD), a division of Toshiba America Information Systems, Inc., announced the availability of Atheer's AiR Enterprise software on Toshiba's dynaEdge AR smart glasses solution, enabling the company's first AR workflow solution utilizing Windows 10 Pro. The companies say the combined solution provides powerful task-by-task guidance for field, engineering, manufacturing, service and support workers.
"From the start, our goal was to provide enterprise companies AR solutions that increased the productivity of their workforce and improved business outcomes," comments Carl Pinto, vice president, marketing and engineering, Client Solutions Division, Toshiba America Information Systems, Inc. "When paired with Atheer's AiR Enterprise software the dynaEdge AR Smart Glasses deliver a complete solution for improved efficiency, quality and operating flexibility for field workers."
As Toshiba's first completely wearable AR solution, the dynaEdge AR Smart Glasses product combines the power of a Windows 10 Pro PC with the robust feature set of industrial-grade smart glasses. Toshiba's new AR solution includes the dynaEdge DE-100 Mobile Mini PC, dynaEdge AR100 Head Mounted Display (HMD), Lens-Less Frame, USB-C Cable with Cable Clip and carrying case.
Toshiba says it developed its dynaEdge AR Smart Glasses solutions to meet the performance demands of enterprise workplaces through the adoption of Intel Core Processors, Intel HD Graphics and Intel Dual Band Wireless-AC 8260 802.11ac Wi-Fi. These technologies allow enterprises to easily integrate the Toshiba AR solution into their existing infrastructure.
AiR Enterprise is billed as an enterprise-class Augmented Reality application designed to connect an organization's physical and digital workspaces and allow desk-less workforces to operate smarter, faster and safer. Per a press announcement, Atheer AiR Enterprise software delivers the following capabilities:
Multi-modal interactions including voice commands
Author procedures, checklists and step-by-step task flows with simple drag-and-drop
Checklist creation, delivery and recording for compliance and reporting
Barcode scanning
Remote expert guidance with annotations
Multi-device usage with user profile management
Database and application integration
Cloud-based for easy deployment and management
When installed on the Toshiba dynaEdge AR Smart Glasses, customers can expect increased productivity, reduced downtimes, improved accuracy and quality.
"We are delighted to be shipping Atheer on the dynaEdge AR Smart Glasses and look forward to serving enterprise customers with this unique and powerful Windows 10-based augmented reality solution," said Atheer chief operating officer Amar Dhaliwal. "We know that there is significant – and growing demand – from enterprises for augmented reality that can solve real, business problems using proven technologies from trusted suppliers. We are honored to be Toshiba's strategic partner in helping to meet that demand."
Customers interested in purchasing the dynaEdge AR Smart Glasses with Atheer AiR Enterprise software should contact their Toshiba sales representative or email the company at smartglasses@toshiba.com.