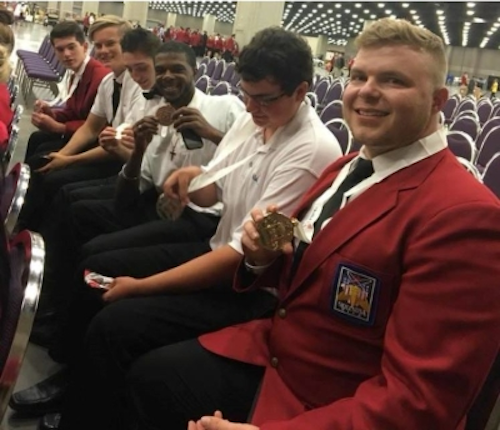 During the SkillsUSA National Leadership and Skills Conference, held in Louisville, KY in June, the Electronics Technicians Association (ETA) sponsored the Telecommunications Cabling Championships. It was the ETA's 14th consecutive year sponsoring the "Tcom Cabling Championship." Competitors were students from secondary (high school) and post-secondary schools. The ETA said it continues to sponsor the competition "to reward students for excellence, to involve industry in directly evaluating student performance, and to keep training relevant to employers' needs." The ETA also pointed out that the competencies and hands-on skills on which competitors are assessed, are part of the association's Data Cabling Installer and Customer Service Specialist certifications. "The Tcom Cabling contestants are high school and post-secondary students interested in voice and data network cabling and installation who excelled at their local and state competitions," the ETA stated.
Contestants demonstrated skills in fiber and copper cable termination, pulling and mounting cable, patch panel installation and termination, installing jacks, testing and troubleshooting cable, and providing customer service. "Both copper and fiber-optic cable are represented, and the contest stresses safety in all activities," the ETA said. "This competition tests to worldwide industry standards related to cabling for data and voice connections, physical and logical networks, and signal transmission.
"The contests are planned by the Skills Technical Committee and designed to test the aptitude needed for successful entry-level performance in the field. The National Education Team and the Technical Team from industry developed the Tcom Cabling Championships content, built and set up the rotation areas, as well as conducted both orientation and competition. All contests are run with the help of industry, trade associations, and labor organizations, while test competencies are set by industry."
Pictured at the top of this page are the gold, silver, and bronze medalists from the secondary and post-secondary categories. They are, left-to-right: secondary gold medalist Donovan Tames, Blackstone Valley RVTHS, Upton, MA; secondary silver medalist Mason Brown, Paso Robles High School, Paso Robles, CA; secondary bronze medalist Hunter Casteel, Dennis Technical Education Center, Boise, ID; post-secondary gold medalist Jacob McGonigle, Tennessee College of Applied Tech-Crossville, Crossville, TN; post-secondary silver medalist Gavin Ginn, North Central Kansas Tech College, Beloit, KS; post-secondary bronze medalist Steven Casimir, Orange Technical College, Mid-Florida Campus, Orlando, FL.
Members of the national technical and educational committees for the Telecommunications Cabling Championships were Bill Phelps, Dymo (co-technical chair); Teresa Maher, ETA International (co-technical chair); Dede Starnes, Corning Optical Communications; Richard Darnell, retired; Brandon Crump, Stanly Community College; and Jeff Swaringen, Stanly Community College.
Judges were Jim Steel, Amatrol; Wayne Rager, Bland Technologies; Bryan Little, Corning Optical Communications; Mark Damiter, Corning Optical Communications; Richard Darnell, retired; Richard Booth, Empire High School (AZ); and Paul Neukam, SiteWise Systems.
The ETA also acknowledged the support of the following contributing organizations: Dymo, Corning Optical Communications, CWA, Panduit, Fluke Networks, Cisco, Greenlee Tools, Ideal Tools, International Wireless Communications Expo, Kobalt Tools, Light Brigade, Keysight Technologies, Southwire, Milwaukee Tools, Wiley Publishing, Bland Technologies, Klein Tools, and BICSI.