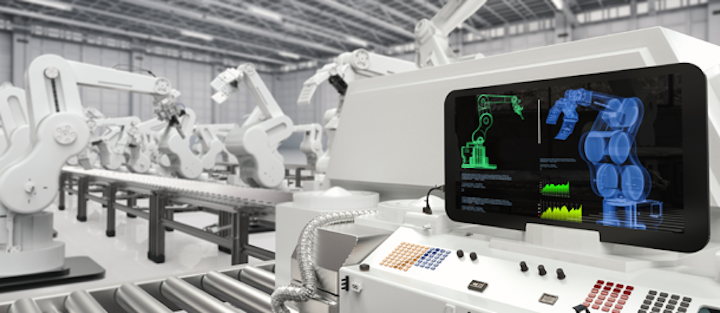 By NATHAN HULL, The Leviton Blog -- When asked to describe a typical factory floor, most people conjure images of assembly equipment and highly automated technology — something like robotic arms on a car production line. This type of computer driven operation is an example of the third industrial revolution, introduced in the latter half of the 20th century. It followed the second revolution in the 19th century, which introduced electricity and mass production, and the steam-powered first revolution of the 18th century.
Experts agree we are now entering the fourth industrial revolution — often called "Industry 4.0." This new revolution is ushering in the digitization of the factory, with "smart" technologies and sensors that can transmit data, allowing operations to be more efficient, flexible, and competitive. This transformation means that networks — and the infrastructure behind them — take on an even more critical function across a wide range of industrial operations.
Industry 4.0 was originally coined by the German government to describe next steps in developing the factory of the future. The European Union defines Industry 4.0 as "the organisation of production processes based on technology and devices autonomously communicating with each other along the value chain: a model of the 'smart' factory of the future where computer-driven systems monitor physical processes, create a virtual copy of the physical world and make decentralised decisions based on self-organisation mechanisms."
IT Infrastructure Requirements
When adopting Industry 4.0 initiatives, one of the big challenges is building the right IT infrastructure to support so many connected devices across the plant. Networks must be fast and reliable to handle near real-time data, and connectivity infrastructure must be able to adapt and scale to handle greater bandwidth demands through medium- to long-term changes.
There's a lot to unpack in that definition, but in a nutshell, Industry 4.0 includes some fundamental changes that help companies become more efficient and competitive. These include:
Capturing real-time information from the factory floor and along the supply chain, using sensors, energy meters, and the Industrial Internet of Things (IIot)
Big data, analytics, and added intelligence like machine learning and AI
3D printing and fast conversion from digital to physical
Augmented Reality and other new methods of human-machine interaction
For most businesses, this type of digital transformation will be incremental. Many experts predict as much as 40 to 50 percent of machines will need to be replaced, so most plants have started to selectively implement these initiatives. A 2016 survey of 750 production managers by Boston Consulting Group found that 74% have implemented or plan to implement within the next five years elements of the "factory of the future."
Many industrial operations are more likely to use on-premises private cloud for data storage, partly for security reasons, but also to better support Industrial Internet of Things (IIoT) applications. According to F5 Networks, areas using IIoT apps are one of the top candidates for using on-premises private cloud footprints, as the large volume of data that industrial devices transmit requires closer proximity to where the data will be processed.
Wireless LAN networks will play a larger role in transmitting production data. These networks will require high-performance cabling systems like Category 6A to prepare for future expansion and support for high-power PoE applications. Industry standards recommend Category 6A for new wireless installations, as it is ideal for 802.11ac and future 802.11ax wireless technology.
Assistance with next-generation industrial networks
Leviton's experienced specification engineers can work closely with customers to understand their plant-wide network requirements and ensure they are prepared for the factory of the future. Learn more at Leviton.com/specteam.