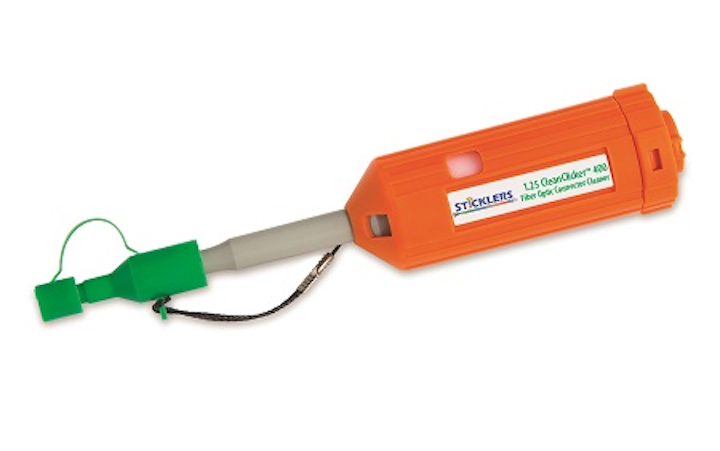 Sticklers, a supplier of fiber-optic cleaning products and unit of MicroCare Corp., is expanding its fiber cleaning portfolio with the introduction of new tools and cleaners, which will be presented to industry for the first time at the BICSI Winter 2018 conference in Orlando, Florida from February 4-8. The three newest additions to the Sticklers family of cleaning products include: a compact end-face cleaning tool; a new type of lint-free wipe that cleans duplex connectors with one pass; and a new package size for the company's popular Fiber Optic Splice & Connector Cleaning Fluid.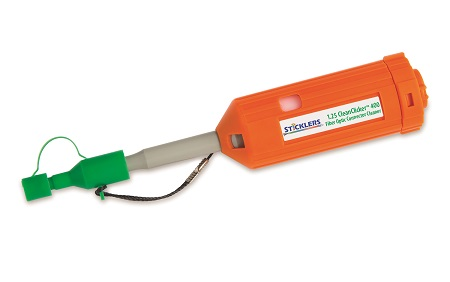 Sticklers unveiling 3 new fiber cleaning tools at BICSI Winter 2018
Per a Sticklers press release, "The new CleanClicker 400 is a miniaturized end-face cleaning tool which delivers 400 cleanings per unit. Because of its small size, it is perfect for cleaning in tight spaces in data centers, central offices or cable head-ends, for example, near the floor or in the inner-most corners of an equipment rack. The tool's high-purity cleaning ribbon delivers perfect cleanings with just one click, making it possible to clean 400 connectors from just one tool. Engineered for all of the normal 1.25mm end-face configurations, it cleans LC, MU, ODC, ARINC801, NECON and even hardened connectors."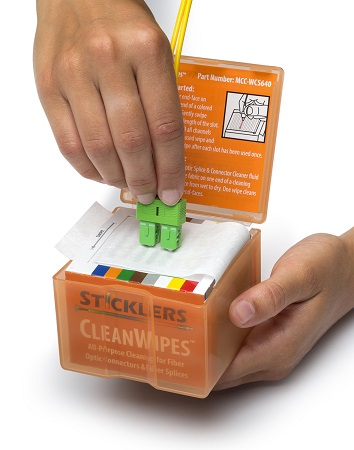 Also new at the BICSI Winter 2018 show will be the Sticklers Clean Wipes 640 product. Per the company, "This is a package of high-purity, super-strong wipes in a rugged plastic container. The wipes easily remove fingerprints, oil, polishing compounds, dust and lint. Electrically-dissipative materials used in the construction of the package eliminate static and improve cleaning results. The product boasts eight CleanSwipe cleaning slots, which are color-coded using the widely-recognised TIA-598-D scheme to help during cleaning. These slots enable single-pass cleaning of both 1.25 and 2.5 mm duplex connectors, avoiding time-wasting disassembly. Technicians can now perform multiple cleanings and never re-use the same piece of fabric, saving money and improving quality with each cleaning. Each package has the capacity to clean 640 end-faces which results in the lowest cost-per-end-face-cleaned."
"This is a fast and efficient way to clean LC, SC, ST, FC and MPO connectors, jumpers and bare fiber prior to splicing," adds Brian Teague, Sticklers product manager. "Because the wipes are packaged ready-to-use within a ruggedized plastic box, the wipes can be transported easily and provide high performance cleaning even in wet or dusty environments, allowing field technicians to clean fiber optics quickly and effectively."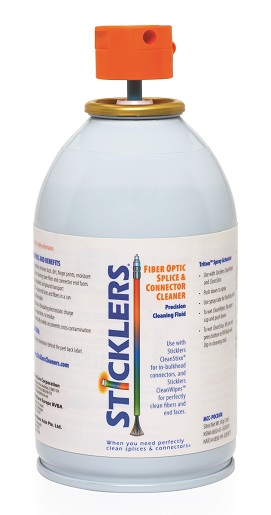 The third product to be introduced at the BICSI show in February is the Sticklers Fiber Optic Splice & Connector Cleaner fluid, which now is packaged in a 10 ounce canister. According to the company, "Using the same best-selling, nonflammable liquid found in the three ounce canister, this new package has been specifically engineered for fiber optic connectors and for use during fusion splicing. The larger bottle now contains more than 2,200 cleanings. This helps clients save money, with the added benefit of being completely nonhazardous and nonflammable to meet all regulatory requirements globally for easy shipping and storage. Ultra-pure, spill-proof, and fast-drying with no residues, this product enhances the cleaning efficiency of any swab, cleaning tool or wipe."
Sticklers' products are aimed at enterprise networks, broadcast and private networks, data centers and outside plant installations. To meet the Sticklers team and pick up samples of these new products, visit booth #236 at BICSI Winter 2018 from February 4-8, 2018. For more information, visit www.sticklerscleaners.com.