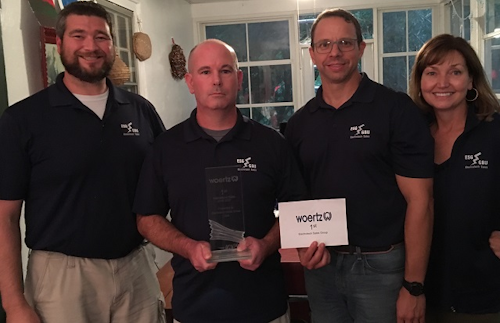 Pictured: Left to right: Electrotech's Mike Urenovich Jr., Kevin McSorley, Nick Vassallo and Debbie Vassallo
Woertz, AG (www.woertz.ch), a Swiss manufacturer of electrical products such as cables, connectors, and trunking for more than 90 years, recently announced that Electrotech Sales Group LLC (www.esgllc-usa.com) was its top export distributor for 2016-2017.
Recent Woertz developments include fire-rated and IP68 flat cable systems with a patented insulation-piercing technique that allows for splice-less secure connections for industrial and installation markets.
Electrotech's 40-page catalog details the distributor's selection of products including: ATEX terminal blocks, ground blocks, circuit breakers, distribution blocks, fuse blocks, DIN rail, relays, pilot devices, motor controls, power supplies, transformers, wire ferrules, wire duct, programmable relays, tools, definite purpose contactors and RJ45 interfaces.
Contact:
Electrotech Sales Group LLC
151 Discovery Drive #112; Colmar, PA 18915
P 215-997-8855
F 800-522-3868