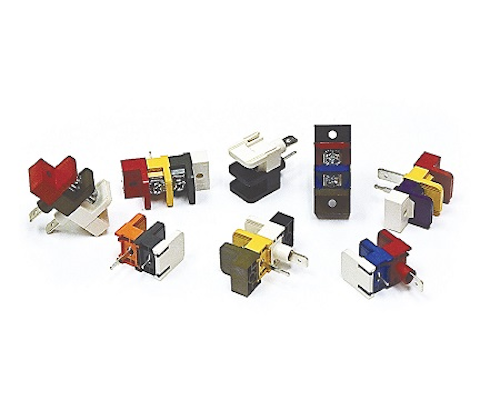 BlockMaster Electronics, a supplier of terminal blocks for electrical and electronic distribution, has expanded its popular "Jelly Bean" line of color-coded terminal blocks for 600V applications. The modular JB7 Seriescomprises thermoplastic terminal blocks in multiple colors for ease in identifying terminations and preventing costly field-wiring mistakes.
Per the company, "Terminating the wrong wire to the wrong terminal can be a costly and hazardous mistake, damaging PC boards, components, etc., and creating safety hazards. Low voltage and line voltage connections can easily be mixed up, even by experienced installers. Unfortunately, this happens all too often in the field. However, the innovative 'Jelly Bean' solution from BlockMaster prevents such mishaps. The new Jelly Bean JB7 Series can eliminate this problem for installers by using color-coded terminal blocks. For example, line input 120/220 connections can be made to a white block, while low voltage connections can be made to a green terminal block. If more than one type of low voltage control is necessary, other colors can be used."
Taking the mystery Out of 600V Ethernet applications
In addition to color coding, BlockMaster offers screen printing services to mark alphanumeric characters on its JB7 Series terminal blocks to further simplify field wiring. "The JB7 Series provides a simple and effective means of differentiating field wiring connections by color, custom legends or both," adds the company's press release.
The JB7 Series terminal blocks are modular in construction, allowing customers to obtain the exact length needed. They are molded of sturdy thermoplastic and offered with 7/16" centers (0.437"/11.1 mm). They are available in 10 colors: white, red, blue, green, orange, yellow, purple, brown, gray and black. The blocks are wire ready, with raised screws for 12 AWG to 22 AWG wire.
The JB7 Series offers a selection of terminal styles, including:
· PC Pins
· Solder Turret
· Quick Connect (.250")
· Insulated Quick Connect (.250")
· Insulated Solder Turret (features standoff to improve flux removal)
· Non-Feed-Thru
The JB7 Series terminal blocks feature the following specifications:
· Height: 20.3 mm (0.80")
· Width: 17.8 mm (0.70")
· Barrier Thickness: 3.1 mm (0.12")
· Centerline Spacing: 11.1 mm (0.437")
· Current rating: 20A @ 600 V
New construction driving steady demand for low-voltage power cables: Analyst
The block housing is thermoplastic (UL 94V-0) and the terminal is made of brass - bright tin over copper plating. Screws are #6-32 steel, zinc plated with clear chromate coating and undercut binding head. Operating temperature range is 130°C max.
For more information, visit www.blockmaster.com or call BlockMaster at 847-956-1680.