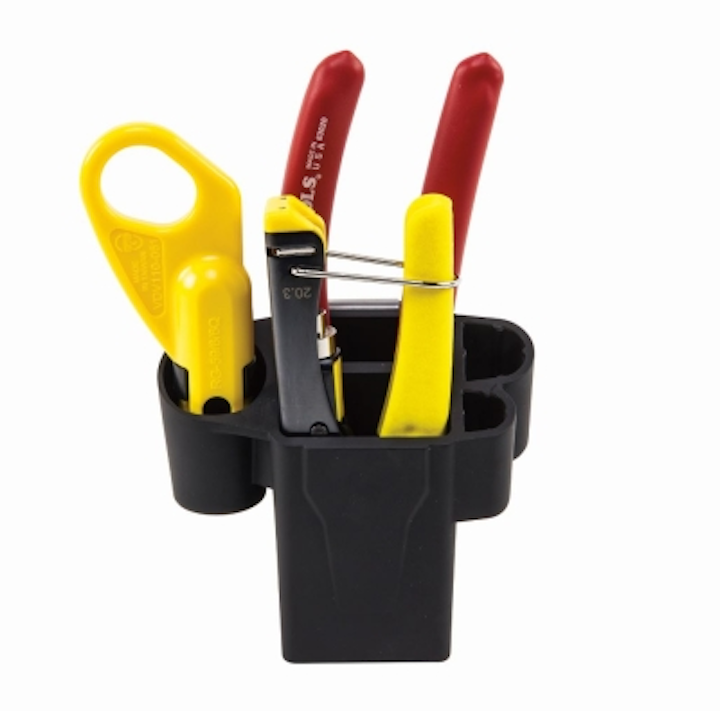 Klein Tools recently introduced the Coax Cable Installation Kit, which the company explains "all the tools needed to successfully prepare and connect coaxial cables." The tools enable installers to cut, strip and crimp compression F-connectors to RG56, RG6, or RG6Q cables, the company pointed out. The kit also includes a custom-molded freestanding hip pouch with a metal belt clip.
The Coax Cable Installation Kit also includes the following tools from Klein.
The Klein-Kurv Multi-Cable Cutter, which features shear-type cutting blades to make cutting the coaxial cables easier.
A Two-Level Radial Cable Stripper that the company says enables efficient, precise cable stripping with two-level, one-step preparation along with high-carbon steel blades.
The Compression Crimper, which Klein says "provides fast, reliable connections when working with compression F-connectors and allows quick, easy insertion and removal of cable and connector."
When Klein introduced the kit in mid-December, Karen Alpan, product manager with Klein Tools, commented, "It can be difficult to keep track of tools and materials when traveling between jobsites, but at the end of the day, staying organized and prepared helps professionals across all industries work more efficiently. Klein Tools' new Coax Cable Installation Kit includes the tools tradespeople need to successfully complete a coaxial cable installation, all held in a custom-molded hip pouch for everyday convenience."