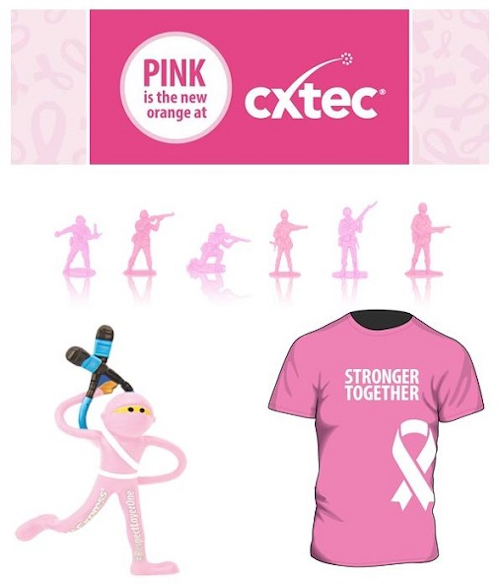 CXtec (Syracuse, NY) announced that it is teaming up with its cabling division, CABLExpress, for the companies' second annual "pink campaign" throughout the month of October. The campaign is conducted in support of the American Cancer Society's National Breast Cancer Awareness effort.
Per a statement from the companies:
"In addition to pink troops, this year's campaign features and a new, special edition, pink cable ninja. For every qualifying CXtec equal2new hardware and CABLExpress cabling order shipped in October, customers will receive a package of pink troops and a new special edition pink ninja to help support their technology infrastructure. During October, when a customer uploads a photo of their pink troops and pink ninja to our pink website, they can earn a limited edition 'Stronger Together,' pink t-shirt! CXtec will also make a donation to the American Cancer Society in honor of our customer's support."
RELATED: CABLExpress MultiPath System strikes gold with Gold-level 2018 Cabling Innovators Award
"Our employees are very enthusiastic about supporting this cause because it brings awareness to an illness that is near and dear to their hearts, especially since 1 in 8 women will be diagnosed with breast cancer in their lifetime," commented Renee Duffy, vice president of marketing for CXtec. "To help increase awareness, we are sharing this special offer with our customers so they too can join us in the fight against breast cancer."
For additional information visit: www.cxtec.com/pink
For more information about breast cancer awareness, visit: www.nationalbreastcancer.org
CXtec bills itself as North America's largest secondary hardware provider, who maximizes value throughout technology life cycles by focusing on new and certified pre-owned infrastructure hardware, high-performance data center cabling, third-party maintenance, professional services, and IT asset disposition. CABLExpress, a division of CXtec Inc., manufactures high-performance cabling and data center infrastructure products and structured cabling solutions. Visit www.cablexpress.com.
RELATED: CXtec acquires secondary-market IT hardware supplier Atlantix Global Systems