Folding Jab Saw cuts quickly, stores safely
Klein Tools' saw that cuts drywall, plywood and plastic, won't punch a hole in a technician's tool bag.
Jul 13th, 2018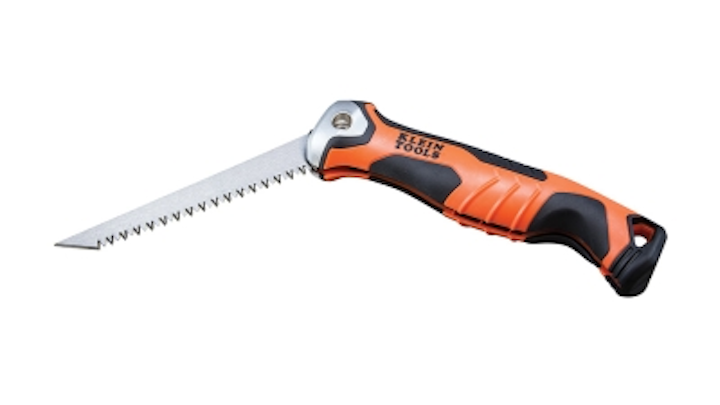 Klein Tools recently introduced the Folding Jab Saw, which folds into its comfort-grip handle, enabling safer storage and eliminating puncture holes in tool bags. Other features of the saw include triple ground teeth to cut on both the push and pull strokes, and a lockback mechanism to secure the blade fully open at 180 degrees or 125 degrees for work in confined areas.
The Folding Jab Saw is designed to cut through drywall, wallboard, plywood, plastic and other construction materials. Its blade is carbon steel, and the saw's cushioned handle end provides easy palming of the tool.
Laura Ranieri, senior product manager at Klein Tools, commented, "On jobsites, we observed many torn and punctured tool bags as well as struggles with storing fixed-blade jab saws. The blade on Klein's new Folding Jab Saw can be tucked away into the tool's handle for easy storage, helping to prevent damage to other tools or the bag itself."