The healthcare industry is undergoing dramatic changes fueled by new technology. From artificial intelligence platforms capable of improving diagnosis to ultrasound stethoscopes, technology is set to improve the quality of healthcare and its effectiveness, while also driving down cost. However, many of these new technologies are rendered worthless if the right network to deliver and monitor the underlying data is not in place.
The healthcare network shares many, if not most, of the concerns and challenges with other types of networks, but the results of network failures in this environment can truly mean life or death. If we look at the issues of providing connectivity to a single hospital room, we can get an idea of the challenges hospital network owners can face. If we focus on the patient experience, we know that certain critical systems such as nurse call systems or monitoring of patient vitals must always be available. Patient rooms require 24/7 network uptime where outages even for a short time are just not acceptable.
If we focus on new network deployments, getting adequate access is always a challenge because the room needs to be unoccupied to do installation work and privacy must be respected across the entire floor. Installers face strict requirements and often limitations to ensure that proper cleanliness is maintained and installation does not introduce any potentially hazardous biproducts like dust or exposure to disease or bacteria. Unlike many other industries where much of the work in difficult access areas can be done during nighttime hours, in a healthcare environment even minor disruption at night could have a major impact on the patient experience. If we focus on network management, data privacy and segregation of critical and non-critical networks can be areas of high concern, which may require different designs.
Increasing data demands
There are a few significant network changes coming that may have dramatic impacts on the healthcare network. Data bandwidth demands will continue to accelerate as more medical devices generating massive data files convert to digitization. This includes x-rays and the move of medical files to the cloud, which can then be shared across multiple patient caregivers.
The Internet of things (IoT) may be the biggest driver of all in new ways to deliver healthcare. Patient monitoring systems and building automation systems are moving to IP-based protocols and can transmit data wirelessly, and as a result the data stream coming from a single patient room will climb. These continuous data streams become part of the patient's record through a clinical information system instead of one manually entered at a specific point in time by an employee or caregiver.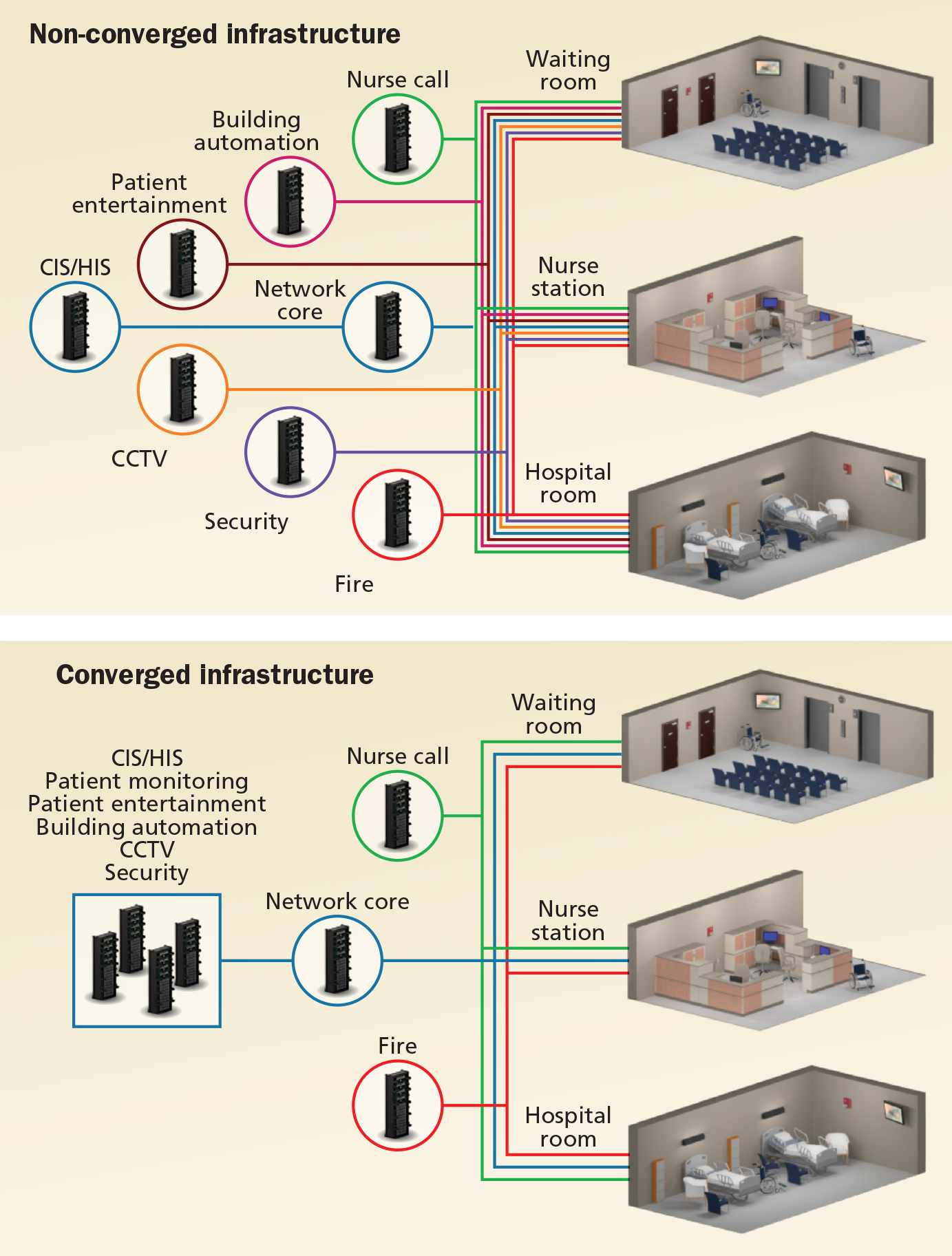 When cabling a healthcare facility in accordance with ANSI/TIA-1179-A, a system designer has the option to use centralized optical fiber cabling as an alternative to crossconnects in the telecommunications room. This method allows for the reduction of cables in the horizontal space.
The accessibility of the network by a patient and their visiting family is also something that cannot be overlooked. The quality of the patient experience may be heavily influenced by having adequate connectivity in place to support web browsing, social networks, and communication with family and friends. Having cell signal and WiFi accessibility will quickly become paramount in quality of care. As anyone who has spent time in a hospital as a patient will tell you, even a short hospital stay is made up of long stretches of boredom interrupted by short human interactions with staff. Keeping yourself occupied and connected is key.
The last trend that requires significant bandwidth is telemedicine or remote medicine. This allows the use of off-site expertise and real-time consulting from experts around the world. This even extends to enabling remote surgeries using robotics, which is in trials now. If there was ever an application that requires priority connectivity, it would be remote surgery.
Supporting converged applications
The most frequently cited standard for healthcare infrastructure is ANSI/TIA-1179-A Healthcare Facility Telecommunications Infrastructure Standard. This was most recently updated in 2017, with a few notable changes we will discuss later in this article. This allows usage of optical fiber, balanced twisted pair, and broadband coaxial cabling to connect the network. The network should be configured in a star topology, but there is an option to use centralized optical fiber cabling as an alternative to crossconnects in the telecommunications room. In this application, fiber cabling can connect the centralized crossconnect directly to the work area. This method allows for reduction of cables in the horizontal space to provide connectivity needs because network equipment is moved to the edge of the network.
This also enables moving to a converged infrastructure where multiple IP-based networks can run on the same digital backbone enabled through optical fiber.
In a hospital, this configuration is especially attractive. This is because in addition to the standard intelligent building systems such as energy monitoring, lighting and environmental control, and surveillance (the standard specifically calls out 12 potential types of networks), we have the additional healthcare-specific networks such as nurse call systems. The potential impact of all these networks can really be understood when we examine the number of outlets recommended to support types of work areas you will find in a healthcare environment. Areas such as outpatient surgery rooms, critical care areas, MRI, and control rooms are recommended to have more than 14 outlets per area to support the existing and potential applications that service those work areas. The outlet congestion in a single work area is significant, but if you think through the cabling in the horizontal to support all those services it creates a physical plant that has high potential to become a cabling jungle over time. Even if well-managed, this is a difficult amount of cabling to manage.
An alternative is to create horizontal backbones that can support two, four, eight, or even more network devices using an optical network terminal running over fiber. It is possible to use composite fiber/twisted-pair cables that can support the data connectivity needs of devices and can provide remote powering that can enable Power over Ethernet-enabled devices that can simplify powering and emergency powering from a centralized location. So, in a conventional network where you would need 14 horizontal cables running from the telecommunications room to an operating room, you could reduce that to two cables with two extra ports for future use.
There are also gains from consolidating outlets together to save space and bundle like networks together. Generally referred to as a MUTOA (multi-user telecommunications outlet assembly), these outlets require some level of appropriate security such as a lock or a tool-removable cover.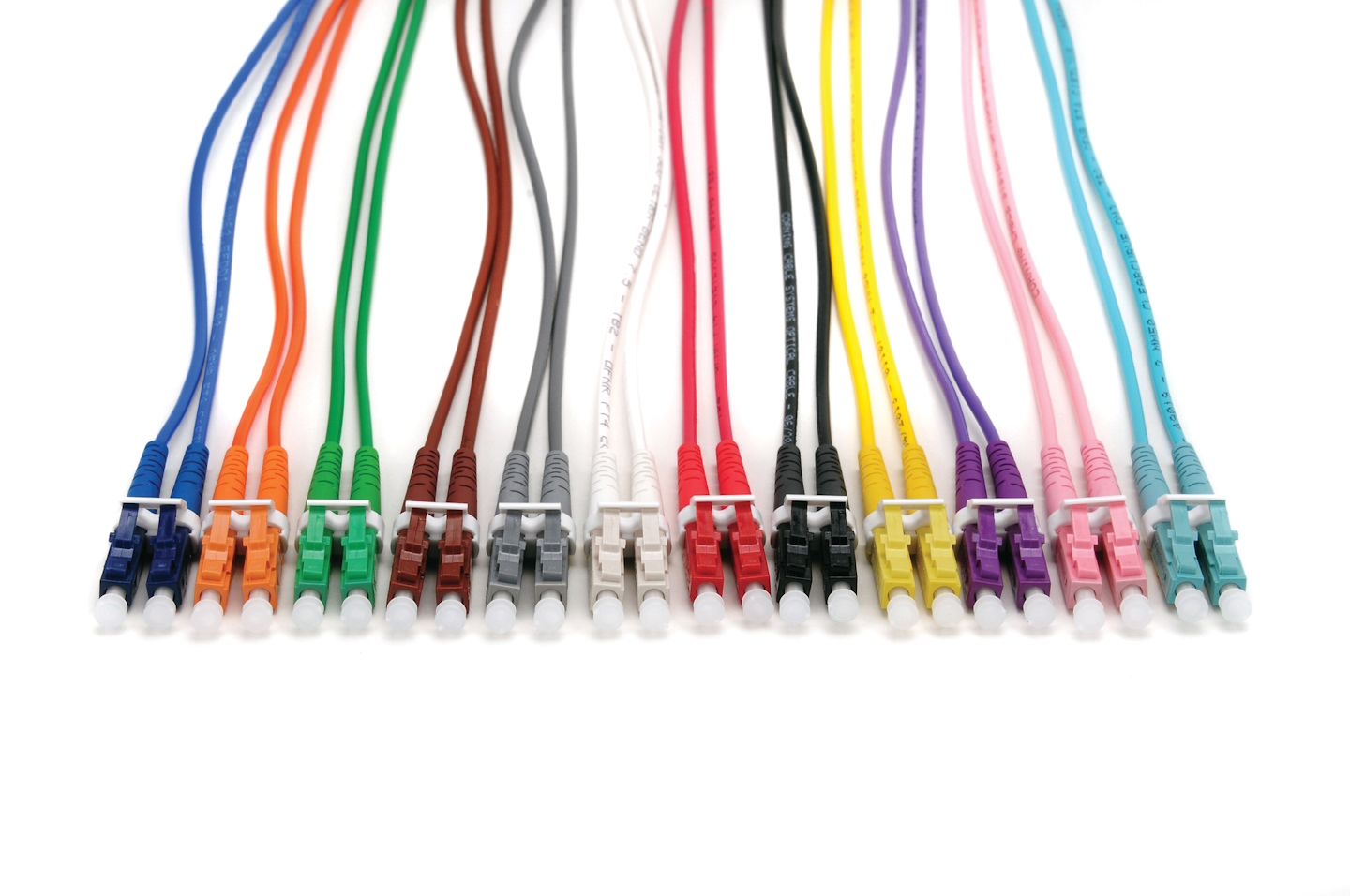 Using assigned color-coded cables and hardware clearly delineates different data networks from one another.
It is also beneficial to have some labeling available that allows easy identification of the types of services delivered on the various outlets and their respective ports. To further segregate networks, keyed solutions that do not allow plugging into networks without the appropriate keyed connectors or using assigned color-coding of cables and hardware to clearly delineate the different data networks is recommended. This segregation could be very important in supporting critical life and safety protocols to identify priority networks. Besides segregation, TIA-1179-A specifies that for critical care areas, a minimum of two diverse pathways be provided between equipment rooms and the telecommunications rooms or telecommunications enclosures to provide system redundancy.
There have been changes as well on the specified medium types for both optical fiber and balanced twisted-pair solutions. For multimode fiber, OM4 and OM5 are both recommended, while OM1 and OM2 are no longer supported. For singlemode fiber, OS-2 is recommended and OS-1 is no longer supported. For balanced twisted-pair cabling, Category 6A is recommended in both the backbone and the horizontal. The key driver for recommending higher-performing media is to ensure your network can support 10-Gbit/sec transmission speeds. Another important change that reflects the increases in the network density are that array connectors are now permitted for optical-fiber cabling in the work area. This trend follows what we are seeing across the network, where adding fiber is often the most economical path to achieve higher bandwidth and speed, and array connectors can keep the connectivity in a smaller footprint.
Critical wireless systems
Wireless has become a key component in any network, and is becoming a preferred method in many horizontal connections. Because of this, cabling guidance is now provided for both WiFi (TSB-162-A) and cellular networks, specifically distributed antenna systems (DAS), in TSB-5018. In a healthcare environment this is an obvious benefit, as wireless-enabled equipment can be moved from one work area to another based on patient requirements or move with a patient from work area to work area without losing connectivity.
With the opening of frequencies currently reserved for Citizens Band Radio Service (CBRS) for use in cellular networks, an emerging application of a private LTE network will begin to become available. With this technology, a healthcare facility could access a secure communication network that is completely private, capable of covering an entire campus handling extensive data traffic. This may be especially attractive to support critical applications and widespread coverage and access such as nurse call stations that connect the healthcare staff together.
Healthcare networks designed today must be ready to scale for tomorrow's demands. At the same time, they must be able to easily integrate new applications that will provide better patient care and network flexibility. Rethinking how we design networks based on a high-bandwidth digital IP backbone that can cover a multitude of different applications, including smart building technologies, will require us to look at the multitude of networks more holistically. The universal benefit of healthcare delivered more efficiently, more effectively, and more compassionately is one we cannot afford to limit through outdated network architectures.u
Derek Whitehurst is director of global applications marketing for in-building systems with Corning Inc.