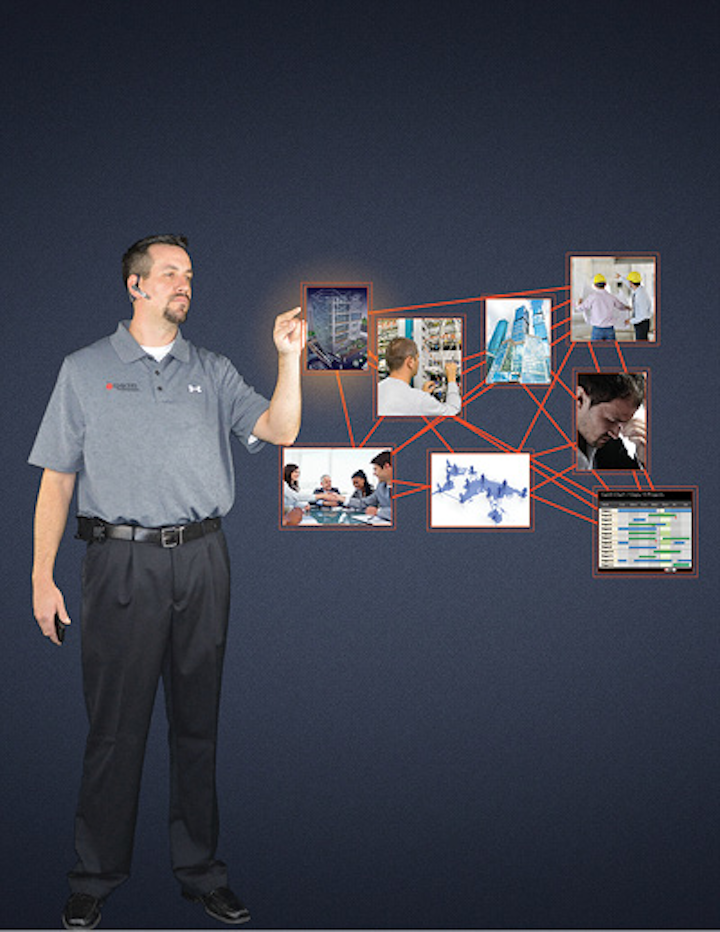 BICSI's RTPM and CNet's CTPM exist to equip telecommunications professionals with the skills and knowledge to lead projects to successful
completion.
Successfully guiding an information and communications technology (ICT) project to completion is a challenging assignment, to put it mildly. On our website, cablinginstall.com, we highlight installations gone wrong in the form of trainwreck-type photos taken in the field—exhibits of just how far a project can go off the proverbial rails. Keeping projects on track requires a healthy combination of experience, knowledge, andskills.
In an article we previously published, Concert Technologies founder and president Dennis Mazaris explained, "Over the years, the Project Management Professional (PMP) credential offered by the Project Management Institute has become a popular and well-respected career development strategy as government, commercial and other organizations began employing PMPs to improve the success rate of projects," ("Why RTPMs improve success of cabling infrastructure deployments," January 2013). "The PMP credential is considered top-notch.
"The skills of a PMP—project initiation, planning, execution, monitoring and completion—can be applied to any project, including network infrastructure deployments," Mazaris continued. "But as technology and networks have continued to evolve, deploying the supporting infrastructure has its own specific challenges, from coordinating with various trades, ensuring jobsite safety and making sure scheduled deadlines are not exceeded, to procuring all of the components, managing the convergence of many different systems and ensuring that the infrastructure ultimately supports the customer's technologies and applications. With full knowledge of the standards and the industry best practices governing the design and installation of technology infrastructure, the RTPM has a more focused role in theprocess."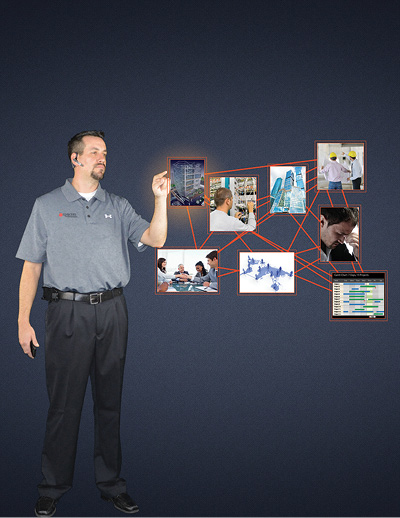 A telecommunications project manager oversees and coordinates activities among numerous professionals, seeing them through to completion. Andrew Crone, pictured here, is vice president of operations for Concert Technologies. He holds the Registered Telecommunications Project Manager designation offered by BICSI.
BICSI's RTPM
The RTPM is the Registered Telecommunications Project Manager, a credential offered by BICSI since 2011. In 2017 BICSI updated the processes by which an individual can earn and retain the RTPM credential. In literature about the program, the association explains, "BICSI developed the RTPM credentialing program as a career path for individuals seeking an advanced understanding of personnel management and project management, as related to ICT. Project managers, project coordinators, lead technicians, project team leaders and individuals seeking a profession in this rapidly growing field are encouraged to earn the RTPM. Project management includes gathering specific project information for the project initiation, creation of the project budget, identifying and managing stakeholders, orchestrating the proposal, identifying project deliverables, managing budgets and deliverables, creation and management of launch and deadline dates, effective communication between all stakeholders, and closing of theproject.
"A BICSI RTPM oversees and coordinates the interaction between designers, engineers, installers and technicians when new ICT projects are being developed or are undergoing construction. RTPM exam candidates are tested on their ability to understand and apply a vast collection of telecommunications project management principles, concepts, tools andtechnology."
While emphasizing that every RTPM candidate brings their own individual experience and educational background, BICSI suggests several preparatory steps before taking the exam. Each candidate should study the Telecommunications Project Management Manual (TPMM), 1st edition, undertake at least 125 hours of independent study, and optionally complete the course PM102: Applied Telecommunications Project Management. BICSI notes, "PM 102 is not a test-preparation course. It is recommended to enhance your knowledge of telecommunications project management." PM 102 is an instructor-led five-day course; BICSI also offers PM 101 Introduction to Project Management and PM 103 Advanced Tools for ICT Project Management online via BICSIConnect.
According to BICSI, "In PM 102 you will not only learn how to manage projects from start to finish, you will be better prepared to apply these management concepts and skills in real-world situations." The course includes the following topics andactivities.
• Designing a projectcharter
• Creating a project safetyplan
• Templates for managing projectrisk
• Projectscheduling
• Project stakeholderidentification
• Cost-management and earned-value-managementdevelopment
• Developing a procurementplan
• Change-managementtools
• Conducting lessonslearned
• ICT projectdocumentation
• Building networkdiagrams
• Leadership and teammanagement
PM 101, aimed at ICT professionals who are transitioning to a project-management role, provides a basic overview of the project management process from project selection to closeout, as well as information about risk management, quality control, and procurement planning. PM 103 teaches key project management concepts, including the role of the project manager. It also details techniques and strategies for managing a project's scope, schedule, and budget. PM 103 also includes tutorials on using Microsoft Project 2016 to set up, manage, track and analyzeprojects.
Like BICSI's other credentials, the RTPM requires recertification. "Every three years, RTPM credential holders must earn 36 continuing education credits through qualified activities and programs," BICSI says. "Recertification is more than just renewing your credential. It encourages you, as a credential holder, to keep pace with new ideas and practices that can help you succeed. Recertifying your credential helps you accomplish three goals: 1) Boost your competencies and stay on top of emerging ICT industry trends and technologies; 2) Propel your professional achievements by positioning yourself as a leader among your peers; 3) Advance your career with newfound knowledge and emerging jobopportunities."
Certified Telecom Project Manager
U.K.-based CNet Training offers the Certified Telecommunications Project Management (CTPM) certification. On its website CNet explains, "Certifications are unique as they show a commitment to lifelong learning, they offer the perfect portal to ensure knowledge and skills remain current and up-to-date. Each certification gained from CNet requires recertification every threeyears."
The CTPM program is a 30-hour online course "based on the global standard for project management, the PMI's Project Management Body of Knowledge," CNet explains, "and adds technical input from CNet Training's Global Digital Infrastructure Framework. This combination delivers a unique non-generic project management education program designed specifically for the real world of telecommunications design, planning and installation. It consists of nine learning modules covering the five processes of thePMBOK."
Those five processes are initiating, planning, executing, monitoring/controlling, andclosing.
CNet explains that the CTPM is "an asynchronous, distance-learning program with instructor support, delivered on CNet's learning management system. Each module has a quiz and there are seven assignments for completion that are synchronized with the learning modules." Those seven are: project quality management, project risk management, project scope management, project human-resource management, project integration management, project time management, and project costmanagement.
"Learners will discover how to develop a project initiating process and create, explain and execute a project planning process," the organization adds. "They will also have the confidence to implement measures to monitor and control it, and have the ability to carry out a project-closing process." The program provides portable knowledge, skills, techniques and tools that enable more-successful project management, CNet explains; it also enhances career development prospects and provides an independent measure of an individual's project management knowledge andcompetence.
In addition to the just-mentioned benefits for individuals who successfully complete the CTPM curriculum, CNet points out that the certification provides benefits to businesses as well. Namely, "It develops an understanding of project goals, objectives and benefits before committing significant resources to ensure that only projects that are expected to provide return on investment or financial margin are committed to." Additionally, it "ensures that projects proceed effectively through all essential phases, from concept through to completion, and provides a rigorous approach to defining a realistic timescale and budget for completion of theproject."
The CTPM program is recognized as a Level 4 professional award by the Business and Technology Education Council (BTEC)—a provider of educational qualifications in the United Kingdom. A course of study recognized by the organization is referred to as a BTEC. CNet explains, "BTECs offer a practical approach to learning, which is structured around real-life situations and can include both theoretical and practical learning. Learners undertake a number of units to allow them to demonstrate their skill and knowledge. They are available in varying levels; the lowest is an award, the next one is a certificate and the highest is a diploma. BTECs can only be designed by authorized and approved professional training providers, and this allows the learning to reflect the actual needs of the industry as itchanges."
Like BICSI, CNet also provides training related to ICT system installation and design. Within the past year CNet brought some of its educational courses to the United States. Specifically, in April 2017 the organization began delivering its Certified Network Infrastructure Design Professional (CNIDP) instructor-led training program in the U.S.
The instructor-led classroom environment allows students to benefit from shared-life experiences, CNet said when announcing it would begin offering the program in the U.S. "This provides extra value and added confidence that students are receiving first-class education from the global leaders in network infrastructure education," it added. "As a result, employers can benefit from right-first-time, technically accurate tender response and the added competitive advantage that stems from this within themarketplace."
Today CNet offers several of its network infrastructure and data center instructor-led training courses in the U.S. The courses vary from two to eight days induration.