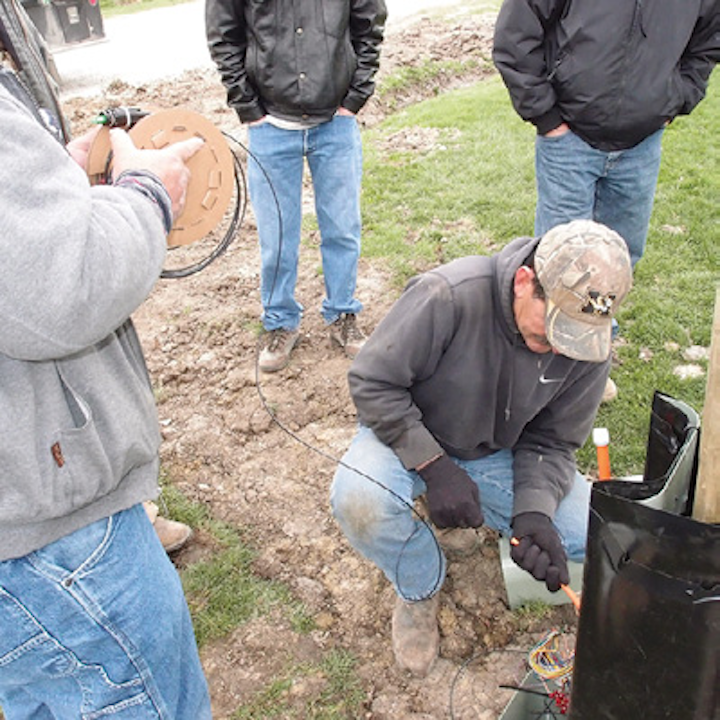 Connecting buildings across campus
environments
By Patric
k McLaughlin
The products and technologies, as well as the design and installation approaches, used to connect buildings in campus environments continue to evolve. Customer-owned outside plant (CO-OSP) cabling infrastructure has ­always been unique. It's unlike in-building infrastructure systems in many ways because it has to survive the natural elements of the outdoors. And it's unlike the OSP infrastructure owned by telecommunications service providers because, by comparison, it's covering short distances within a campus. Successfully deploying a CO-OSP infrastructure system requires diverse knowledge andskill.
BICSI's OSPDRM
BICSI's Outside Plant Design Reference Manual (OSPDRM) is the industry's document of record for building these systems. The association recently published the latest edition—the 6th—of the OSPDRM. When announcing the new release, BICSI commented, "From its beginnings of supporting the telegraph, OSP cabling has evolved into the vital ­element that supports all voice and data communication globally. Even today's cellular wireless networks are supported by a wide array of OSP cabling and infrastructure, empowering individuals to communicate as theyneed."
The manual "focuses on outside plant properties," BICSI continued, "with the detailed information contained applicable to all projects large and small. In addition to covering traditional infrastructure subjects such as cabling and pathways, the OSPDRM also covers items not typically found within interior design work, such as right-of-way, permitting, and servicerestoration."
The 6th Edition OSPDRM includes updates and information on thefollowing.
• Passive opticalnetworks
• Aerial installation of all-dielectric self-supporting (ADSS) cable
• Maintenance and restoration ofOSP
• Radio frequency over glass (RFoG) specific to OSP fiber-­opticinstallations
• Additional excavation methods for direct-buried cable andpathways
• New storm loading requirements for aerial OSP design (including the U.S. Warm IslandZone)
• Updated OM5 optical fiber cabletype
• Project management information and geographic informationsystems
• Air-assisted cable installation for OSP cableruns
• Changes resulting from the issuance of the 2017 edition of the National Electrical Safety Code concerning clearances and grounding/bondingtemperatures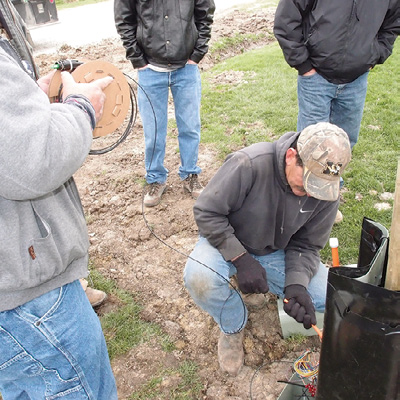 The FieldShield system from Clearfield accommodates the pulling or pushing of cable through microduct. FieldShield branded products include microduct, fiber, and connectors.
BICSI has made the first chapter of the new manual available for free download. Within that chapter, the manual states, "The majority of OSP facilities are designed, installed, and maintained by local access providers (APs) serving specific geographic areas. However, OSP facilities located on private properties or in areas not covered by a local AP become the customer's responsibility. To support the needs of the local APs, many private companies offer OSP design, engineering, and constructionservices.
"In some countries, the AP (the provider of the physical connection) is also the service provider (SP [the provider of the desired service]) and can be the same company. BICSI defines OSP as the telecommunications infrastructure that is designed and installed externally to buildings and typically routed into an entrance facility (EF) …
"The cabling generally required to ­accommodate LANs or campus area networks can be copper, optical fiber, wireless, or coaxial. Because of the relatively short distance of geographical coverage, these networks are called short haul networks. Conversely, networks required to cover expanded ­distances (e.g. city to city, country to country) are called wide area networks, known as long haul networks, and generally require optical fiber cable, wireless, or satelliteprovisioning."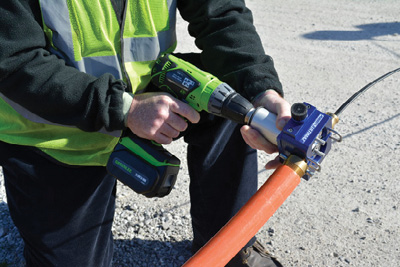 Ultimaz is a point-to-point fiber drop installation system that can install short sections of cables from 50 feet to 1200 feet.
Other topics covered in the initial chapter of the 6th Edition OSPDRM include professional development, codes/standards/methodology, planning, project documentation, right-of-way, pathways and spaces, andcabling.
FOA guide
Another document addressing OSP cable installation—fiber-optic cable in particular—is the Fiber Optic Association's (FOA) OSP Fiber Optics Civil Works Guide. The 50-plus-page document, published in 2015, was authored by Joe Botha and the FOA and is available on the FOA's website. On its cover it states, "Like all standards, this document only offers guidelines for design, installation and testing of fiber-optic ­networks. The owner, contractor, designer or ­installer is always responsible for the workinvolved."
Among the many topics covered in the FOA's guide are air-assisted installation. "Jetting and blowing are two probable air-assisted cable installation techniques," the guide explains. "Both methods require pushing the cable with a tractor mechanism while blowing compressed air into a preinstalled duct along the cable being installed. Both rely on airflow to help 'float' the cable inside the duct and as a result, minimizing sidewall pressures and reducing friction between the cable and theduct.
"When jetting or blowing, you're combining a pulling force (compressed air) with a pushing force (hydraulically or pneumatically driven tracks) during the installation, providing an efficient, stress-free deployment in far greater increments than possible when hauling cable. Jetting and blowing differ in how pulling force is applied to the cable. Jetting uses a missile at the front end of the cable. A different pressure across the missile head creates a pulling force on the cable. Blowing does not use a missile; instead, the pulling force on the cable is due to fluid drag of air rushing along the cable. This pulling force is distributed along the cable length. A mechanical pushing device is common in bothmethods."
Air-assisted systems and tools
One brand of air-assisted OSP cable and connectivity products is FieldShield from Clearfield. In its product literature, Clearfield explains, "FieldShield Optical Fiber is either pulled or pushed through microduct at turn-up, maximizing installation efficiency. In the event of a later ­fiber cut, the fiber can be easily pulled from ­microduct. The duct is then repaired and a new FieldShield Pushable Assembly is pushed or pulled through the microduct for a fast and cost-effectiverestoration."
The product line also includes factory-terminated and polished SC, LC, and MPO connectors. For all connector types, after being pushed or pulled through FieldShield brand microduct, a protective sleeve is removed and an outer housing is snapped intoplace.
Ultimaz, a point-to-point hybrid fiber drop installation system from Greenlee and Sherman + Reilly, is one apparatus that facilitates air-assisted cable installation. Greenlee and Sherman + Reilly are Textron companies. When the companies introduced Ultimaz in 2015, they described it as "a user-friendly solution used to install short sections of cables from 50 feet to 1200 feet withease."
They added that it "offers a stress-free installation cable-jetting method that reduces the rate of damaged fiber-optic cable. Installation speeds of up to 600 feet per minute allow a six-times-faster rate compared to hand-pulling."
The company explains, "Although designed for drops, some cable-duct combinations can yield installation lengths near 3000feet."