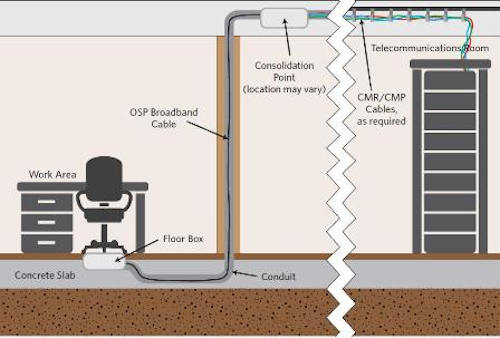 A new Technical Guideline available from Superior Essex provides some Code- and standards-based best-practice recommendations for designers and installers who will place cable in conduit that exists below grade. As the document explains, "When deploying floor box outlets on the bottom floor of a building, the outlets and connecting conduit are typically encased in concrete slab on or below grade. In these specific applications, it is imperative to treat the in-floor systems as 'wet locations.'"
The document then references Article 100 of the 2011 National Electrical Code and its definition of a wet location. It also cites the Horizontal pathway Systems section of the latest (12th) edition of BICSI's Telecommunications Distribution Methods Manual, specifically referencing protection from moisture.
The Technical Guideline then adds, "Standard indoor CMR and CMP cables are not suitable for installation in wet locations. Even if the conduit systems are dried, experience has shown that they cannot be trusted to remain dry." Following that, it recommends the types of cables that should be used in this environment, and also provides best practices for transitioning from a below-grade pathway to a telecom room or telecom enclosure. The drawing at the bottom of this page is taken from Superior Essex's Technical Guideline, and illustrates the recommendations made in the document.
You can download the document directly from Superior Essex here.