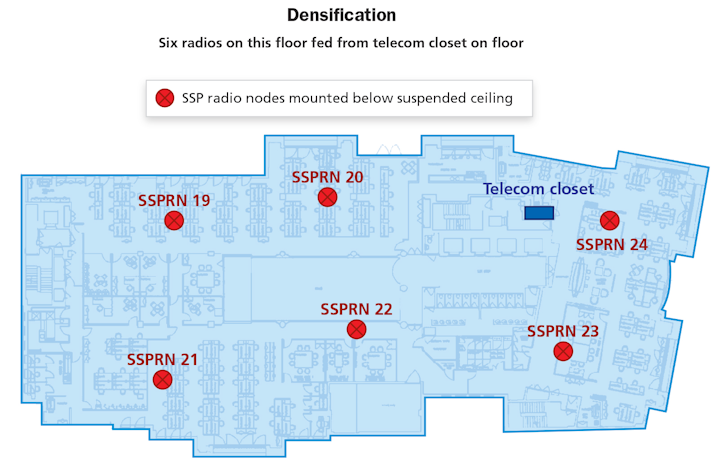 By Art King, Corning Inc.
Our industry invests a substantial amount of time discussing the benefits of smart buildings and the mutual benefits they provide both building owners and tenants; however, this article will focus on the humble underlying foundation for the smart building—the cabling infrastructure.
We use the term "future-ready" to convey the rapid changes we've observed in communications trends and in tenant behavior that impact the interactions with and consumption of communications services. Cabling infrastructure that is not future-ready will require replacement or augmentation to accommodate the inevitable changes to the attached active electronics over the cabling's 20-year useful life.
We also need to consider a backbone and communications infrastructure that is independent of anything that a tenant will build for their own business operations. However, enterprise trends are indicating that in the next decade, traditional office space tenants may dispense with network ownership altogether in favor of acquiring well-managed cellular and WiFi service as part of their facilities-leasing process. Should this trend continue and tenants forgo network ownership, adequate growth capacity will be an important dimension of future-ready cabling.
Fourth utility introduction
The concept of networking in office buildings evolving from a competitive selling feature to a necessary fourth utility alongside electricity, gas, and water has developed in the last 10 years. The need to enable more instrumentation and control points inside buildings requires wired and wireless networks to connect them back to the services that orchestrate their overall operations. The fourth utility has to span from basement to roof, and from carpeted floors to the parking garage.
As you would expect, cellular and possibly WiFi wireless services are part of the fourth utility that the enterprise employees, various smart building devices, and transient Internet of things (IoT) devices will utilize inside the building.
Smart building networks are independent of the tenants
The required owner-installed and -controlled network is parallel to the enterprise tenant's own network(s) that they install in space. There are a number of justifications for independent implementation.
Smart building services cannot rely on the tenant for netwo

rk

services.

Tenants may be able to provide network services for many attached devices throughout the building; however, a security policy change on the part of the tenant may abruptly terminate this ability. With the threats that enterprises face from many different vectors, information security professionals are reducing their risk of attack by simply excluding everything that is not tightly controlled by the enterprise itself from netwo

rk

services.

The tenant network may not have the necessary resources to service connectivity needs without funding from the owner. For example, the network may not reach into parts of the building where smart devices operate, or it may exhaust capacity either in physical ports or wireless service, or it may not have the wireless services that the smart devices require. For all three scenarios, the owner bears the cost of resolving

the

issues.

The tenant's IT team will likely make changes without regard to the impact on the devices they don't control. This can result in temporary loss of services until the issues are resolved. In an extreme circumstance, changes can lead to permanent loss of services until the owner replaces the network. This can be especially stressful if it requires a budget exception to fund

the

project.

Changing tenants is

disruptive.

When a tenant moves out and the building's smart devices are integrated with their network, the network disappears when the equipment and telecom links to the outside world ar

e shut

down.

Every network horizontal cable installed from the floor's telecom closet(s) to office, cubicles, and wireless are also controlled and susceptible to disruption due to integration with the tenant's network

operations.

Commercia

l

remodeling

Enterprise facilities operations remodel interiors with a "gut-and-remodel" strategy. The pain for a smart building is in the "gut" stage where construction workers take the building down to its essential shell by ripping out everything from carpet to drop ceiling. Usually, the only services that are immune from being torn out are HVAC ducting and fire

suppression.

If a tenant has occupied the building for a longer period of time and smart building features have been gradually layered onto their network, imagine what happens when they move out or simply remodel a few floors. Not only will the smart building features be lost, but each disrupted service will need to be identified, redesigned, and

re

constructed.
Preventing smart building disruption
Building owners are driving toward establishing their own building-wide network on which to layer a wide variety of facility operations and tenant-facing services. This backbone would serve as the transport for common services throughout the building and would eliminate reliance on tenant network services or on parallel construction of isolated networks for single services.
The foundation of future-ready smart buildings begins with establishing a common vertical optical transport network that extends from the basement to the roof and appears in every telecom closet. The logical heart of the transport network would be in the meet-me room, where all the telecom providers from the outside world appear. Because many operations control systems and smart building apps are housed in secured cloud services, there may not be a need to allocate space for servers on-site. From a service-protection perspective, the physical cabling and active electronics for the vertical transport need to be segregated and identified separate from tenant networks.
The look of future-ready smart building cabling
In greenfield construction, don't be shy about installing riser cabling that has massive fiber counts because the construction costs to remediate an undersized cable plant will hurt later. As a bonus, installing 1728 fibers that come in a 1-inch-diameter package virtually eliminates space issues.
After the vertical foundation, every floor requires a horizontal infrastructure. This is where the greatest changes are happening as fiber makes it sway to the edge of the network. Unsurprisingly, the edge of the network today is shared wireless access, cellular and WiFi, in the ceiling and with diminishing emphasis on routing cables to cubicles. 5G is a key driver of migration from copper to fiber-optic cabling.
At the targeted data rates that will be delivered to 5G devices, a 5G indoor cell will easily require optical transport. Beyond data rates, the other 5G driver that creates system capacity is densification—or many smaller cells on each floor. The benefit is the devices perform better on smaller cells because there are fewer devices contending for each cell's finite resources. Densification implies that estimated coverage areas have to be assumed during design and cabling installed in the overhead plenum to feed them.
The cable plant layouts extending to each coverage area create wiring zones distributed throughout the ceiling. Why in the ceiling? In addition to the tenant wireless services, almost everything that is part of building automation/operations resides in the plenum space (between the drop ceiling and floor above) or originates in the plenum space to appear on the drop ceiling, or is fed down and out of a wall.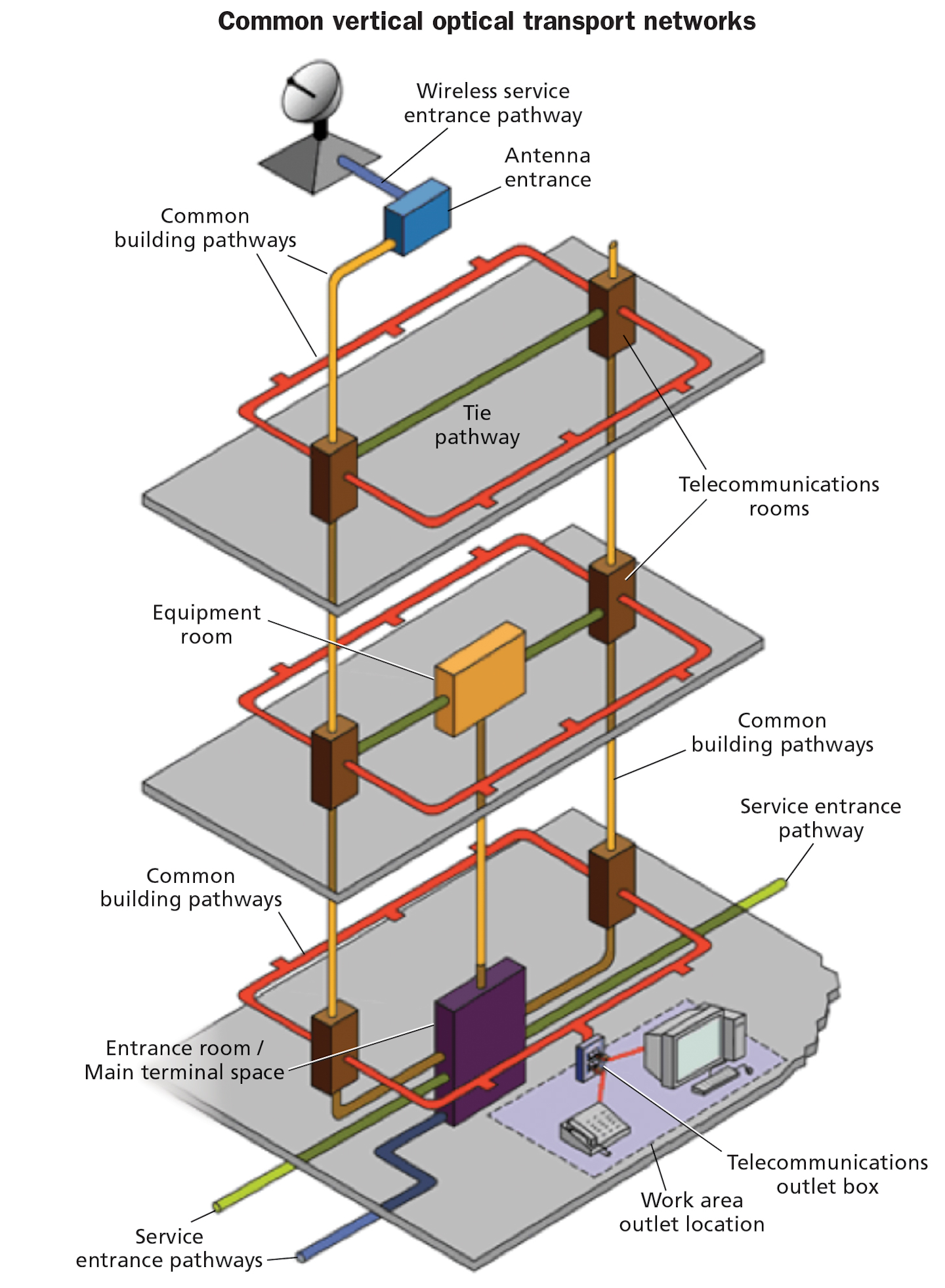 A common vertical optical transport network extends from the basement to the roof and appears in every telecom room. The physical cabling and active electronics for the vertical transport need to be segregated and identified separate from tenant networks.
Wiring zones are sensible because they limit the amount of cables pulled from the telecom closet to many of the distributed services across an overall floor. Instead, smart building services can cable or wirelessly connect to the nearest wiring zone point.
Planning tip: The need here to segregate, identify, and protect this horizontal infrastructure is very critical to ensure that when construction contractors are gutting a floor in preparation for a remodel or a new tenant that they don't rip it out. Identification strategies can parallel what fire protection system contractors do.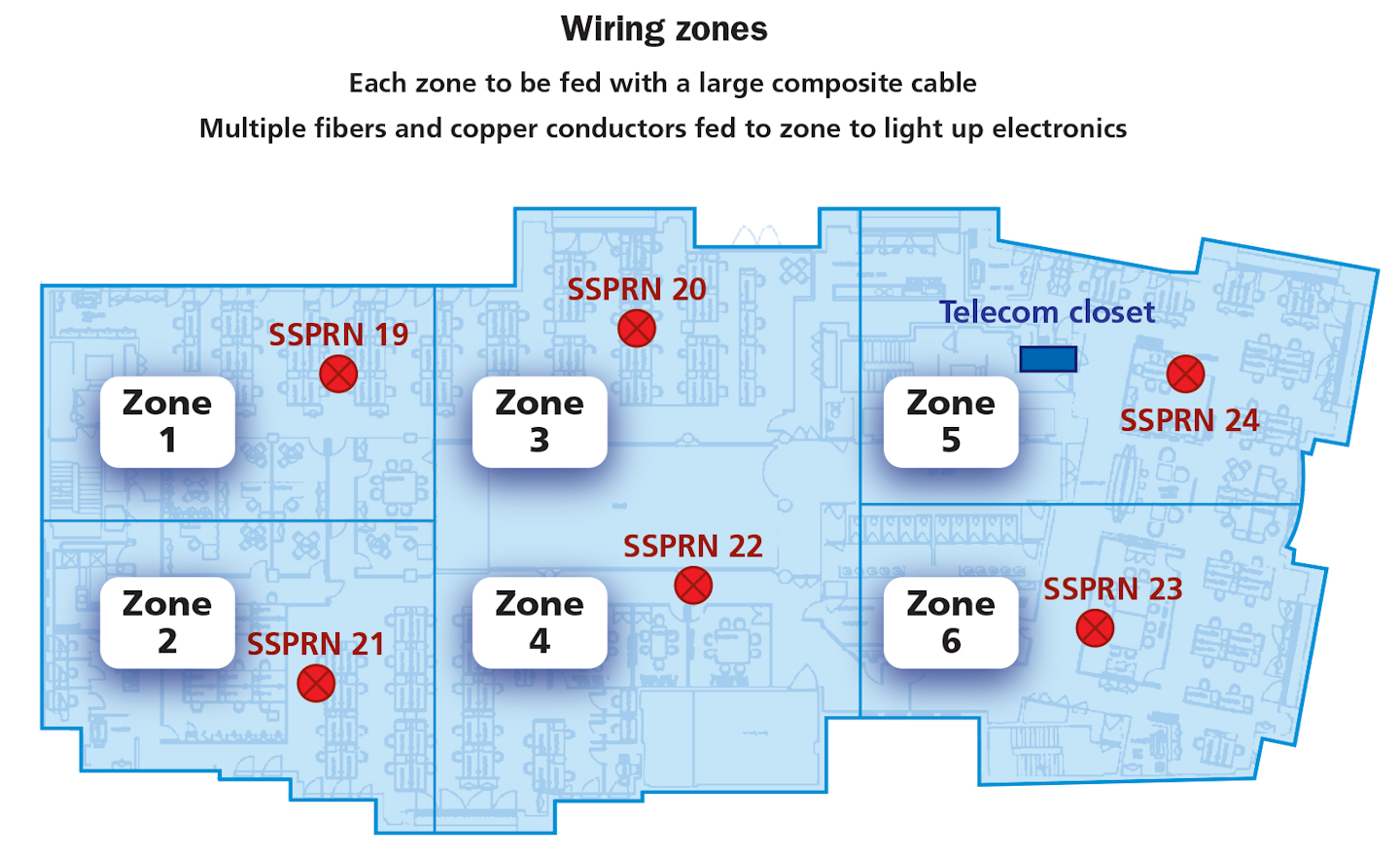 As recommended for the riser space, installing a higher fiber count horizontally is recommended to factor in consumption growth. Additionally, use composite cabling that has copper conductors for power along with the optical fibers for network traffic to power a coverage area's network infrastructure. This strategy reduces implementation cost and long-term operations expenses by centralizing all the floor's horizontal infrastructure power and network to its intermediate crossconnect closets.
Because sizing the backbone is an important consideration, we would like to offer a few thoughts.
Invest in plenty of excess capacity in the optical and composite optical paths. 5G, next-generation WiFi, and other wired as well as wireless services are coming, and they will all use plenty of fiber and power.
Because installation labor is always a big cost component, planning fiber capacity for the continued 48% compound annual growth rate of network traffic and more than 10x the amount of attached devices over the life of the cabling will limit expensive upgrades.
Smart buildings are gradually moving to mainstream as engineering and architecture firms design new buildings and retrofit older shells with modern features.
The foundation infrastructure for these smart buildings will be a robust and well-planned cabling infrastructure that appears throughout the property. This critical foundation will support a family of network services for owners and tenants that truly fulfills the promise of enabling a better experience for all. u
Art King is director of enterprise services and technologies with Corning Inc. He served as director of enterprise at SpiderCloud Wireless Inc. Corning acquired SpiderCloud in 2017.