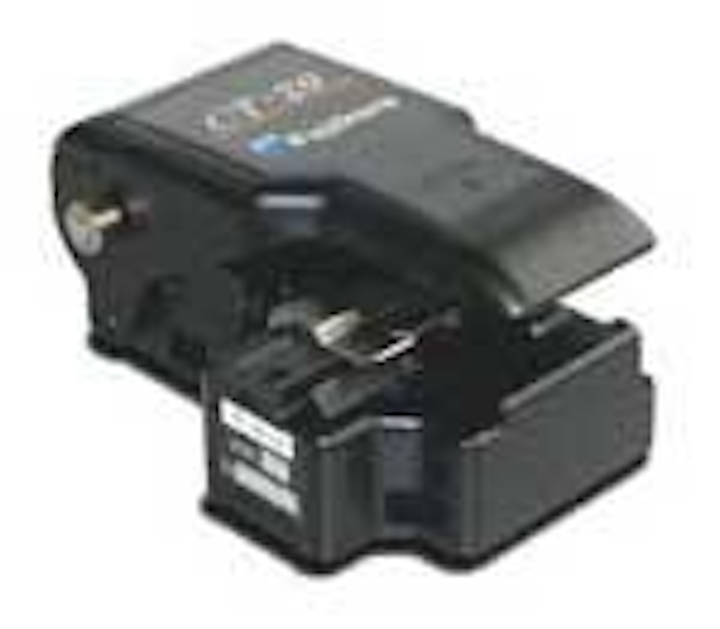 Quality optical-fiber cleaves or cuts are a must for maintaining optimum cable performance. "The trend has been to introduce new technologies into the design of fiber cable, which has resulted in the fiber being more sensitive to cleaving," says Greg Pickeral, product manager of fusion splicing systems, AFL (Alcoa Fujikura Ltd.) Telecommunications (www.afltele.com). "This high-quality cable makes proper cleaving more important than ever."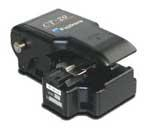 AFL's new Fujikura CT-20 precision cleaver is capable of cleaving up to 24 fibers in a one-step, ergonomic operation.
Click here to enlarge image
Cleaves that do not produce flat ends cause rough surfaces that scatter light, or air gaps that create light reflection, resulting in optical return loss. That's why the right cleaving tool is an essential part of every installer's tool kit. But what is the right tool? Cleaver manufacturers agree—there is no one right answer.
Handheld pocket cleavers
Handheld pocket cleavers include pen-shaped scribes and simple mechanical cleavers, such as the stapler-style. According to Bill Miller, marketing manager for Clauss Fiber Optic (www.claussco.com), handheld cleavers offer all the convenience and accuracy you need when used properly in the field. "In skilled hands, handheld cleavers offer significantly less investment for repairs, installation, and training classes," says Miller. "But if you need high volume cleaving, you wouldn't choose a handheld cleaver."
Pen-shaped scribes, used for scoring fiber before polishing, include KITCO Fiber Optic's (www.kitcofo.com) OptiScribe, which contains a proprietary carbide tungsten blade. "On another project, we discovered that tungsten carbide was almost as hard as diamond, lasted longer, and didn't leave residue—so, I thought, 'why not make a scribe out of the same material?' " says KITCO president, Larry Widgeon. Keeping the installer in mind, KITCO developed the OptiScribe with a two-sided blade for twice the life of a typical scribe.
Trey Hoffman, product manager for Fitel Interconnectivity Corp. (www.fitelconn.com), says stapler-style cleavers are used primarily for premise and campus installations where precise cleaves are not required for use with most connectors. Fitel's S315 Field Cleaver is a singlemode and multimode stapler that features a ceramic blade with a life of at least 1,000 cleaves. "Our field cleaver does require some skill to achieve desired angles, but its small, lightweight size makes it perfect for use in the field," says Hoffman. "You simply put the fiber in place on the leaf spring, press down on the base to score the fiber, use the lever to grip the fiber, and then bend the fiber and flexible leaf spring to break the fiber." For $185, the S315 is available with a graduated scale for various cleave lengths, and for $180, the S310 has a fixed cleave length of 16 mm.
Clauss' Fiberoptic Cleaver was one of the first handheld mechanical cleavers to include a fiber safety feature. "Our cleaver locks each fiber end in place using a guide tube to surround the fiber," explains Miller. "After cleaving, the tool holds the scrap until the installer can dispose of it safely and properly." For use with mechanical splices and no-polish connectors, Clauss' $227 Fiberoptic Cleaver's carbide blade offers adjustable cleave lengths, 6,000 single cleaves, and angle distribution that has been tested at 1/2 degree or less in 50% of the cleaves.
"Although we're not focused on cleavers, we work hard to provide our customers with a one-stop shop," says Herb Congdon, fiber product manager with Tyco Electronics/AMP Netconnect (www.ampnetconnect.com). For handheld cleavers, Tyco currently offers a sapphire-tipped scribe for use with epoxy-polish connectors for under $50, and a multimode stapler-type cleaver for under $350. "Scribes won't always give you a clean cleave and proper angle, but they're great for use before polishing," says Congdon. "Our stapler-style cleaver provides a cleaner cleave with adjustable cleave lengths in preparation for termination."
Precision desktop cleavers
Although more costly than handheld pocket cleavers, precision desktop cleavers can cut multiple fibers while increasing speed, efficiency, and accuracy. "In the past, many cleavers were handheld, but over time, as fusion splicers became available, desktop cleavers were developed to support various applications and multiple fiber cleaving with blades that have a much longer life span," says Tyco's Congdon.
Capable of cleaving singlemode as well as ribbon fiber (up to 24 fibers), AFL's new Fujikura CT-20 High Precision Cleaver is designed to provide one-step ergonomic operation in conjunction with their new 24-Fiber Ribbon Splicer. "We designed the CT-20 to incorporate the major steps of cleaving into one motion," explains Pickeral. "We've also added a fiber scrap collection system that disposes of the dangerous fiber fragments." Because the CT-20 cleaves more fiber, AFL increased the carbide blade life to 48,000 single cleaves. "Safety and blade life are big concerns, and technicians want excellent cleaves 99% of time," comments Pickeral. The CT-20 is available for under $1,200.
Sumitomo Electric Lightwave's (www.sumitomoelectric.com) new FC-6M Precision Optical-Fiber Cleaver replaces the FCP-22L Ultra Compact Precision Cleaver and FCP-25 Mass Fiber Cleaver. The FC-6M is both a single and mass dual-purpose cleaver that cleaves up to 12 singlemode or multimode fibers. "From a weight and feel standpoint, our new cleaver is more solid," says Tony Squires, Sumitomo's product manager for fusion and interconnect. "A while back, cleavers went smaller and customers started to complain. In response, we went back to a bigger unit that is more rigid when loading and unloading."
According to Squires, "Our proprietary blade offers three height adjustments and a total of 36,000 single cleaves. We're working on a blade that will extend that to over 100,000 cleaves, to be available by the end of 2002." The unit costs from $1,150 to $1,350, depending on selection of the accessory scrap collection bin (available separately for $250).
Fitel's ergonomic S323 Precision Cleaver for singlemode and multimode fiber features a 16-position circular carbide blade with a life of 32,000 single cleaves. The first desktop cleaver to provide a waste-disposal system, the $1,200 cleaver is available with two grooves for preset and adjustable cleave lengths, and is available in a smaller, less-expensive version (S324) without the waste-disposal system.
"The guide on our precision cleaver can be removed for cleaving up to 12 fibers," explains Fitel's Hoffman. "We're in the process of implementing a 24-fiber cleaving capability, to be available by the end of 2002." Used primarily for OSP fusion splicing, the S323 is a four-step cleaver where users simply close the lid, slide the blade to automatically score the fiber and lower the anvil that breaks the fiber, close the pinch roller to dispose of the waste in the collection bin, and then open the lid.
For $1,800, Tyco offers the Universal Fiber Optic Cleaving Tool which, according to Congdon, is primarily used in an industrial environment, such as a cable assembly house. The desktop unit's 16-position carbide blade lasts for 32,000 single cleaves and works on both singlemode and multimode fiber.
Specialized application cleavers
Some applications require specialized precision cleavers that are designed to cleave specific fiber sizes. These high-cost precision cleavers are the solution for applications where the highest quality fiber endface and lowest optical loss is required, such as component assembly or high strength splicing applications.
AFL's Fujikura CT-80B precision cleaver is designed to accept the challenge of cleaving 80-µm optical fiber. "The success of the CT-80B lies in its ability to reduce the natural tendency of the smaller crosssection fiber to flex during cleaving," explains Pickeral. "This flex, if ignored, greatly reduces cleave quality and consistency."
The FK 11 Series and FK 12 Precision Fiber Cleavers from NetTest, Inc. (www.nettest.com) feature ultrasonic vibrating diamond blades for low-loss, high-strength fusion splicing and angled cleave fiber termination for both singlemode and multimode fiber. The FK11 cleaves 80 µm to 200 µm cladding diameter (FK11-LDF 140 µm to 400 µm), and produces a defect-free fiber endface with low angle and high flatness. The FK12 cleaves 125-µm fiber and is targeted at applications where a consistent, defect-free, but angled cleave is required, such as for semiconductor laser diode manufacturing.

Available with an optional scrap collection bin, Sumitomo's FC-6M precision cleaver is both a single and mass dual-purpose cleaver with a proprietary blade offering three height adjustments and a total of 36,000 single cleaves.
Click here to enlarge image
null
At $2,000 and $5,600 respectively, the FK11 and FK12 are not low-cost leaders in their respective applications, but the manufacturer claims their products provide better and more consistent results required for more demanding splicing applications.
Next generation cleaving
What does the future hold for optical-fiber cleavers? Have we reached the point where it's no longer possible to make them better? Most industry professionals agree that only two main factors affect the future—feel and price. "The performance is where it needs to be and the trend now will be to reduce costs and continually simplify cleavers for enhanced, efficient ergonomic operation," says AFL's Pickeral. "Increased demand will yield mass production and help drive down cleaver costs."
Installers want a cleaver with consistent performance, that's easy to use, and has a long blade life. "We're seeing that people are increasingly cognizant of how a cleaver feels in their hands, especially if they're doing it day in and day out" says Squires from Sumitomo. "From a performance standpoint, there will be very few changes, but I foresee longer blade lives and a consolidation of functions for fewer cleaving steps and adjustments, making cleavers less training- and skill-dependent."
Congdon agrees with the future ease of use and reduced prices, but notes that cleaving is a delicate matter. "One of the things that people tend to do incorrectly when cleaving is applying too much force," says Congdon. "Regardless of a cleaver's ease of use, too much force can smash the fiber and you won't get a good cleave. All it takes is a gentle touch to score the fiber and, unfortunately, the inexperienced often don't know they have to be delicate."
Betsy Ziobron is a freelance writer covering the cabling industry.
---
click here to download "Product Update: Fiber Cleavers" pdf. [pdf size is 402KB]