Residential cabling undergoes home improvement
While TIA/EIA-570A gave everything needed for telephone, cable TV, and data installation throughout the home, a revised standard will address audio, automation, and security systems.
Nov 1st, 2002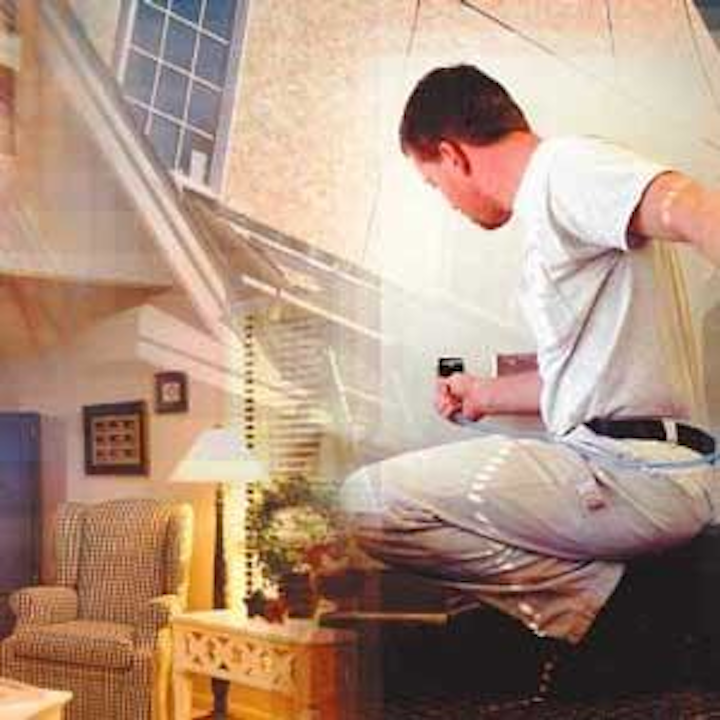 The Telecommunications Industry Association's (TIA) standard for residential cabling is in the process of being updated to TIA/EIA-570B, reflecting three areas that have not been addressed by the present standard, in addition to updating other performance criteria. The proposed addenda to 570A are designed to show installers how to more effectively and efficiently install cable for security systems, home automation and whole-house audio.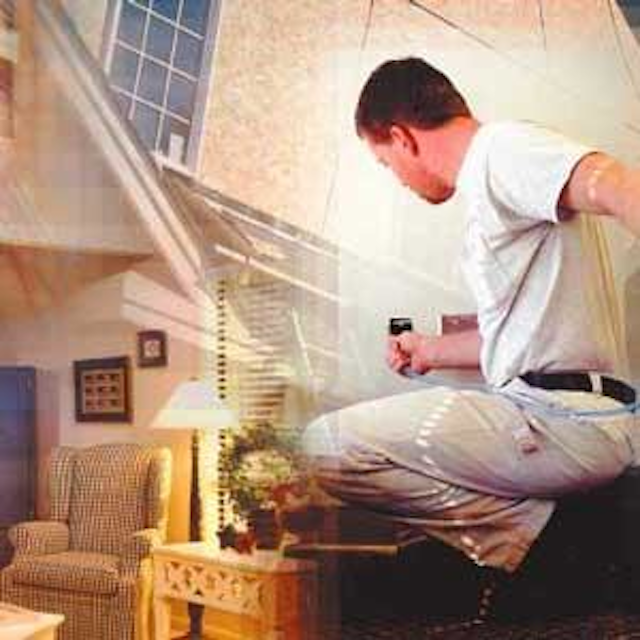 Click here to enlarge image
The clearer guidelines are designed to focus on the unique issues of installing a structured cabling system in a home, as opposed to a commercial building, and to help ensure that homeowners are protected from poor installation techniques or habits. For example, installers "can pull cable through a resident's house, but how tightly do they bend it?" asks John Pryma, vice president and general manager of the structured cabling division of Genesis Cabling Systems (www.genesiscable.com). Pryma, who is vice chairman of the TIA's TR-42.2 Subcommittee on Residential Telecommunications Infrastructure, adds, "We have to make sure the installers don't buy the cheapest cable they can lay a hand on to wire your house."
Pryma says the new document seeks to cover everything that installers need to know about the peculiarities of residential cabling. "It's not always more expensive, but typically, there is more labor involved," observes John Seger, a former cable installer who is now an applications engineer for the voice and data division at Leviton Manufacturing Inc. (www.levitonvoicedata.com). Seger, also a member of the TR-42.2 subcommittee, says "There is a higher skill required. There are a lot of unknowns."
As with other TIA standards, 570B is designed to be a jumping off point for builders, providing them with a common language. "We will put the safeguards in," says Pryma. "We will put fiber in the standard, put in specs for coax, exactly what they are. We hope to make it a comprehensive document."
TIA standards are reexamined every five years to see if revisions and updates are necessary, and it's a process that can take two years to complete. The first residential cabling standard, TIA/EIA-570, was approved in 1991, with the standard updated to 570A in 1999. (A recent poll on Cabling Installation & Maintenance magazine's Web Site [www.cable-install.com] asked installers if they have made use of TIA's 570A cabling standard—61% said no, while 39% said yes.) The three addenda added this year will result in 570B, hopefully by the end of this year.
Bob Jensen, chairman of the TR-42.2 subcommittee, says the residential cabling standard has been in need of improvement almost since it was originally written in 1991, because it did not have any specifications for audio cabling, automation control and security. "Our intention is to put more meaningful information into the document so it can be used more [effectively]," says Jensen, optical-fiber programs manager for Fluke Networks (www.flukenetworks.com).
"The whole intention of the 570A standard is that if someone wants to cable their home, they can use this document to cable their entire home," Jensen continues. "570A, as it was published in 1999, gave everything for telephone and data throughout the home, and also cable TV and satellite systems, but did not address audio, control systems or security systems."
The power of entertainment
The revised standard will focus more on home entertainment, and taking into consideration how consumers' desire for high-tech "toys" is pushing manufacturers to make more advanced systems. Upgraded structured cabling systems are now paving the way for satellite television, Internet gaming, digital music, and other home entertainment opportunities that can't be received or used on an out-of-date system.
"I wrote the draft of the addendum for audio, given how the industry is moving toward entertainment as a priority," says Seger. "We looked at surveys, and it (entertainment) was first on why residents want to install structured cabling."
The addendum for security cabling, meanwhile, points out that the location of sensors and cabling devices must align with the requirements of the National Fire Protection Association, the National Electrical Code and the National Fire Alarm Code. Security cabling should be installed after the residence's walls are framed and before the wall covering has been installed, thereby allowing maximum flexibility in routing cables. Security cable must be separated with respect to electrical power conductors, meeting applicable electrical codes. The addendum also states that sensors and devices must be properly located to assure best response or capture performance, and to minimize potential false alarms.
Click here to enlarge image
Modern home wiring solutions will make use of a central hub or service center, which acts as a central point that accepts incoming services and distributes them throughout the home. High performance cabling, such as Category 5 and RG6 Quad Shield coaxial video cable, provide the "highway" on which the the information travels. High quality outlets, meanwhile, are designed to support advanced information services. These outlets are the "off-ramps" that lead to computers, television sets, telephones and fax machines.
The control cabling addendum for home automation focuses on low-voltage optical-fiber cabling used to control various functions, such as heating and cooling regulation, and notes that power line carrier devices are also used to control lighting components throughout a home.
As with security cabling, this addendum proposes that home automation cabling be installed after the residence's walls are framed and before the wall covering has been installed, both for flexibility in routing and to ensure that the cables are properly concealed in wall and ceiling spaces. Vertical pathways, which may be installed throughout the dwelling to route the control cables, should consist of a raceway with a minimum 41 one-and-a-half trade size.
The addendum also states that the location of control devices should be carefully considered by consulting applicable codes and regulations. Recognized cable types for lighting control, climate control and home automation systems include:
Copper cable 16-24 AWG multi-pair;
50/125-µm multimode optical-fiber cable;
62.5/125-µm multimode optical-fiber cable.
The final addendum addresses whole-home audio cabling—used with high quality music systems. These systems are segmented by rooms or spaces known as "zones," each one typically having its own volume control. The audio source could include, for example, satellite, receiver, radio, CD player and computer.
The addendum notes that whole-home audio systems should be planned early in the construction process, with the installer conducting a walk-through with the homeowner or builder to determine the expected use of each room. Issues regarding the speaker, volume control, amplifier and distribution device location should be resolved before cabling and closing of walls and ceilings.
The addendum states that audio system cables running parallel to the AC power cables should be separated by at least 12 inches to minimize induced electrical interference problems. For amplifier location, installation from a suitable wall outlet is to include six conductors of speaker wire and one Category 5e cable. Each audio zone must have at least one volume control. The addendum states that four conductors of speaker wire and one Category 5e cable must be installed from the distribution device to each volume control location. Each audio zone will have a minimum of two speakers, and two conductors of speaker wire and one Category 5e cable must be installed from the volume control location to each speaker in its zone.
Change ahead of its time?
"We've got to take them (standards) to a higher level," says Doug Fikse, president of OnQ Technologies Inc. (www.onqtech.com), based in Harrisburg, PA, but he warns that there could be a backlash if standards are perceived as being too difficult to keep up with frequent updating, thereby discouraging both installers and cable component manufacturers. "The flip side is we might have zero (new applications) if we set the bar so high that they (manufacturers) won't play," says Fikse.
Others think that the standard revisions aren't necessary yet. Ed Bobrin, director of corporate and home systems technology for DeLuca Homes (www.delucahomes.com), based in Yardley PA, says the present wiring systems in today's homes are more than adequate, and believes that most consumers are not savvy enough to either need or seek more sophisticated systems.
"I think for home system technologies, the 570A standard has been adequate," says Bobrin. "People are just coming around to expect structured wiring. We're not at the point where they measure the performance of copper versus fiber or other high-speed technologies." He argues, for example, that the present standard for audio is adequate. "There are people running audio off of a Category 5 wire in that standard, and I think that's fine for a whole-house background audio system."
But Jensen, who is concentrating on the testing side of the update, counters that new developments in cable make the standard revisions essential. "The 570A standard will likely be updated to the use of Category 5e cable as it is currently recommended over Category 5 cable in the standard," says Jensen. "From a testing perspective, we will be looking into verifying cables that are bridged (for telephone) for wiremap and length, as well as for ensuring continuity for audio, control, and security cabling. Category 5e cables that are home run should be tested using the permanent link methodology rather than the basic link method used with Category 5 cabling."
Adds Pryma, "Certainly, the market will grow. It's just a small percentage of new homes that will get rewired every year, but as more get done, people will bring their wiring up to what it should have been in the late 20th century."
Seger says that, ultimately, most homeowners will want to upgrade their cable systems. "If you have no intention of growing your system, you can skip the standard. But if you are a real person, you will change your mind in a few years. The standard is there for that."
Brian Milligan is senior associate editor for Cabling Installation & Maintenance.
---
Plenty of work to be done
Click here to enlarge image
Approximately 1.6 million new homes are being built in the United States each year, and a surprisingly high percentage, according to TIA research, are having structured cabling systems installed. The TIA's projections indicate that by 2004, 48 to 50% of new homes in the country will have structured cabling systems installed.
"Five years ago, we could count the number of houses (that have these systems) on one hand," says Doug Fikse, president of OnQ Technologies Inc. "Now, if we survey the players in this industry, you'd get up to 27% of all houses that have some structured wiring installed in them."
Fikse says the standard will be particularly important for new construction as consumers, like Richard Cauffiel of Lake Worth, FL, seek structured cabling systems that will power state-of-the-art home entertainment and business equipment. For Cauffiel's 3,000-square-foot, four-bedroom two-story house, installers placed Category 5 cable throughout, and shielded coaxial cable ran through the attic to a satellite dish. The cabling was wired to a central distribution box in Cauffiel's garage. Cauffiel says he chose the structured cabling system to receive signals from the satellite dish, and provide high-speed Internet connections for several computers, laptops, and printers. "The technology changes so fast," says Cauffiel. "There have been a great deal of changes with high definition TV, and cabling for computers will change. So, I figured, why not get fiber-optic?"
But installers are increasingly receiving interest in recabling existing homes, too. "We are still talking mostly new construction," says Fikse. "But there is a lot of interest in looking at existing homes—probably more special application-oriented as opposed to someone coming in and rewiring the entire home the way they do in an office area."
Installing structured cabling in an existing home requires greater skill and training, especially when compared to a comparable commercial installation. "In a commercial building, you just pop a tile (and pull cable through). In a residential situation, you can't do that," says John Seger, an applications engineer for the voice and data division at Leviton Manufacturing. "The maintenance is virtually impossible. Therefore, it is important to do the job right in the first place."
Seger concludes, "The standards exist for exactly this reason. Standards ensure a known level of performance."