Overcoming the challenges of working in the dark
Dark fiber installation can be risky business, but careful preparation can save time and money.
Sep 1st, 2002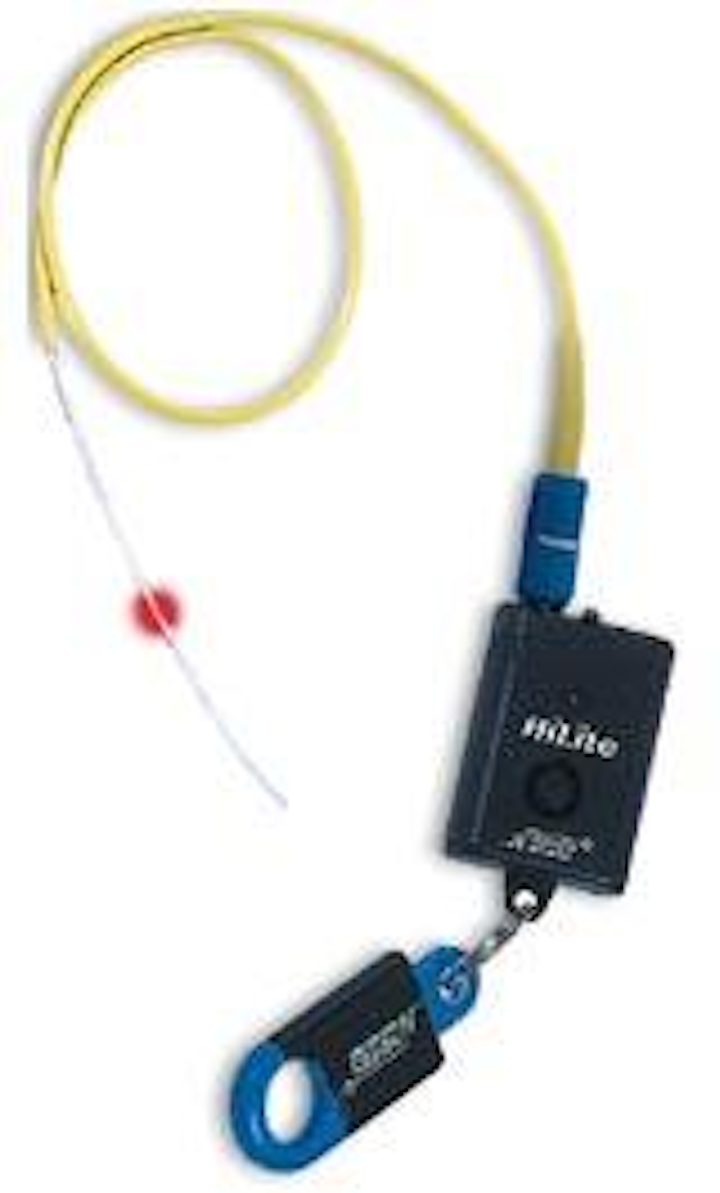 Dark fiber installation can be risky business, but careful preparation can save time and money.
Dark fiber installations offer a high degree of risk. Poor judgment when deciding how many fibers to install or what type to install, or a poorly executed installation may lead to excessive waste and expenditures. But careful preparation can make dark fiber installation as efficient and future-proofed as any other type of cable project, and a properly planned installation saves time and money.
A dark fiber installation is especially challenging because fibers that are not terminated and tested immediately remain unknown quantities until they are actually used. You'll need to take careful steps before, during, and after the installation. Special emphasis should be placed on how the dark fiber component should be handled.
Generally, a dark fiber installation project leaves many loose ends, such as documentation issues or the need to store unused fibers. To avoid these, determine the scope of the job, gain an understanding of the cable composition, form contingency plans, and evaluate the cable run. You should also carefully document the project and make a preliminary job checklist.
The scope of the job
Dark fiber is excess fiber that can be installed in anticipation of system expansion. The installed network should cover the end user's immediate bandwidth needs and still allow for future growth. You'll need to determine the size of cable to pull, which can be a balancing act between cost and utility.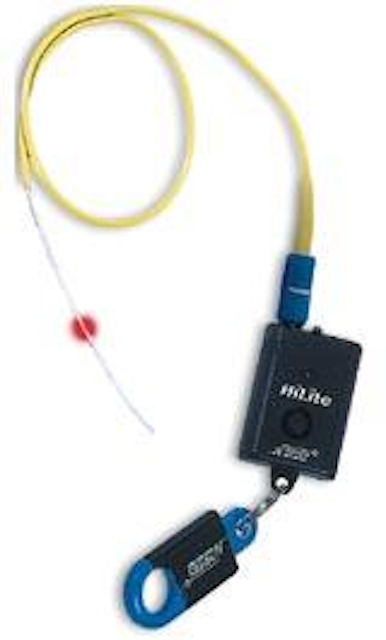 Dark fiber may be tested using a pocket fault locator, such as this one from Noyes Fiber Systems. The laser provides a beam strong enough to provide visual signals at the end of any normal inside plant, optical fiber cable installation.
Click here to enlarge image
A reasonable attempt should be made to determine future traffic requirements, and adequate spare fiber pairs should be included for growth. Additional spares should be included for replacement of failed fibers.

A good rule of thumb is to install one spare pair for every six active pairs in the cable. But be careful-if you pull in too much cable, the fibers may never be used. Conversely, if you put in too few fibers, the end user may need another and costly cable installation within a year.

The level of redundancy is usually determined by the critical nature of the traffic riding on the cable. If the end user considers the traffic to be of high importance, the need for redundant circuits and routes can translate to higher cable and labor costs. This factor alone may influence the entire system design, just as it will influence the design of the active network elements.
Cable composition
Choose your cable comosition carefully. In the past, decisions about cable composition were usually made by design engineers. But today, thanks to the passing of Division 17 and due to cable system sophistication, installers now have a voice in determining the best mix of cable options.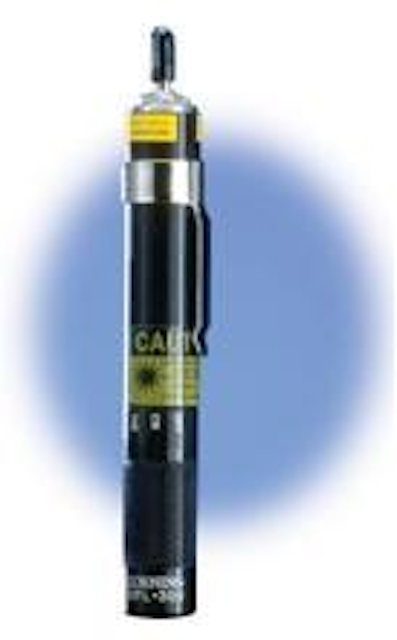 Dark fiber may be tested using a visual fault locator, such as this one from Corning Cable Systems .
Click here to enlarge image
A well-planned installation takes into account all cable needs. Typically, labor is the greatest single expense in any installation. But if all cable can be installed at the same time, those labor costs can be minimized.

A good installation plan considers all aspects of the cable requirement. Most installations involve both voice and data applications, and while many organizations are moving ahead with Voice over IP (VoIP) solutions that require only fiber, many are maximizing their investments in legacy voice systems requiring copper cabling.

Before the installation, you should conduct a cost/benefits comparison of fiber vs. copper. Likewise, you should consider the use of hybrid cables (an assembly of fiber and copper), and singlemode vs. multimode optical fiber. If copper is used for voice traffic, consider using Category 5 cable in place of simple voice-grade, twisted-pair cable. This offers backup paths for data if the fiber cable is cut or otherwise put out of operation.
To maximize the value of your installation, the fiber and copper cables should be run along different paths, ensuring maximum level of redundancy or extra protection. To increase redundancy, use separate entry points if the cable is to be run between buildings.
The cable run
Once you've determined the cable system, you'll need to evaluate how well the design fits the job site.
Floor plans and wiring diagrams may be useful tools in initial planning, but you should conduct a walk-through before scheduling and labor requirements can accurately be established. The best way to assess the job site is to actually visit it.
The simplest cable run has a starting point and a destination. In between these points, you'll find a variety of environments. The cable path may take the cable above ceiling tiles, through cable trays, or under carpet panels. Dark fiber may remain unused for long periods of time., so during this dormant phase, it needs to be protected, You'll need to ensure a safe and environmentally friendly space.
The act of pulling the cable to the far end of the run can be as strenuous on the cable as it can be on the crew. A hard pull can damage fiber strands. It is important to choose a path that offers minimal resistance, since dark fiber strands may not be tested until they are put into operation.
While pulling dark fiber, you'll need to consider the number of intermediate distribution frames (IDF) along the cable path. Each IDF requires splicing. Dark fibers may or may not be terminated when installed. Unterminated dark fibers must be stored and protected. Every IDF increases the chance of damage to the dark fibers in the cable, so you should minimize the number of splice points between the ends of the cable.
When evaluating the cable run, consider the need for conduit and underfloor routing. Each transition of the path medium means a transition for the cable. Any bend, kink, or pressure point on the cable is a potential point of failure.
Be especially careful when using tie wraps or other devices to secure an optical-fiber cable. A tightly secured tie wrap may kink or break a fiber strand inside of a cable. Such a condition halfway along a cable run can be extremely difficult and time-consuming to find.
Network technicians must evaluate station terminations if dark fiber is to be run all the way to the workstations. In this case, placement of unused fiber strands within walls or floors may require special attention. That means you must decide whether to prepare dark fiber strands for immediate use, or to leave them in an unprepared condition. You must also decide how to store them for easy access and protection against the environment.
When leaving dark fibers in a jack box or coiled in a cable tray, for instance, you'll need to pay close attention to wire dressing. Remove enough cable sheath and buffer tube to reduce strain on the fiber strands coiled near the termination point. Loops or coils, located in trays or behind walls, should be as large as possible and gradual in degree to reduce long-term effects on the fibers. Finally, remove enough cable sheath and buffer tube to provide future installers with adequate fiber strands for quick and easy terminations.
No walk-through is complete without a visit with on-site customers. If the installation takes place in a vacant office or undeveloped work area, the needs of the future tenants should be considered. Too often, these needs are neglected. If, for instance, the tenant has designed office cubicles and work areas without consulting the telecommunications planner, the placement of monuments, jacks, and cable management systems could be affected. If the installation is taking place in space that is already occupied, major disruptions of work activities can be expected. A meeting with the office manager may stave off hard feelings or conflict between your crew and the resident workforce.
Documenting the job
Documentation is a critical success factor in any cable installation job. The time spent marking terminated fiber pairs and properly accounting for unused pairs is time well spent. This will save countless hours (or days) the next time a technician comes in contact with the cable.
If the installation requires that large numbers of dark fibers remain unterminated, you'll need to properly label buffer tubes and pre-polished strands. This will ensure that, if repairs become necessary, the next technician can find the fibers that are intended for immediate use.
A good documentation plan also includes a paper or software cable plan that should graphically display the cable. All strands should be indicated. A standard nomenclature should be used to indicate all splice points and terminations. A copy of this document should be on site at a designated closet or communications room. All changes to the cable plan should be documented immediately.
Preliminary job checklist
Once the scope of the job has been defined and the physical environment surveyed, you need to write a Preliminary Job Checklist, which should cover:

Site contact people-who should be identified during walk-throughs;
Route information, which should include locations of IDFs and Main Distribution Frames (MDFs), trays, conduit, jacks, monuments, etc.;
Information on other work crews that may be involved in the installation process, such as conduit installers or equipment technicians;
Special equipment or tools needed to complete the job ladders, including scaffolding and coring tools.
A materials list of cable, hardware, splice kits, termination devices, etc.
Your checklist should be based on the total picture of the installation developed in the earlier steps. The list provides a standard approach to job planning, and is designed to take the guesswork out of planning and surveying a job. It will serve as a milestone in the planning process.
Getting to work
All precautions must be taken to ensure fiber intended for use in the near term is dressed and prepared for immediate use (unless otherwise instructed). If the job is properly planned, the work site surveyed, and your crew is briefed on how to handle the dark fiber, the installation should be trouble free.
Differences between a dark fiber installation and an all-lit fiber installation become more apparent during cable testing. When a cable is installed for immediate use, all connections are made from the beginning. Standard testing methods can be used to determine the continuity and loss levels. An Optical Power Meter (OPM) and Optical Time Domain Reflectometer (OTDR) can provide a complete evaluation of the cable's readiness.
Dark fiber poses a different set of testing challenges. If all dark fibers are spliced and terminated, the OPM and OTDR tests can be applied to them. But in most cases, it is not desirable to complete all the connections. It can be time-consuming and expensive to splice and terminate large numbers of fibers that may not be employed for a long time. Terminated fibers should not be exposed to the environment for long periods before they are plugged into jack fields.
You can take advantage of coarse tests to adequately test dark fiber without going through the full range of testing. These will provide a measure of confidence in the fiber strand without forcing you to resort to more expensive and time-consuming methods.
But first, you need to determine how many fibers really need to be tested. Dark fibers that are reserved as spares should definitely be tested, as should fibers designated for future growth. These growth requirements should be based on realistic estimates of near-term (6 to 12 months) expansion plans. It can be costly to prepare too many fibers, and this may expose many fibers to the environment for too long a period, leading to a lot of re-terminating and testing later on.
A dark fiber may be tested using a laser-based visual fault locator or a pocket fault locator. Both have a beam strong enough to provide visual signals at the end of any typical premises optical-fiber cable installation.
Final checklist
A Job Completion Checklist is another useful tool for ensuring a rapid and clean end to any installation. Your list should include all labeling requirements associated with the job. IDFs, MDFs, all stations, and all individual cables should be listed.
The checklist should also include copper, hybrid and fiber cables. Housekeeping items should also be listed, including replacement of floor and ceiling tiles, cleanup of work areas, and the return of furniture.
Copies of all testing data should be included in the post-installation report. The customer should be given a tour of the work site after the installation. All floors, ceilings and walls affected by the installation should be inspected. Make sure you show the customer where to find wall jacks and floor monuments.
---
John Collier is manager of transport section, Los Angeles Department of Water & Power Information Technology Services.
---
Conducting a test on dark fiber
null
When conducting a test on dark fiber, take the following steps:

Terminate both ends of the cable with any standard fiber connector.
Connect the laser device to one end of the cable.
Place the connector in front of a sheet of paper or other flat surface at the far end of the cable.
Activate the laser and observe the light at the far end. This test requires two participants-one at each end of the cable. The intensity and symmetry of the projected light is a good indicator of the quality of the signal getting through the fiber. A strong light is obviously desirable.
Attach the laser to the other end of the cable. By shooting the laser in the opposite direction, you can test the near-end plug connection and all splices in that direction.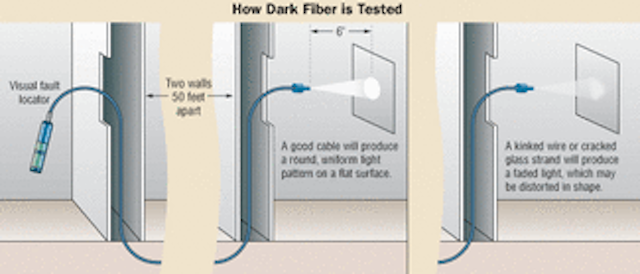 Click here to enlarge image
While this test offers a less precise measurement of the signal-carrying capabilities of a fiber strand, a skilled technician can determine if the strand is capable of carrying data.