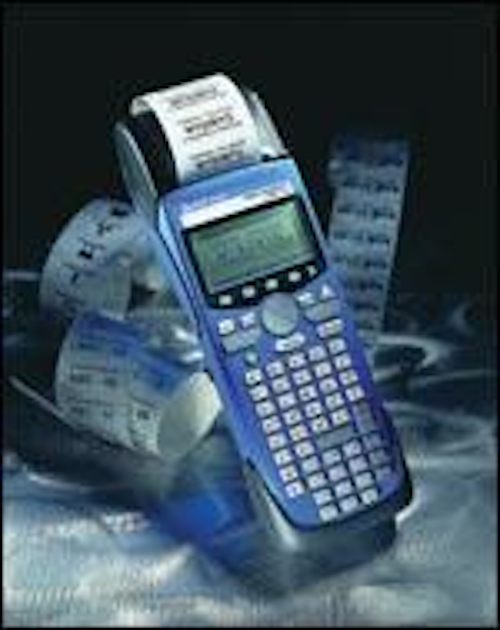 Today's labeling equipment has auto mated functions and time-saving features that take the sweat out of ID-ing your cables.
A past Product Update (see "Cable labeling equipment makes installation more efficient," February 1998, page 70) in Cabling Installation & Maintenance predicted "the future of cable marking and labeling lies in improving existing automation."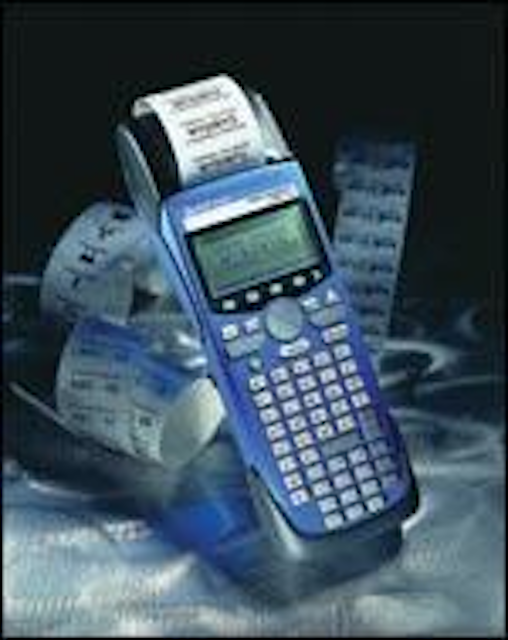 HellermannTyton's Spirit 2100 features an LCD that lets you see exactly what you are about to label, so there are no unpleasant surprises.
Click here to enlarge image
Installers and technicians at that time were looking forward to the availability of programs that automatically print out a large number of labels on a peel-off sheet quickly. They wondered if bar coding could someday yield labor savings. And they realized labeling equipment with pre-designed templates could save them a lot of time. Does today's cable marking/labeling equipment have what it takes to make these dreams a reality? Manufacturers are now delivering products that address these concerns. (See table, page 52.)

These improved marking/labeling products are being used as you read this article. Cabling Installation & Maintenance has introduced the "Quick Vote" at our Web site (www.cable-install.com), where each week a new question is posted, and you can see how your industry feels about various issues. A recent Quick Vote asked: What do you currently use to label your (or your clients') cabling runs? 102 voters said they use machine-generated labels, while only 25 said they used hand-written labels.
The following article details features of the improved cable marking/labeling equipment these 102 voters may be using.
Mass labeling
Sometimes, you need one or two labels; other times you need 50, 100, or 10,000 labels; but you always need them quickly. Manufacturers currently offer portable cable marking/labeling products that can do both, or less portable solutions that can create 10,000 labels faster and with better print quality than models did four years ago.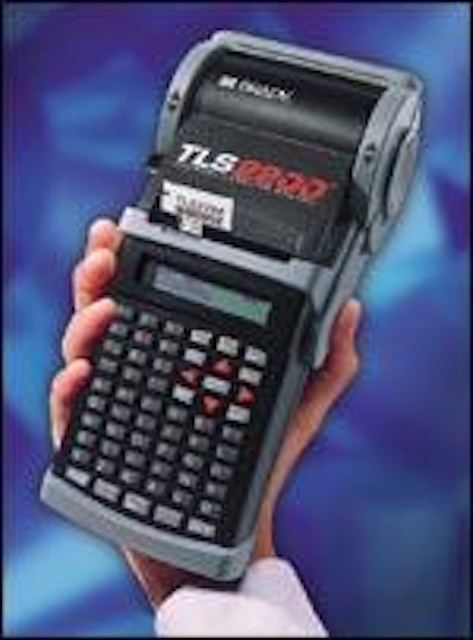 Brady Corp.'s TLS2200 is a standalone labeling system that lets you store your work for future moves, adds, and changes.
Click here to enlarge image
HellermannTyton's (www.hellermann.tyton.com) Spirit 2100 is designed for installations where you need to quickly print 1, 2, or 40 to 50 labels. For rework, you may only need one or two labels. "Sometimes you need to go back [to the job site] because you missed something," says Todd Fries, marketing manager, I.D. systems at HellermannTyton. "Or, someone at the site may have accidentally stepped on a roll of labels."

The handheld Spirit 2100 can also do an entire job by automatically printing 40 or 50 labels instead of just printing out and applying one label at a time. Typical handheld devices are generally used for smaller projects.
With Panduit Corp.'s (www.panduit.com/ncg) PanAcea LS7 handheld solution, Dave Morrison, a Panduit product line manager, says you can program in repeat lengths. "If you are labeling a patch panel and the jacks on the patch panel are .65 inches across, you can enter your data into the printer and automatically center all of the information underneath each one of the termination positions," he explains. The printer can also reduce the font to ensure that your information fits properly.
Text formatting may be used in conjunction with serialization. The LS7 has a "page" function that lets you identify individual blocks. It will adjust the font and include the serialization at the same time. A "file memory" will save this legend information for future reference.
Import graphics
Portable units like the Spirit 2100, Panduit's LS6, and Brady Corp.'s (www.bradydatacomm.com) TLS2200, as well as labeling software packages let you import graphics, such as your company's logo, a phone number, or any picture or information you would like to have displayed. You can import any bitmap graphic into the program and size it at will. You can apply it directly to the faceplate or other piece of equipment you are labeling-an opportunity for company recognition at the job site.
Having logos displayed everywhere can be a source of pride for your customers as well. "We're doing a job right now for Harley Davidson, who likes to see their logo everywhere," says Raymond Rodden, product marketing manager, cross connect systems, Hubbell Premise Wiring (www.hubbell-premise.com). This is also popular with school systems. The University of Notre Dame asked Hubbell to place the school's crest on faceplates throughout the campus.
Set your size
"We saw that we needed to develop a system to effectively label products to the specifications of the buildings," says Rodden. Templates provide a user-friendly approach.
Some manufacturers offer an Excel or Word template, but Rodden says you still have to "tweak" it (the template) per printer you are using. The label will not properly line up the port spacing and jacks without some adjusting, since this type of template is based on picas instead of inches or centimeters.
Improved template designs are merely downloaded into your database and prints perfectly with a laser printer. "Whenever we come out with a new product and need to put together a new template, we can e-mail the new template to registered users," says Rodden. Designed to work as a contractor tool, the template is not sold as an individual product. Registered users can download the templates from the Web site. Handheld devices can also connect to a PC and download upgrades, such as additional label sizes or text in different languages. Some manufacturer's handheld labeling products automatically update the database with each download.
This method of downloading up grades makes sure your labeling product does not become obsolete. Also, it saves you the hassle of sending the product to the manufacturer or waiting to receive a CD-ROM in the mail.
Panduit's PanAcea LS7 Thermal Transfer Printer has a cassette-based system that carries both the tape and thermal transfer ribbon. These cassettes are designed to make it easy for you to switch tape sizes. "For example, you can replace a 3/8-inch tape with a 1/2-inch tape, and you don't have to program anything," says Morrison. "The cassette is automatically read." Brady offers a similar feature with its Smart Cell technology for the company's TLS2200 and TLS PC Link. This technology automatically identifies label size and printer settings so that calibration and printer set up are not required.
LCD
Fries says a common complaint from customers is there are too many steps involved in the label making process. So, Hellermann Tyton's Spirit 2100 and Panduit's LS6 support a "what you see is what you get" philosophy.
A graphics LCD on the units displays the label throughout the design process. You can view the outline of the label and whatever information you decide to place into it. You won't have to guess what font size was actually used or how many characters will appear on a line.
Bar coding
Bar coding works for supermarkets and department stores, so why couldn't it work for larger cabling systems? A lot of companies feel that for asset management and inventory control, they need bar code numbers for everything. For example, a bar code can tell you how many patch panels you have in a rack or how many workstations currently reside in a building.
Hubbell's system documents individual part numbers. "You can type the part number [into the Hubbell Labeling Software] and it will be translated into bar code," explains Rodden. "So, when you scan the bar code, you will know the patch panel belongs in a certain floor of a building."
The Spirit 2100 simplifies the bar coding process with one button marked "serial." This automatically makes the identified line a serial number, so that when you go to print, the device knows how to increment the labels. Many of today's printers-benchtop and handheld-have a serialization function and support bar coding. Brady's TLS2200 lets you initiate this function by pushing a serialization button. Then select a value and the number of copies.
Many manufacturers see bar coding as an important development once technologies evolve further and there is less space for labeling.
Labeling for the future
"It used to be common practice to write on [patch] panels during an install. It was very sloppy," says Rodden. "When you tried to perform a move, add, or change (MAC), it added a lot of time because there would be a mess of cabling and you didn't know which workstation went with which panel." More efficient methods are in use today, and labeling equipment is evolving with the changing times.
Identifiers are getting longer. Panduit's LS7 can place vertical or horizontal lines to help you arrange or separate the text for clarity purposes. Sometimes on a patch panel, you will have a long identifier-causing you to have a lot of data running together. A simple line can identify the break per jack.
With today's benchtop and portable printers, you can store lists containing this information. Brady's TLS PC link lets you store 10 different lists in the compatible LabelMark software, and directly into the handheld TLS2200's printer memory.
Contractors are putting more effort into their labeling work since this brings an opportunity for MAC/maintenance contracts after the completed installation (see "Adding value to your installation" in Cabling Contractor, July 2002, page 12). This encourages the user to call upon the contractor for MAC work if there is not an administrator on site.
---
Ryan Cliche is assistant editor of Cabling Installation & Maintenance.