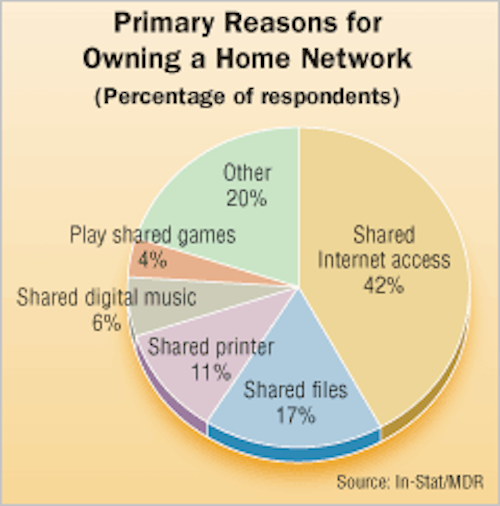 Compiled by Brian Milligan
As the popularity of home networking in the U.S. increases, the demographics of those using the technology are evolving, according to a recent survey conducted by In-Stat/MDR.
And as homeowners are bombarded with a wide array of multimedia services they can install in their homes, some cable manufacturing giants like The Siemon Company (www.siemon.com) are reacting by developing programs that will show installers how to design and install a state-of-the-art home cabling network.
In a recent survey, In-Stat/MDR (www.instat.com) found evidence of increased interest in home networking by nearly all segments of the population. Home networking refers to sharing information, such as Internet access, digital music and games, across multiple PCs. This can be as simple as having two computers connected or hooked up to a printer.
Jaclynn Bumback, a research analyst for In-Stat/MDR, says the survey reveals that 13% of the respondents say they plan to purchase a home network. "If you take this and compare it to the entire population, it would be 13.6 million people planning to purchase a home network," says Bumback.
In-Stat/MDR's survey found that 42% of those with home networks pointed to broadband as the primary application. With the number of broadband users in the U.S. growing to approximately 13 million by the end of 2001, the home networking industry has benefited greatly.
Bumback says this points to a strong end-use demand for affordable broadband sharing devices from the likes of vendors such as Linksys and NetGear. These two vendors alone shipped more than 2 million cable/DSL routers in 2001.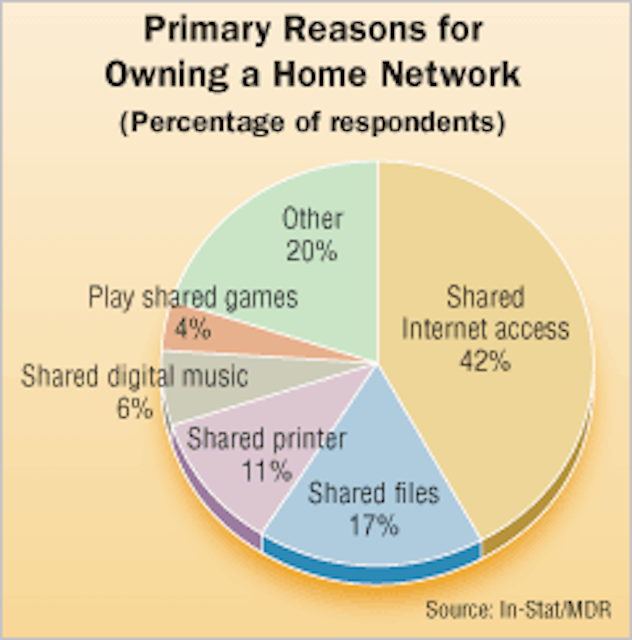 Click here to enlarge image
But Bumback says one of the key, and surprising, findings of the survey is that the 45-54 age bracket has become the largest segment of the home network owner population.
"The major change is the age group," says Bumback. "Everything is on track with what we expect. We expect the home network owner to adopt other technologies more readily than the average household."
Bumback says In-Stat/MDR believes the older market is reacting to the needs of their tech-savvy late-teen children, plus home networking products are becoming easier to install and manage. The segment accounts for 28% of all home networked households in the U.S.
"They push for this," Bumback says, referring to the teen-agers. "They have multiple PCs, networking from broadband. They want faster Internet speed."
And In-Stat/MDR believes wireless will definitely play a big part in future home networks. The survey reveals that 20% of the people planning home networks are considering wireless. Bumback says the surge in wireless networking equipment sales, and the availability of low cost home routers to enable broadband sharing shows that this technology is gaining wider acceptance.
With all of the apparent interest in home networking, the need for top-notch home cabling infrastructures is also expanding. The Siemon Company says installers should be prepared to expand their business into the residential market, if they haven't done so already.
The Siemon Residential Certified Installer program is designed to show home network designers and installers how to address the needs of the individual homeowner. It also shows installers how to ensure that their practices conform to TIA/EIA and ANSI standards.
"There are so many services available to homeowners today, and a properly cabled home is the key to suing these services to their fullest potential," says Mark Catrone, corporate training manager for The Siemon Company.
---
INDUSTRY SPOTLIGHT
This column covers various industry- related topics. To submit a news item, contact Senior Associate Editor Brian Milligan
Tel: (603) 891-9367, fax: (603) 891-9245, or e-mail: brianm@pennwell.com.