Hitting the jackpot with advanced cabling solutions
A redundant fiber backbone and innovative cabling infrastructure practically eliminate casino downtime
Feb 1st, 2002
A redundant fiber backbone and innovative cabling infrastructure practically eliminate casino downtime.
Virtually its own city that never sleeps, the Mohegan Sun in Uncasville, CT is expanding to become one of the world's largest casino resort complexes, and slated to receive more than 14 million visitors per year-more than 12 times the population of Las Vegas.
And how will more than 6,000 slot machines, a new 1,200-room hotel, world-class spa and fitness center, more than 50 shops and restaurants, and a 10,000-seat arena stay up and running 24/7? Through a technologically advanced, high-performance infrastructure featuring a premier cabling solution designed to practically eliminate failure and downtime.
Rolling day and night
Owned and operated by the Mohegan Tribal Nation, the Mohegan Sun Casino is betting more than $1.2 billion on its Project Sunburst to become an all-inclusive resort casino. The Casino of the Sky, a new 115,000 square-foot gaming space, opened on September 25, 2001 along with new shops and restaurants, a 300-seat cabaret, and sports arena where visitors can view everything from concerts and football to monster truck shows and college basketball.
In April, the Mohegan Sun will unveil its 34-floor hotel with spa and ballroom, claiming its place as Connecticut's second tallest building.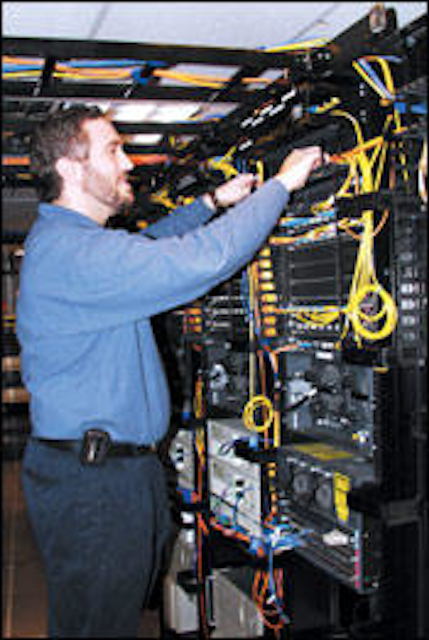 Jake Star, Mohegan Sun's director of technical support, inspects termination of incoming backbone fiber, designed as a redundant system to avoid casino downtime.
Click here to enlarge image
Though the sounds of slot machines can be heard throughout the casino at all hours of the day and night, the advanced voice and data communications system that keeps it all up and running goes virtually unnoticed by the thousands of visitors. "My job is to keep the technical aspects of the casino functioning behind the scenes because it is truly the heart of all operations," says Jake Star, the Mohegan Sun's director of technical support. "There can be no downtime here, and our solution is a redundant fiber backbone and high-quality cabling infrastructure."

The process of implementing the redundant fiber backbone began when Woods Electrical Co., Inc. of Farmington, CT (www.woodsnet.com) won the bid for the design, installation, and service of the new system for Project Sunburst, becoming a subcontractor under McPhee Electric. "When we viewed each vendor's proposal, it was clear to us that Woods had the capability and know-how to upgrade and install the cabling infrastructure and provide suggestions on how to best save money in the process," comments Star. Woods provides design, installation, and service for both commercial and industrial electrical construction and LAN projects.

To install the infrastructure's fiber backbone in the new areas of the casino, the fiber ring from the incoming service was expanded to serve a new main crossconnect (MC) and the existing MC. To form a redundant system, six strands of 62.5-µm multimode fiber were run from the new MC to 62 new intermediate crossconnects (ICs) in the same way that fiber runs from the existing MC to the existing 18 ICs. Another six strands of multimode fiber were run from each new IC back to the existing MC, and from each existing IC to the new MC. This lets either MC take over control of all ICs in both the new and existing spaces of the casino, if necessary.
"Using a redundant approach for the backbone fiber gives us enough pathways to keep the casino operational in the event that either MC malfunctions," explains Star. More than 70 miles of multimode optical-fiber cable from Mohawk/CDT (www.mohawkCDT.com) is used in the installation. All fiber is terminated via Hubbell Premise Wiring's (www.hubbell-premise.com) OPTIchannel rack-mount Fiber Six-Pack adapter panels, which secure cable, store fiber slack, and arrange and identify the terminated fibers. Made-to-order fiber pigtails from Hubbell permit fusion splicing of the incoming fiber to the pigtail, resulting in easy termination at the panels and minimizing the possibility of dB loss.
A sure bet
In the existing Casino of the Earth, Woods improved the layout of Category 3 and 5E wiring in the MC and 18 ICs. Old, daisy-chained connections were replaced with the latest structured cabling connecting hardware, and to accommodate more casino transactions, the cabling plan was redesigned to deliver 100 Mbits of redundant bandwidth to each cluster of 20 slot machines.
"Project Sunburst dictated that existing, as well as new gaming devices, be supported by a state-of-the-art voice and data distribution system," says Jim Woods, president and owner of Woods Electric. "New enhanced products increased installation productivity and delivered a superior infrastructure to the Mohegan Sun."
The balanced infrastructure is designed using the Hubbell Premise Wiring's SureBIT 5EML System-a combination of Hubbell's Speedgain jacks, patch panels, and patch cords-and MegaLAN Category 5e cable from Mohawk/CDT.
"We seriously considered Category 6 wiring, but given the difference in price and the benefits of a clean Category 5e installation, we decided to stick with the recognized standard," explains Star. "With qualified installers and quality products, we knew that Category 5e would take us forward at least ten years." Casinos are rapidly changing environments, and in the gaming industry, ten years is a long period of time.
Under its 25-year Mission Critical Plus warranty, the SureBIT system will be free from defects in material and workmanship, will exceed applicable ANSI/ TIA/EIA and ISO/IEC channel specifications, and will support any current or future applications required to run on that specific cabling. SureBIT will also provide guaranteed PSACR (Power Sum Attenuation-to-Crosstalk Ratio) headroom, which ensures optimal system performance and assists in limiting bit error rate that can cause costly retransmissions and downtime. Hubbell connectivity products were previously installed in existing areas of the casino, and so Star selected the products again to maintain a consistency among all crossconnects located in both the new and existing spaces of the casino.
More than 14 million feet of Mohawk/CDT Category 5e cable and 22,000 pairs of risers are installed in the new spaces of the Casino of the Sky to provide voice and data connections in the hotel, new gaming areas, and arena. At each of the ICs, cable is managed via 110 wiring blocks, and 400 pairs of 5e cable are terminated via Hubbell's Speedgain Category 5e patch panels. A wireless network is installed in the restaurant and retail area of the casino, with access points located in rafters nearly 70 feet high. "We needed to find a way for our retail tenants to connect to our network without running cable to each of their locations," explains Star.
High-class connections
Each of the 1,200 rooms in the new hotel will include high-speed data ports and two-line telephones with voice mail capabilities. "The objective with the hotel connections is to appeal to business travelers," explains Star. "We hope that by offering Web and e-mail access along with the 100,000 square feet of meeting space, many business conferences will take place here." Coaxial cable installed in the new hotel provides visitors with access to cable television, movies, video games, and bill review and check-out capabilities via 27-inch televisions.
Ray Carroll and Jim Lewis are co-owners of All Electric Construction and Communications of Milford, CT, another subcontractor working on Project Sunburst. They have the task of running the hotel horizontal cabling and installing all voice, data, and video connections in each of the hotel rooms. "The number of connections vary depending on the size of the room," explains Carroll. "There are between one and two data connections and four voice connections in each of the regular rooms. And in larger suites, there may be as many as six data connections and 15 voice connections." All Electric also runs the horizontal coaxial cable to supply video to each room and for a minimum of five security cameras located in the hallways on each floor.
When Hubbell district sales manager E.J. McCue demonstrated the new Xcelerator XJ series jacks, Star selected them for the connections in each hotel room and throughout the casino. "It can be tough to get excited about jacks and connectors, but over the past five years, we've seen some great improvements from Hubbell that have made our jobs a lot easier," says Star. "The new Xcelerator jacks are much simpler to work with. To terminate the connections, you just lay the cable right into them, and there's none of the cumbersome bending required that you see with other jacks."
The Xcelerator jacks feature Hubbell's Quick Lace termination process, which the company says allows for a faster, simpler, and more reliable termination. The Mohegan Sun's Project Sunburst is the first cabling project in the country to use the Xcelerator jacks. "Hubbell included features that make installation easier," says Carroll.
For use throughout the casino and hotel, Star also selected Hubbell's new Infin-e-Station faceplates, which are designed to fit various requirements. The Infin-e-Station modular plate system is designed for easy front-loading installation of the Xcelerator jacks, and accepts any modules in 3-unit combinations for single-gang as well as 6-unit combinations for double-gang applications.
Playing the cards right
Upgrading old wiring and installing new cabling can be an overwhelming task, especially at a location that must stay up and running 24 hours a day. To upgrade the existing wiring, installers worked on one IC per day from 6 a.m. until 8 a.m., one of the slowest times at the casino. "Woods pulled all of the backbone fiber and completed the terminations. My crew configured the switches, and we'll have to maintain the entire system once it's up and running," says Star.
During work on the ICs, the slot machines and table games that connect to the network via serial cables never came off line. At the one casino restaurant that serves breakfast to early-bird gaming enthusiasts, wait staff were required to write out manual checks for patrons during only a half-hour period each morning. "It was fun to watch the crews completely upgrade an IC in under two hours," says Star. "It was a lot like watching a pit stop at the Indy 500, and the players never noticed."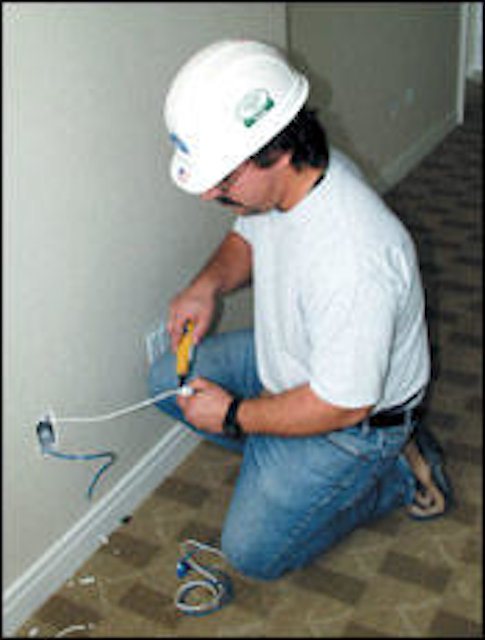 Casey Gallagher of All Electric Construction and Communications terminates a Hubbell Premise Wiring Xcelerator jack for The Mohegan Sun's Project Sunburst-the first cabling project in the country to use the new jack.
Click here to enlarge image
As with almost all cabling installation projects, keeping on schedule is one of the biggest challenges. With existing systems requiring modification with no interruption in service, and redundant pathways and media needing to be installed, staying on schedule has been especially difficult during Project Sunburst. "In order to stay on schedule, we had to begin installation prior to having a finalized design, when duct banks and raceways were not all in place," says Mike Hart, vice president of operations for Woods Electrical. "And with all these obstacles, we will still meet a seemingly impossible completion deadline that is etched in stone." The Mohegan Sun Casino has set specific dates for grand openings, and all rooms for the April hotel opening have already been reserved.

The hallways in the new hotel are designed with alternating areas of drop ceilings and higher concrete ceilings, resulting in a major installation challenge with the horizontal cabling. Because cable could not be run straight down the hallways, installers had to run the cable through the hotel rooms and back across the areas of the hallway with drop ceilings. "We really had to pay close attention to make sure our cable lengths did not exceed the standards and specifications," explains Carroll. "We had a 300-foot distance limitation. It was tricky, but believe it or not, we made it by just three feet."
Throughout the course of Project Sunburst, constant communication between all contractors and subcontractors has been essential to ensuring a smooth installation. Good communication, however, has been difficult to maintain due to the large scale of the project and numerous contractors and subcontractors. "You've got to have a good rapport with the people you're working with," says Carroll from All Electric. "It helped that my crew and the Woods crew both wanted a quality installation that we could walk away from and be proud of in the end."
Star believes that good planning prior to beginning the work is the key to overcoming many installation challenges. "The challenges don't come from getting the work done as much as it comes from people really knowing and understanding what type of technology they need ahead of time," says Star. "When decisions are made at the very beginning, installation becomes a much smoother process." To avoid challenges caused by availability of materials, Star worked closely with Hubbell and Mohawk at the earliest stages of Project Sunburst. "We sat down with these vendors and got them excited about the project from the very beginning," says Star. "They were extremely responsive, and because of proper planning on both our parts, we've had no problems with the availability of products."
Graybar's (www.graybar.com) Hamden, CT distribution facility stocked and distributed the cable and connectivity products. "We kept the lines of communication open with Hubbell, Mohawk, and Jake Star at the Mohegan Sun," says Larry Cozzolino of Graybar. "This allowed us to know what was coming up, and we were able to plan for the availability of products to the casino."
Staff and players win big
In addition to advanced technology in the new and existing spaces of the Mohegan Sun, the casino's Eagleview Employee Center received a $50 million upgrade to provide the more than 10,000 employees with a state-of-the art facility. The center includes a health club, training center, bank, dry cleaners, insurance agency, and a computer center.
"The computer center is open 24 hours a day and includes 50 PCs for employee use," explains Star. "The technology at the Employee Center acts as another IC on the system and has the capability to take over the main system during a catastrophe." All fiber from out buildings on the casino property enters at the Employee Center IC, which is connected via fiber to both MCs located in the new and existing areas of the casino.
The advanced cable management system and technology at the Mohegan Sun Casino allows for the use of a proprietary electronic currency called the Players Club Card, which accrues "player points" toward the purchase of merchandise, vacations, prizes, and gasoline at the on-site Citgo station. Each slot machine, table, and gambling station acts like a serial device on the network, recording player information into a casino management system.
"The Players Club has been a really big hit," says Star. "When a player swipes their card, the system can track how much is played and where. We've even been able to use the Players Club as a way of finding lost spouses."
But people don't come to the Mohegan Sun Casino because of the slot machines that generate 46% of the state's slot revenues. They don't come because of the 5.6 million man-hours required to complete Project Sunburst. And they don't come because of the redundant fiber backbone and cabling infrastructure keeping the casino up and running 24 hours a day.
"The players are not aware of the advanced technology, and that's the way it should be," says Star. "We've invested wisely in a solution that makes the system run continuously and seamlessly behind the scenes."
---
Betsy Ziobronis a freelance writer for the communications and cabling industries.