Getting equipped to install industrial cabling
Fiber? Copper? Either media, you need to be prepared for the unique installation requirements of the factory
May 1st, 2002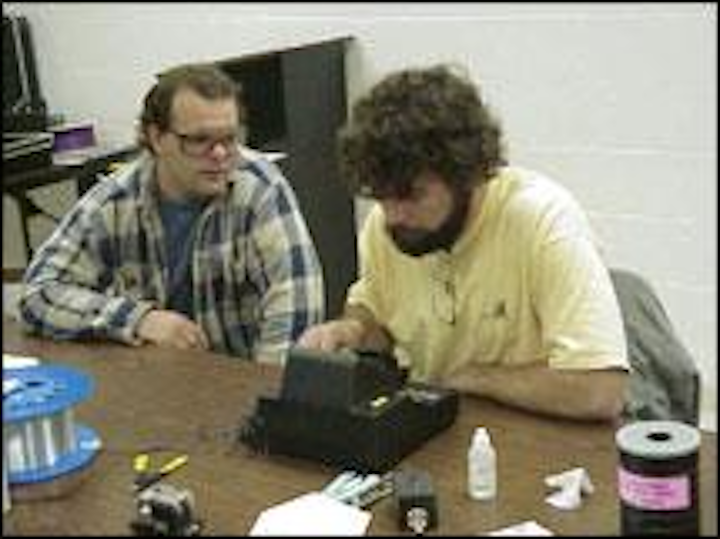 Fiber? Copper? Either media, you need to be prepared for the unique installation requirements of the factory.
Today's installers face the challenge of helping manufacturers bring Ethernet ever closer to the factory floor. And to know what obstacles to overcome, that means "They need training," says Bob Lounsbury, vice chairman of the Telecommunications Industry Association's (www.tiaonline.org) TR-42.9 subcommittee. The committee is forming standards for industrial cabling products.
Driven partly by the need to increase the efficiency of complex equipment, factories are increasingly relying on high-speed data provided by Ethernet, a LAN protocol that facilitates the transmission of complex graphics and designs.
"There is definitely a move toward gigabit," says Rafi Kazorian, product line manager for Canoga Perkins Corp. (www.canoga.com). "We've seen a lot of increase in gigabit demand from service providers."
This is true as factories express higher bandwidth needs. In some cases, this is pushing the need to bring even Gigabit Ethernet into industrial environments.
Others say fiber won't necessarily be the most desirable cable for bringing Ethernet speeds to the factory setting, and that gigabit speed might not even be necessary. They say copper cable networks will suffice even as factories try to satisfy higher bandwidth needs.
But one thing is certain. Installers must be able to work with both cable solutions to help bring Ethernet into the factory setting.
The training tide turns
To date, however, few vendors have concentrated on the industrial environment. But the tide is turning. As factories seek cabling that is compatible with Ethernet, vendors are being forced to be forward-thinking and to manufacture solutions. The industrial cabling idea has broad universal appeal, even though a standard has yet to be completed.
In this changing environment, today's installers need to be able to understand the best methods for running either copper or an optical-fiber network throughout an industrial plant.
"With every evolution of products in this environment, there is a need for training," says Peter Sharp, chairman of the TR-42.9 subcommittee.
Those in the optical-fiber camp argue that the need for industrial Ethernet will lead to a drive for optical networks in factory settings. They say factories, medical facilities and others are seeking out more optical fiber to bring industrial Ethernet closer.
Click here to enlarge image
"There is more work coming because the technology changes every day," agrees Thomas Clark, assistant manager for the Communications Computing Service Office at the University of Illinois. Clark is a graduate of an industrial cable installation training course. "Fiber can handle a tremendous amount of speed."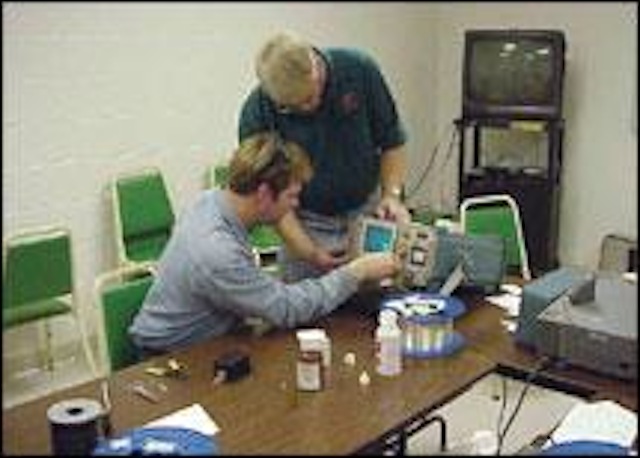 Students in the telecommunications training program at the Lincoln Trail College in Illinois practice cable installation techniques that would be used in an industrial environment. In the first photo, a student operates a Siecor fusion fiber splicer. In the second photo, a student tests a fiber splice for loss using an Optical Time Domain Reflectometer. In the third photo, a student checks a fiber circuit for loss using a light source and power meter.
Click here to enlarge image
Installers contacted by Cabling Installation & Maintenance who previously installed copper cabling in factory settings say they are, in fact, seeing changing cabling network needs. They say the changes are taking place now, even though standards for bringing industrial cabling into the factory have not been completed. Some major manufacturers are even replacing copper Category 5 and Category 6 in their factories with optical fiber.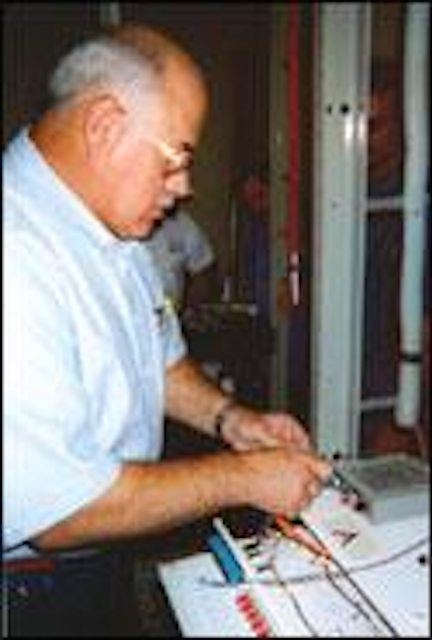 Click here to enlarge image
Brian Cockerham, telecommunications assistant manager for the University of Illinois, says copper cabling is subject to interference from such an environment, and so its physical limitations are less than ideal in the factory. Cockerham, who took a course in industrial cable installation at the Lincoln Trail College in Robinson, IL, adds that factories "need to be networking with faster speeds, and this (optical fiber) would be an improvement for their network. You have to use optical fiber to provide the information from the equipment back to the server, so plants have to have that installed."
Click here to enlarge image
George Kocher, an instructor at the Lincoln Trail College Telecom Technology program (www.iecc.cc.il.us) says this is only the beginning of the changeover to optical fiber networks in factories, and that installers can expect the trend to continue. "I think there will be constant upgrading of lower capacity copper to fiber," says Kocher. "It's happening in plants now and will continue, and some plants don't have much choice in what is going to happen."
Is fiber the only way?
But the belief that optical fiber is the only industrial networking solution is not universally held. Some argue that Gigabit Ethernet will not be the only driver for changes in industrial cabling, and that it may not even be needed in factory settings.
The TIA's Sharp argues that factories won't necessarily need gigabit speed and that the numerically controlled machines and robots will operate at lower levels. In this case, they may be able to get the performance they need from 10 Mbit or 100 Mbit Ethernet. In such a scenario, copper cabling could be the answer for companies that want to upgrade their factory networks.
"The first assumption is that gigabit needs to be the delivery mechanism, or that gigabit is indeed necessary," says Sharp. "But I don't think research has shown gigabit necessary to accomplish what industrial Ethernet needs to achieve."
Sharp admits that in some cases, copper cabling can be a hard sell for the industrial environment. Concurring with Cockerham, this is mainly because, unlike optical fiber, copper cabling is susceptible to electromagnetic interference (EMI), which is produced by factory robots.
Still, he says with the proper design scenario, copper cabling can be rerouted around robotics and still be effective. "But that's the trick," he says. "It can be difficult to take this argument to the industry."

Harsh Environment Impact on Cabling

Ambient humidity and direct moisture = cable corrosion
Vibration = cable wear
Temperature extremes = application failures
Chemical exposure = cable corrosion
Electromagnetic interface (EMI) = degraded transmission
Dust = poor outlet/plug/connector contact
The TIA's Lounsbury agrees that Gigabit Ethernet will certainly be needed in manufacturers' backbone networks, since the protocol is seen as invaluable for combining data and passing it on to the front office.
But like Sharp, he also believes that 100 Mbits will provide sufficient power for many of today's factories. Lounsbury says the data that passes, for example, between controlling machines and factory equipment does not require a higher bandwidth. "One hundred megabits will be all we will need for some time," says Lounsbury.
That being said, today's installers probably have skills to learn on both fronts. They must learn how to install optical fiber in an industrial setting, and they must learn how to install copper cabling in a harsh environment that will threaten to reduce its effectiveness.
Training in optical fiber
Some installation students agree that there are plenty of opportunities for installers to upgrade their optical-fiber installation skills.
"Yes, they are available," says Clark. "Even a lot of the electrical unions are teaching the electricians more about communications, pulling fiber and copper pairs."
But while training in optical-fiber installation can be easily found, some say it is still not enough given the changes taking place in factories, citing the differences between installing optical fiber in an office environment as opposed to the harsh environment of a factory.
"No, there are not enough (courses)," says John Highhouse, program director for telecommunications training at Lincoln Trail College. His course teaches everything from cable splicing to cable installation to central office switching. "There are a lot of people who want to get that training, but not many organizations that do that."
Part of the reason, he says, is the cost. Highhouse says his school utilizes $9 million worth of equipment during training classes, including auxiliary switch gears, testing gears, connectors, and others. Some manufacturers, he says, are trying to navigate that expense by sending would-be instructors to his program, who in turn would conduct their own training classes. But even then, the cost can be discouraging.
"They ask what it takes to do that. Then we show them, and they shake their head and leave because it's so expensive to get started," says Highhouse.
Installers who would like to learn the installation techniques say few training facilities have zeroed in on this particular niche. So, installers say they are learning from one another or by simply taking on industrial cabling jobs and learning from their own mistakes.
Fortunately, however, analysts believe this situation is about to change.
"It's only a matter of time," says Lounsbury. "The companies that make products to be used for industrial Ethernet will be responsible for doing the training of their customers."
"The need is not so much bandwidth, but EMI immunity, which only fiber provides. So, it's an excellent tool," says Larry Johnson, president of The Light Brigade Inc. (www.lightbrigade.com).
But while working in an industrial environment, installers must still understand, for example, how a cable jacket needs to match a particular application, or whether a polymid coating or acrolite coating is needed.
Instead of working in the clean floor of an office building, installers must be capable of installing cable through concrete trenches, overhead walkways, cable trays and a generally hard hat environment. All of these factors can lead to a very different sort of cabling network plan. Installers must be capable of giving input to the design process, and help steer the cable away from possible interference. They must be able to recommend special kinds of cable that can withstand high or low temperatures.
"Think of a steel mill," says Jim Hayes, principal engineer for fiber test equipment and training company FOTEC (www.fotec.com). "If they want to run fiber, steel mills are inherently hot. They need to know, 'Can you run this into the ceiling where the temperature will get 70 degrees Celsius?'"
Kocher agrees that working in a factory setting creates challenges that would not exist in an office building. "If you are in a plant, there is a lot of oil in the air," says Kocher. "You have to be careful of the jacket material, since the air quality in an industrial setting is poor compared to an office environment."
Installers, therefore, must know how to observe the maximum pull tensions when the fiber is installed, the minimum bend radii, and how much fiber needs to be left to bring terminations down to a convenient work level.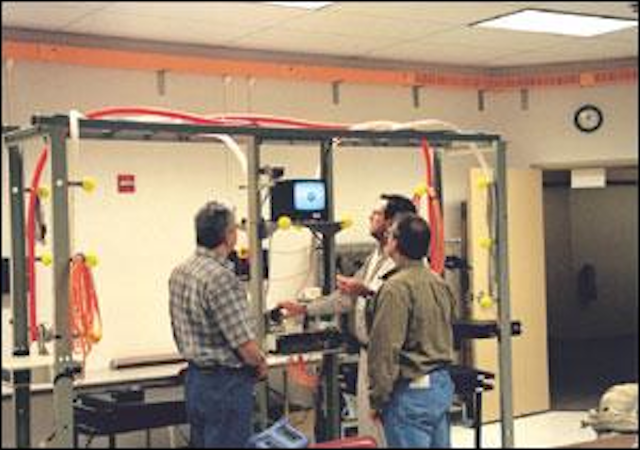 Electricians at DaimlerChrysler are trained at the Lincoln Trail College Telecom Technology program in Warren, MI, where instruction includes how to install different types of optical-fiber cable in an industrial setting.
Click here to enlarge image
It is for this reason that many of the students who are attempting to learn how to install industrial cabling are electricians who are being nudged into a new skill realm. Kocher, for example, is teaching courses designed to help DaimlerChrysler electricians learn how to install optical-fiber cabling in the auto maker's factories. These classes are 80% hands-on training. Students are taught to handle different types of optical fiber, fiber preparation, how to work with singelmode or multimode, how to use four different brands of strippers and cleavers, and how to use a fusion splicer and three types of mechanical splicers.
And even that isn't enough, Kocher says. Manufacturers don't simply need installers who can put cable in their factories. They need installers who can help design the networks so that they work efficiently in the challenging environment. As such, Kocher says he has been asked to develop an additional course that teaches installers more about the networks used in their plants.
Training with copper cable
Like training for optical fiber, training for the installation of copper cable in an industrial setting can be hard to come by. Lounsbury believes that part of the reason is the relative newness of fast Ethernet. "There just aren't training resources available yet for merging this (cable installation) into an industrial area," says Lounsbury. "They need to learn the places where cable should be installed, and where it should not be installed."
Clark says he has seen the challenges of working in an industrial environment firsthand. Years ago, he helped install a copper cabling network at an aluminum production plant in Indianapolis. The cable that he would install would be subjected to heat, chemicals and a high moisture content. To do the job properly, he had to route it away from high voltage exposure, which would have caused electrical interference. "It was a harsh environment," recalls Clark.
But Lounsbury says installers can learn to make copper cabling work in such harsh environments. They need to learn, he says, how to install the cabling in a pattern that will help it avoid the environmental traps. This means being aware of its proximity to other conductors, and using ruggedized materials and cables. "On the factory floor, you have to deal with oils, cutting floors, wash-down chemicals, high temperatures, low temperatures, high humidity, high vibration, and electrical noise," says Lounsbury.
Safety is as much a concern as anything else. Lounsbury says many installers are prepared to watch out for shards of glass when they terminate optical fiber, but they are more than likely ill-prepared to work in a factory setting that promotes serious injury possibilities.
"A person may not have the experience of working around open high voltage," says Lounsbury.
---
Brian Milligan is senior associate editor for Cabling Installation & Maintenance.
null
---
Industrial standards still brewing

Standards for industrial cabling are at least two years away from completion, but that's not stopping manufacturers from creating products that can be used in harsh factory settings.
"The standards play 'catch up,'" says Randy Below, vice president of OEM business for The Siemon Company (www.siemon.com). The Siemon Company now makes an industrial outlet, jack and industrial plug that can be used in various factory applications.
"It's a natural progression," admits Bob Lounsbury, vice chairman of the TR-42.9 subcommittee that is working on the standards. "Companies have a desire to be a leader in industry, and the standards are slow. Some products will be out ahead of the standards."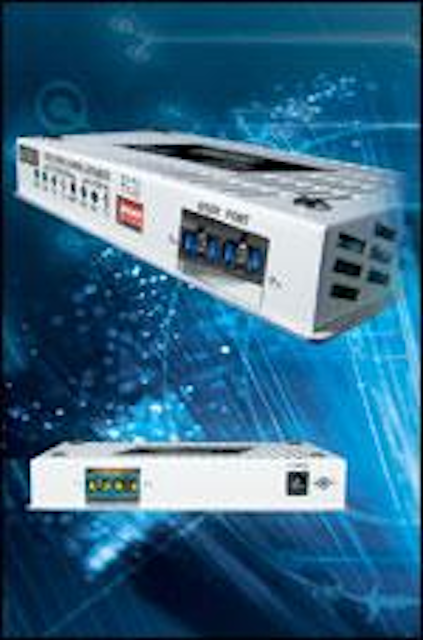 Canoga Perkins' 9125 Fibre Channel Expander extends storage area network reach into industrial environments.
Click here to enlarge image
Called the TR-42 Engineering Committee, the subcommittee for the Telecommunications Industry Association (www.tiaonline.org) is responsible for commercial, industrial and residential cabling standards-including telecommunications infrastructure administration, pathways and spaces, and copper and optical-fiber system requirements. These standards include information and requirements necessary for implementing telecommunications infrastructure. The subcommittee will, for example, define the cable and connector performance needs for this environment, and thus help find potential solutions.

Peter Sharp, chairman of the TR-42.9 subcommittee, says the challenge is addressing the broad range of environments, conditions and applications for the cabling products that will be used in the industrial environment. He calls these environments "diverse and extreme," and says the committee faces an uphill battle.

"The standardization process is to narrow down that to something which addresses a good portion of the market's needs," says Sharp.
He adds that the subcommittee must avoid "setting the bar too high" for products to be used in these environments. Meanwhile, The Siemon Company is working with Rockwell Auto mation (www.rockwell.com) to develop criteria for harsh environments that would withstand slag welding machines in automo-tive factories, temperature extremes in petroleum industry factories, and water from food processing sites. They are making products that would withstand humidity, direct moisture, dust and debris, vibration, temperature changes, chemical exposures, and of course, electromagnetic interference (EMI) from factory robots. They must boast characteristics that make them immune to electrical noise.
"We are working with them to develop an industrial-hardened product line to meet all those different challenges," says Below.
Canoga Perkins (www.canoga.com) is making optical-fiber Gigabit Ethernet extenders and T-3 optical-fiber modems that can be used in a hostile industrial environment.
Sharp says he is encouraged by these developments: "The introduction of products at this stage can only bring good things. They need to test the market, and see the market's expectations."
null