Don't get (re)wired when it's better to zone out
A zone design can prevent having to re-install the entire project when defective cabling rears its head
Mar 1st, 2002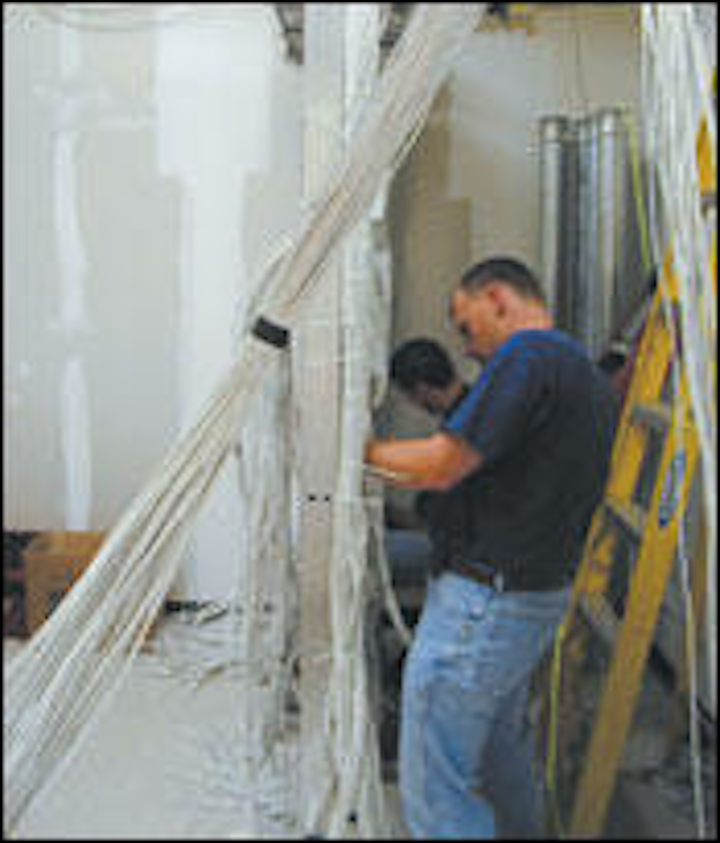 A zone design can prevent having to re-install the entire project when defective cabling rears its head.
When Research Triangle Institute (RTI; www.rti.org) in Durham, NC was delivered a faulty batch of cable from a cable manufacturer, time became a huge factor in meeting a major renovation project that already had tight deadlines. A complete re-cabling seemed the logical solution, but with very little time to waste, installers were instead able to zero in on the problem area and quickly replace only a small section of cable.
"Most of the time, the simple solution is to re-cable it all, but here they isolated the problem and fixed it," says Wil Boyd, vice president of American Access Tech nologies Inc. (www.aatk.com), the Keystone Heights, FL-based zone enclosure supplier for the project.
How?
"Zone cabling saved us," explains James Brown, network specialist for RTI, which is a large, 20-building independent research institute. Last year, RTI began renovating a five-story building located two miles off of campus. RTI had just signed a 10-year lease on the building, and the renovations were designed to upgrade the building's existing network to meet RTI's needs. The project was launched in April, and completed in October.
The building previously featured a straight, continuous homerun cable network that stretched from a telecommunications closet down to traditional hard-walled offices. But that kind of setup was inefficient for the new, open-office design proposed for the renovated structure.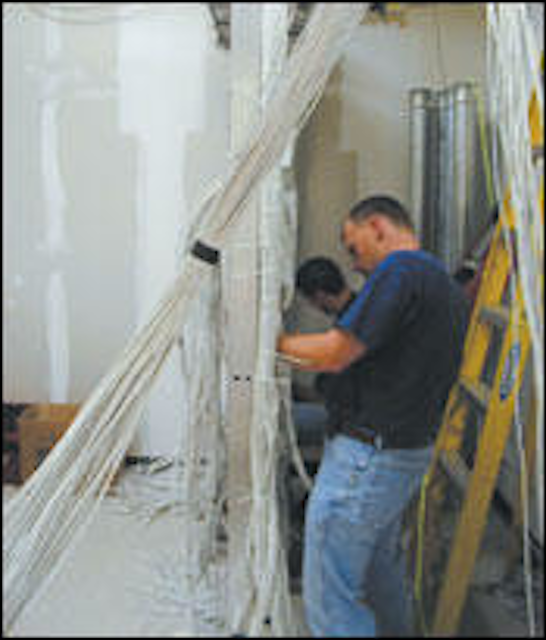 Globe Communications installer Robert Cope (l), and Adam Byrne, the lead technician for the project, conduct rack termination at a building owned by Research Triangle Institute.
Click here to enlarge image
"Zone cabling is becoming a popular method in which to cable a large open area," says Boyd. It's a horizontal-cabling solution that addresses the changing configurations of an open office. This approach minimizes cabling complexity and reduces office disruption. It also allows for the handling of all MACs, addresses the aesthetics of the office, delivers more performance to the end-users' workstations, and plays an important role in managing the corporate bottom line.
Open offices are popular with corporate planners who seek modular workstations, higher-speed data applications and increased communications services per user. But many cabling strategies are out of sync with such open office situations. Strategies were designed without consideration of the open office and its modular furniture and cubicle walls. Such traditional strategies are based on point-to-point wiring from the telecommunications closet directly to the workstation's outlet.
In a zone cabling approach, installers pre-wire an open-office area by anticipating user density. The building's floor plan is divided into "zones," which are outlined on the basis of number of users. Through this system, a bundle of communications cables is pulled from the telecommunications closet to a single, fixed distribution point within each zone. Individual cable runs are then connected from that distribution point to each office outlet.
Better, but at a price
Brown says he was convinced that a zone cabling approach would prove more efficient for the RTI project, but it would also prove more expensive. "I knew that the way we had dealt with installation before was not a viable solution," says Brown. "I had to do a hard sell to the various project managers that were working on this."
There were other concerns as well. Zone cabling does not lend itself to traditional hard-walled offices. These were exactly the type of offices featured in the renovated building.
"Generally speaking, if you do a hard-walled office, you drop the jacks in and never move them again," says Brown. "My experience has been that you may add jacks to an office. With workstations, you are constantly reconfiguring those."
Brown won the argument, however, and installers from Globe Communications in Durham began the work. The plan called for an electrical grid design approach with the cable running from zone boxes to about 100 workstations per floor. The project would cover 20,000 square feet.
"We had done workstations before and we'd homerun that cable," says Brown. "But when we wanted to move them, it was a problem. We didn't want to run into that problem with 100-plus workstations on a floor."
The job called for an above-ceiling cable network with a ceiling-mount box. Installers filled this as much as they could with homerun cabling from the wiring closet to the box. Then they proceeded to divide the building's floors into zones.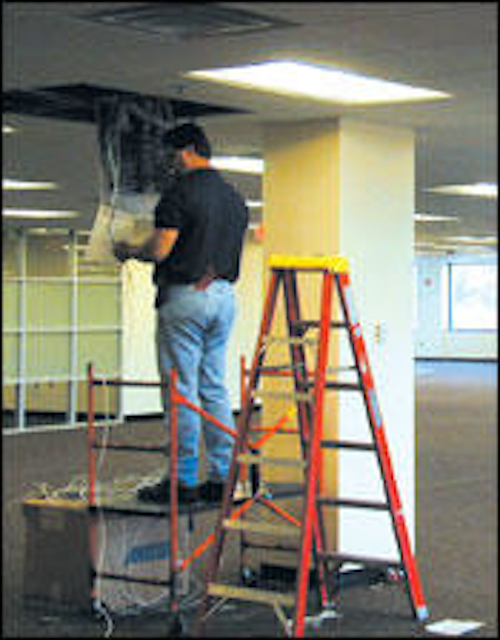 Kent Adams, an installer for Globe Communications, terminates cables in a zone box at Research Triangle Institute.
Click here to enlarge image
"What we did then was literally zone the 20,000-square-foot floor to seven zones," says Brown. "We'd homerun it from the wiring closet to the boxes, and then drop it down. You run short runs out to the workstations."

Installers took a floor-by-floor approach, starting with the fifth floor. Clients began moving into each floor as each renovation project was complete. This put the pressure on the installers, who were trying to keep ahead of tight moving schedules.

But a serious problem arose when they reached the second floor. "When the cable installer went to test the cable for Cat 5 certification, it wasn't passing," says Brown. "We actually could bring up the PCs over the cabling, but it was not passing the test. We threw bodies at it to get everything swapped out on time."
Installers encountered two different problem areas. The first involved the homerun section from wiring closet to the ceiling zone boxes. "Not all the cabling was bad," says Brown. "What we had was a bundle of cables pulled together. In that whole bunch, 70% of it was bad."
Adam Byrne, lead technician for Globe Communications, oversaw the installation. Byrne used a Wavetek LT8600 tester to conduct the Cat 5e tests, and to his surprise, the cable failed. Repeated tests failed to show better results.
"I went back up in the ceiling, and we tried the cable paths," Byrne continues. "We kept on testing it, and it still wouldn't pass."
Byrne says the problem could have been caused by a myriad of things. He thought, for example, that he may have installed some of the cable too close to the power source.
Whatever the problem was, the pressure was on. The building's new tenants for that floor were scheduled to move in within a few days. And the move could not be postponed.
"We had like three of those full boxes, with 144 cables to each box, and I patched about 70% of them," says Byrne. "We had a lot of work to do, and these people were moving in on the weekend coming up. We thought we'd have to tear all that cable out that we had just installed, and then reinstall it."
Byrne says he finally narrowed the problem down to one batch of cables. He then pulled a 200-foot section of cable from the ceiling and tested it. He was baffled by what the tests showed him.
"There was nothing physically wrong with it, but it still wouldn't pass," says Byrne.
Installers could only conclude that the cable was bad from the closet to the boxes. Brown says Globe installers took one cable out of the bundle and jacked it. Using Cat 5 testers, they tested the cable over about 130 feet.
"We tracked it down to a particular number, and determined that all the cable from that lot number was bad from the manufacturer," says Brown. The cable would have to be replaced.
Brown says the good news was that the cable manufacturer agreed to replace any bad batch of cable, and immediately shipped out more cable for the project. Brown and the other installers then began to reinstall roughly 60,000 feet of cable, and the zone cabling design made the process all the easier.
"This was high-end furniture, and we didn't have to go into the furniture," says Brown. "We started replacing cables, and it was literally pulling 144 cables times two."
Installers put in the new cable, and tested it. This time around, the cable passed the Cat 5 tests. The reinstallation was completed in a four-day period. Byrne chalks the ease of the project up to zone cabling.
"With zone cabling, we were able to see that that cable was bad from the closet to the boxes," says Byrne. "If this had not been zone, it would have taken a lot more time. It let us pull everything to one point. If it were not for zone cabling, the client wouldn't have been in on time."
In the end, the new clients moved in that Friday, and began work Monday. Brown says the costs still piled up during the project. The cost of re-cabling one floor came to $17,000. But Brown says this cost was miniscule compared to the cost of rewiring the entire project.
"We had to pull all the way down to a workstation with the homerun sections," adds Brown. "But it could have been a lot more time-consuming and a lot more costly."
Underfloor project
In a separate project, Brown says RTI recently decided to rewire the main computer room for the campus. Here, an underfloor cabling strategy, which lends itself perfectly to a computer room that features a raised computer floor, was a natural approach.
"We discovered that they had a computer room with a 2x2-foot box that would mount under the raised floor," says Brown. "That was the answer I had been struggling with for the computer room."
The floor boxes gave installers the option of strategically placing boxes throughout the computer rooms.
"These house 72 cables," says Brown. "They hold three 24-port patch panels with room to add one more patch panels. And what this did was allow us to overwire to a zone of the computer room with a little bit of room to grow."
Brown notes that a zone cabling approach to underfloor cabling helped installers remove what he described as a troublesome tangle of cables.
"There is an advantage to the zone cabling approach when you go underfloor," says Brown. "Not only did it answer our flexibility needs, it also cleaned up a rats' nest of cable we had under our raised floor."


---
Brian Milligan is Senior Associate Editor for Cabling Installation & Maintenance.