Composite copper/fiber cable: not just any mix of cable
Supply voice, data, and video while reducing the cost of labor in your new install with composite copper/fiber cable.
Mar 1st, 2002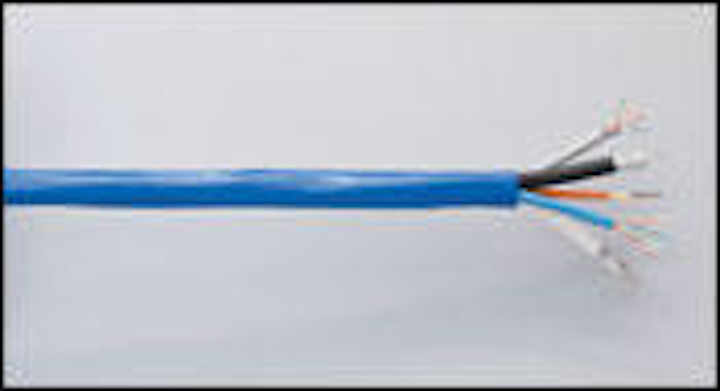 Supply voice, data, and video while reducing the cost of labor in your new install with composite copper/fiber cable.
You can "extend your reach with media converters" (see "Extending your reach with media converters," January 2002, page 50) if you want to increase data transmission distances without going to the expense and trouble of ripping out your copper infrastructure and replacing it with a fiber-based solution. You could. Copper-to-fiber media converters have become increasingly popular over the last few years because of their flexibility. This is also partly due to the enormous installed copper base. Who knows what kind of infrastructure we will need in the future for the home, office, or home/office?
When you are "starting from scratch," (designing a new infrastructure) you have another option. If you are designing a new infrastructure, you can prepare for this desire for increased data transmission speeds or more possibilities with composite copper/fiber cable (see table, page 58).
Composite copper/fiber cable can be "any mixture of multimode or singlemode fiber or a mixture of electronic cables bundled together under one common jacket," says Steve Sterling, product manager, Coleman Cable (www.colemancable.com). It is a cable that gives you mixed media. This option makes sense if you want to bring a combination of voice, data, and video to the same location, and at the moment, is mainly designed for the growing residential and security markets.
Custom manufacturing
A majority of the composite copper/fiber cables today are custom-manufactured. Optical Cable Corp. (www.occfiber.com) creates its C-series composite cables from its DX-Series distribution cables and BX-Series breakout cables by adding the copper conductors. "From these cables, we can make [composite] cables that are both plenum- and riser-rated, as well as zero-halogen," says Ted Leonard, western region vice president of sales, Optical Cable Corp. "We have a variety of conductors that we can include, such as twisted-pair, coaxial, and power conductors from 12-gauge down to 18-gauge, and can make the cable with anywhere from 36 fibers down to two fibers."
Fiber is robust, so no problems should arise when two different types of fibers are in the same jacket. The number of multimode or singlemode fibers in the composite copper/fiber cable is dictated by what the customer needs for the application. "I had a customer come in and ask for three fibers in his cable," says Leonard. "I suggested that he should add more fibers for future use. It would be a small incremental cost to add a few more fibers as opposed to using additional cables."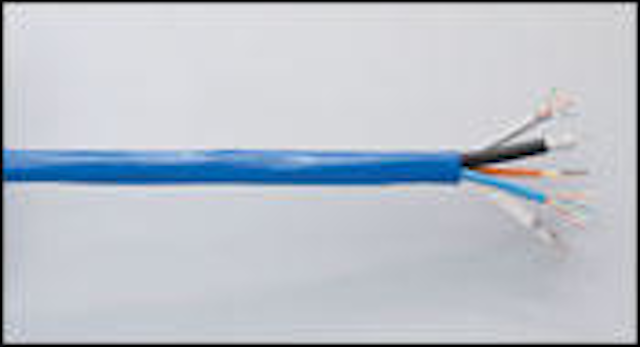 Coleman Cable's riser copper/fiber composite cable is designed for voice, video, and data applications and features a mylar wrap between the cables and the common jacket.
Click here to enlarge image
There is no formula for the number of singlemode or multimode fibers a composite cable must have. Sterling says a majority of Coleman Cable's orders request multimode fiber to be placed in the cable. "As a 'rule of thumb,' you normally see two multimode fibers for every one singlemode fiber," says Mike Connaughton, RCDD, fiber optic sales manager at Mohawk/CDT (www.mohawk-cdt.com). He sees the trend going towards one singlemode with one multimode. "Singlemode is being viewed less as a strategy for upgrading than it is for sheared sheath applications. Some of the fibers may be used for one network while others could be used for a different network." Installing a number of different types of fibers lets you prepare for future needs.

You have the option to leave some of these singlemode or multimode fibers dark. There is also no formula for the number of dark fibers you need in the composite copper/fiber cable. "Right now there is not any application for fiber in the residence," says Sterling. "Yet people are running composite cables in residential applications and leaving the fiber dark." The selling point is that in the future-when there is an application for fiber in the residence-you won't have to poke any new holes in your wall to re-pull the cable because the cable will already be there. Using composite cable can be an "insurance measure," says Connaughton. If the copper and optical-fiber cables are going to be used in the same place, it makes sense to use composite copper/fiber cable.
The layout of the cables underneath the common jacket also varies according to what is being placed into the composite cable. A diagram of Optical Cable Corp.'s optical-fiber video surveillance cables (above) illustrates how the individual cables are arranged inside the common jacket for optimum performance. "If there's Category cables involved, which there usually are, you need to keep them separated," explains Sterling. A binder holds the components of the composite cable in place. Sometimes when composite copper/fiber cables are made, the copper and fiber are twisted together and then shipped without being tested again. "One thing we know is that the twisting operation that occurs when binding the cables together has an impact on cable performance," says Connaughton. Make sure that you test the individual cables of the finished product.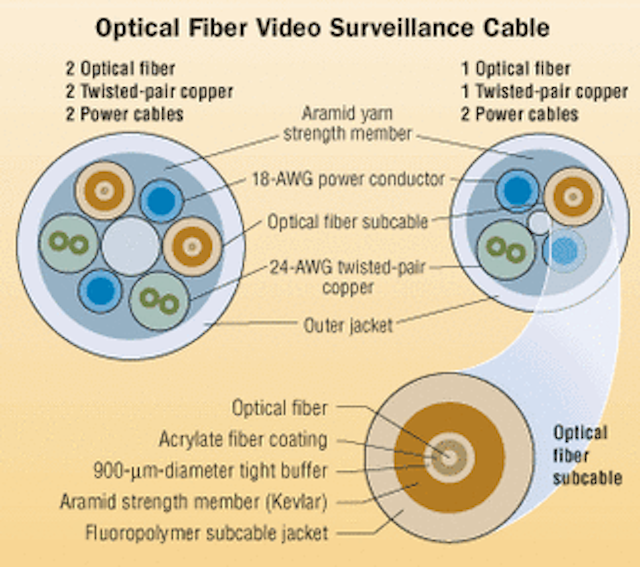 A diagram of Optical Cable Corp.'s (www.occfiber.com) optical-fiber video surveillance cables. It is important for the cables within a composite cable to be arranged in an even manner around the center conductor to achieve optimum performance. A round cable design also allows for easier installation and survivability.
Click here to enlarge image
Companies are now also beginning to keep stock of common requests. Even if a company doesn't have composite copper/fiber cables in stock, it may still be considered a standard product. "We have a family of composite cables that are UL-listed and -approved standard products," says Leonard. A product can be UL-listed and -approved without being a stock item.
Jackets on the composite copper/fiber cable are essentially no different from those on the stock voice, data, and video cables. Different jackets are placed on plenum or riser, high-voltage or communications-grade, and zero-halogen composite cables, depending on fire and smoke ratings.
Labor savings
At the time of installation, using composite copper/fiber cable can reduce the cost of labor. One cable pull costs much less than multiple cable pulls.
Coleman Cable's riser composite cable combines two RG-6 coaxial cables, two Category 5e copper cables, and two strands of 62.5-µm multimode fiber. "You're talking one pull versus five pulls," explains Sterling. "Sometimes your labor rate is based on the number of cable pulls the installer has to run." Projects will often call for multiple types of cable to be pulled to one location. For example, you may need to pull power and optical-fiber cables to the same location. "It is easier to just pull the one composite cable instead of pulling a number of cables with different sizes and thicknesses," says Leonard.
The distributor should alert you to the labor savings in choosing composite copper/fiber cable over a multiple-cable solution. Talk to your distributor about what you are ordering. Sterling gives an example of what your distributor should say. "Here is what you are ordering. You're ordering data and coaxial cables for this residential build. What's the application?" If applicable, the distributor will suggest composite cable. "Are you aware that there is a composite with all four of those cables under one jacket, allowing you to make one run instead of four?" There is more information concerning a composite cable than for the standard cable, so more information should be provided.
Terminating the fibers also takes time, and composite copper/fiber cables have many different fibers in one cable. If you terminate the wrong fiber for the wrong port, you won't get the network performance you paid for. How can the installer tell them apart? Mohawk/CDT takes two measures at the point of purchase. "We provide a specification when someone orders these cables that details which fiber is which," says Connaughton. "Also, we give the customer a test report to accompany these details."
To help you identify the fibers without any paperwork, manufacturers will mark the insulation on the glass with different colors. Mohawk/CDT goes one step further by creating a color system according to fiber size for its Media Pull, Spectrum Broadcast, and HomeLAN cables. Many manufacturers of composite copper/fiber cable list the cable information on the cables themselves (on the subjacket) as well as on the common jacket.
One drawback to installing composite copper/fiber cable is that it is harder to strip the jacket from this type than from the standard cable. Coleman Cable's riser offering attempts to do away with this obstacle with a clear mylar wrap between the common jacket and cables underneath. This wrap is designed to prevent the cables from sticking to the common jacket, and it makes the stripping process easier.
Limitations
In addition to the fact that it takes more of an effort to strip a composite cable's jacket, there are other limitations. Composite cable is not the choice for every situation where voice, data, and video are to be pulled to the same location.
"You tend to be more distance-limited with the copper than you do with the fiber," says Leonard. "So, a lot of the composite cables we deal with are several thousand feet or less, even though fiber could run tens of thousands of feet." You need to treat the composite copper/fiber cable as a copper cable with regards to installation. As a result of this distance limitation, composite cables are sold in shorter lengths than standard cables; thus, you have many more terminations to perform, adding to the installation time.
Also, you must be extra aware of bend radius. Copper is more susceptible to bends than fiber. If you don't pay attention to the bend radius requirements of the copper twisted-pair in the composite cable, you will not get the performance you paid for.
Cost is another limitation. "It doesn't always make financial sense to use composite cable," says Connaughton. "Business tends to be 'bingy.' It [business] becomes strong when you are getting an 'uptick' in speeds to the desk. People get concerned that the copper to be installed will not be able to handle the data rates." Business trends dictate the popularity of composite cable. "Once things stabilize for a period of time on the active side, composite cable tends not to be as popular," he continues.
With 10-Gbit Ethernet coming, will we see a wave of composite cables becoming popular again? The buzz of new technologies and improved data rates could convince people that the extra costs of the composite cable itself will be worth it.
---
Ryan Cliche is assistant editor of Cabling Installation & Maintenance.


---