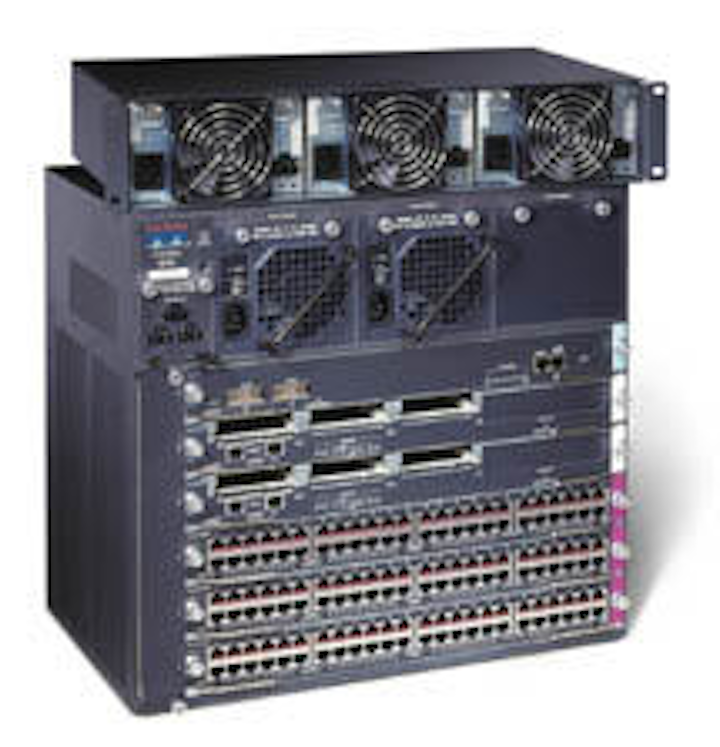 Installers coordinate efforts with construction crews and college authorities to bring the University of Connecticut up to speed.
The University of Connecticut (UConn) decided an investment in its infrastructure would also be an investment in the university itself and in its surrounding communities and businesses. "UConn 2000" is a $1 billion, 10-year program designed to enhance, renew, and rebuild UConn's main campus in Storrs, CT and regional campuses. This large-scale project provides funds for new building construction, renovations, and additions to existing facilities, as well as new equipment, the university's infrastructure, and improvements.
A/Z Corp.'s Telecommunications Division (www.a-zcorp.com/telecommunications), a company based in Ledyard, CT that installs telecommunications equipment and cabling systems, has worked with construction crews and the university's authorities-an example of Division 17 at work. Under Division 17, the owner (UConn) sets the requirements of the project (see "Why Division 17 will require new business strategies," August 2001, page 45). Since contractors and cabling professionals are often hired by the owner and not by the architect, they must communicate with and work beside other crews and trades. A/Z Corp. overcame these challenges in UConn's residence facilities as well as in buildings that house a combination of lecture halls, classrooms, and faculty offices. This installation was time-sensitive and needed to be done discreetly, so as not to interfere with the everyday activities of students and university faculty.
Residence facilities
The Hilltop Apartments project involved construction of 13 apartment buildings and a student activities center, adding residence facilities for approximately 1,000 students at the Storrs campus. Apartment floor plans included one-, two-, and four-bedroom accommodations, which required multiple configurations. Telecommunications services include a data network outlet and telephone outlet in each bedroom, as well as at least one cable TV outlet in each bedroom and in all living areas.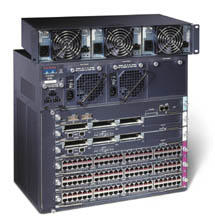 Cisco Systems' Catalyst 4006 aggregating switch in the main distribution closet for the Hilltop Apartments transmits data more efficiently than 28 switches.
Click here to enlarge image
In this project, A/Z Corp.'s Telecommunications Division terminated, tested, and certified all of the data cabling to Category 5e standards, as well as the voice and coaxial cabling. All of the termination and testing was done in nine weeks (over the summer) using a number of different testers to avoid any inconvenience to residents. Both the Fluke Networks' (www.flukenetworks.com) DSP 4000 and Agilent Technologies' (www.wirescope.com) Wirescope 350 meters were used in the testing and certification to meet the testing needs of the three media: data, voice, and video.
Also, the crew furnished and installed optical transmitters, receivers, and couplers to extend the UConn-owned "Huskvision" SMATV system to the project site, in addition to video masking interdiction units for distribution of the video signal to the individual apartments. Video masking interdiction units introduce a spare signal coming from the head end; the signal is sent into the rooms, and then the signal is removed at the televisions. This spare signal prevents the transmission from being scrambled. A Cisco (www.cisco.com) Catalyst 4006 aggregating switch was configured and installed at the Community Center as an uplink to the existing campus data network. Twenty-eight Cisco 3548 XL Gigabit Ethernet switches were deployed at the individual apartment buildings, and each switch feeds back to the aggregating switch.
The Catalyst 4006 aggregating switch in the main distribution closet aggregates all of the switches in all of the buildings, and the transmissions are sent to the data center. Why was an aggregating switch used? It puts the transmitted information in packets and can send this information much more efficiently and effectively than 28 individual switches connecting to the head end of the campus. Rather than using up 28 strands of fiber, the aggregating switch only uses two.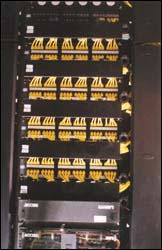 Hubbell Premise Wiring's NEXTFRAME modular cable management system provides connections at the heart of C.E Waring Hall's infrastructure.
Click here to enlarge image
Voice, data, and video for the residence buildings originate from a main distribution frame at the head end in a centralized location on campus. The cabling comes in underground from the main distribution frame in the Community Center. Voice and data cabling is distributed to data closets located on the third floor, and outside-plant video cabling is routed to the second floor of each of the residence buildings. Each data closet houses both data and voice, including one data and one voice outlet "per pillow" (bedroom) to meet the university's standards-an average of about 11/2 outlets per room for the 75-ohm coaxial cable. Most of the living rooms have two coaxial outlets.

This work could not be done until other matters were taken care of. From the outset, one of the major challenges of the overall project was the schedule to complete a 14-building complex in 14 months. "The Hilltop Apartments project site is over 34 acres and required extensive work," says Steve Server, project manager, A/Z Corp. Site work includes clearing and "grubbing" the project site. "Additionally, winter conditions were a factor in pouring of foundations," he continues. Connectivity between the buildings is provided via long-haul Gigabit Ethernet interface converters (GBICs) over a singlemode optical fiber outside cable plant. UConn's telephone services provider installed the OSP cable. "All of the schedule end dates needed to be coordinated with when we were going to get the optical-fiber and high-pair-count copper cable here," says Server. Cable needed to be pulled in from the street before we could begin the final stages of our work. The general contractor, Capstone Building Corporation of Birmingham, AL, coordinated and monitored the progress of the installation using scheduling software to ensure that each participant's portion of the project was completed on time."
Classrooms and offices
Renovation of C.E. Waring Hall included interior renovation and exterior refurbishment of 70,000 sq ft of combination lecture halls, classrooms, and faculty offices to house the College of Arts and Sciences, English, Geography, and Statistics departments. Telecommunications rooms were in the renovation's design. These areas were what remained after the university decided on the locations for the various offices and classrooms.
The team provided "as-built" documentation and management support to facilitate phone and computer moves from existing buildings, and coordinated closely with University Information Technology Services (UITS)-UConn's service provider-and end users to ensure that the university's personnel services were moved seamlessly and in a timely manner. Documentation helped them program the switches, and A/Z Corp. installed and tested the switches to make sure the ports had the proper connections. Also, a questionnaire was distributed to faculty members in the building to help "double-check" the connections.
One of the challenges was to create a network with two different platforms-one that was a community platform that everyone could access, and the other being a restricted access platform for the faculty. "We had to be able to offer all of the information for crossconnecting their phones and moving them from across campus into an operating office," says Server. "It was a big challenge as far as customer service goes." This part of the project also had to be completed before faculty could move in to the building.
In this building, A/Z Corp. furnished and installed a Category 5e data, voice, and video horizontal cabling infrastructure. In addition, A/Z Corp. installed, terminated, and tested optical fiber, copper, and coaxial riser backbones composed of Corning (www.corning.com) optical-fiber cable and components. C.E. Waring Hall has a Cisco Catalyst 4912G aggregating switch and 19 Cisco 3548 XL-EN Gigabit Ethernet switches. This is a design similar to the Hilltop Apartments, but it does not require as many ports. A smaller aggregating switch is better suited for the smaller number of network switches. Also similar to the Hilltop Apartments, these switches provide integration with the existing campus data network, using long-haul GBICs. The infrastructure was composed of Mohawk/CDT's (www.mohawk-cdt.com) MegaLAN cable connected to Hubbell Premise Wiring (www.hubbell-premise.com) patch panels.
Teamwork
A/Z Corp.'s installation based on a construction viewpoint regarding scheduling, budgeting, and coordination with other trades working simultaneously on the project site illustrates how Division 17 can work. Preparation work required patience on the part of all parties involved with the project. Also, the interface of the project's data, video, and voice infrastructures with the existing campus networks was not addressed until four months prior to the complex's proposed occupancy. Server says this was delayed because "they didn't want to specify the equipment too early in the game and have a big change toward the end as a result of technology changes."
A high level of cooperation and communication were required between the university's facilities, ITS, Residence Life departments, its service provider, the general contractor, and telecommunications contractor. It was also necessary to coordinate the completion of this project's telecommunication services with connectivity to more than a half-dozen other construction projects in progress on the campus in time for start of classes in late August. Great teamwork allowed schedules to be met.
---
Ryan Cliche is assistant editor for Cabling Installation & Maintenance.
null