To firestop or not is no longer an option
Despite uneven inspections and installation techniques, firestopping has become a new priority in the post-September 11 era.
Aug 1st, 2002
Despite uneven inspections and installation techniques, firestopping has become a new priority in the post-September 11 era.
Proper firestopping steps during cable installation have taken on a new immediacy in the post-September 11 environment. But the practice of local inspectors carefully reviewing installers' work still remains sporadic across the country.
Manufacturers and educators alike are working together to close these gaps, and make sure that inspectors are working with installers to get the job done right. "The installers will adhere to the codes if the inspectors are following the requirements," says Mike Holt of the Orlando, FL-based Mike Holt Enterprises (www.mikeholt.com). Holt is an expert on the National Electrical Code.
Many states are adding requirements regarding inspection of firestopping products, and while industry watchers believe installations will become safer, not all installers are entirely happy with this evolution. "Contractors feel they are burdened with enough regulations," says Mike Tobias, CEO for Unique Fire Stop Products, Inc. (www.uniquefirestop.com) in Mobile, AL.
But Holt notes, "It will take 20 years before nationwide, people understand what the laws are. We are starting something now and will build on it. But nothing is going to be solved overnight."
Installers' concerns
Fire barrier construction includes the partitions that accommodate electrical cables, cable trays, conduits and pipes. These partitions are protected or sealed by firestopping products that include sleeves, blocks, pillows, putty, caulking and mechanical devices. They are placed or wrapped around cable as it is pulled through floors and walls. Most include material that expands when heat strikes it, preventing fire from moving forward.
Of course, firestopping products must be properly installed in order to work effectively. An improperly installed firestopping device is an ineffective firestopping device.

Performance requirements are included in model building codes, and code officials, cabling contractors, cabling-plant managers and other construction specialties must be prepared to specify and correctly apply them. While some manufacturers say they are seeing closer attention being paid to the inspection process, "there is significant room for improvement," says John Kaul, marketing director for Hilti North America.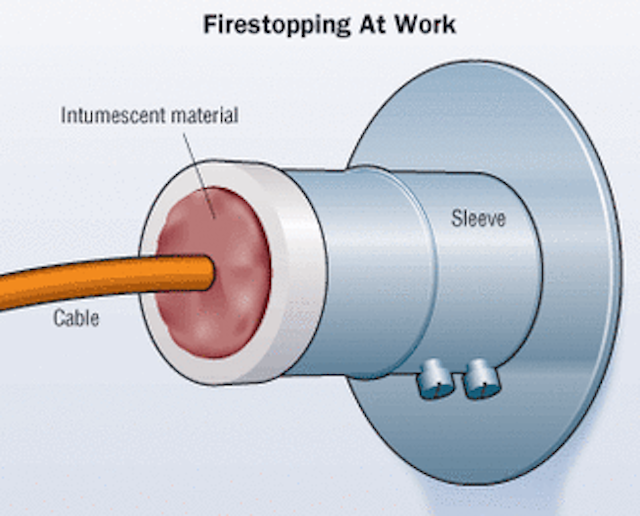 Click here to enlarge image
Firestopping devices usually contain intumescent material that surrounds a cable and expands when exposed to heat, preventing a fire from proceeding through a wall or floor.

Putty is used to seal around penetrating cable through fire-rated walls and floors and blank openings.
Pillows and bricks are designed primarily for large openings with cables or cable trays.
Mechanical devices contain intumescent material, like Tekron, an elastic-like compound that expands when exposed to heat.
Intumescent caulking can be easily installed around a cable.
Sleeves can be used in areas where pipes penetrate floors.
Some of the improvement must come from installers. Tom Banks, president for the Bedford, NH-based contractor MTS Services Inc., says while some installers find firestopping products to be time-consuming to install and add to the cost of the installation-possibly throwing a contracting company into a bad light during the bidding process-he believes that's a minority view.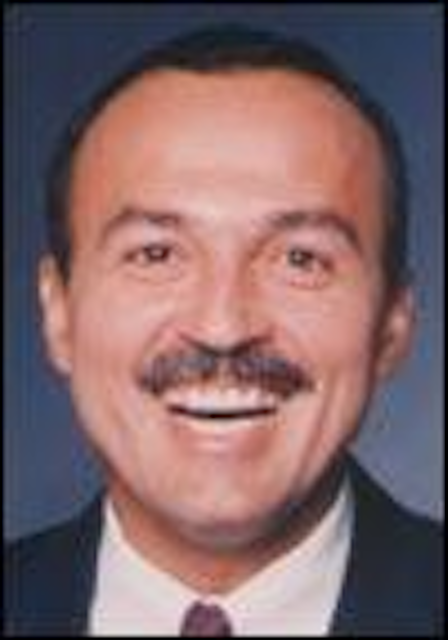 National Electrical Code expert Mike Holt of Orlando, FL-based Mike Holt Enterprises, is trying to educate inspectors on how to properly examine a firestop installation.
Click here to enlarge image
"I'm sure there is a portion of them who don't like it, but I'd like to think that there is a bigger group of us who think it's a good thing," say Banks. "You sleep well at night when you've done it properly, and knowing that the fire didn't spread because of something you did."

Counters Roy Chamberlain, an installer and senior project manager for MTS Services, "The biggest problem with firestopping is it is a heavy expense. It just seems like it's not a big priority." Because of the cost and time involved, sometimes when firestopping products are installed, the contractor provides the bare minimum. Chamberlain says that too often, he comes across poorly or sloppily installed firestops. Or worse, there's no firestopping at all.

"You can go into any building, anywhere, even a brand new building, and there are fire walls that are not firestopped," says Chamberlain. Part of the problem, in Tobias' opinion, is that the low-voltage aspect of the industry remains unregulated. He says rules and regulations are loosely followed by installers, and inspectors are slow to pick up on mistakes.
Tobias says the industry would benefit greatly from having firestop regulations enforced evenly across the country. And not just for safety alone. Even enforcement of firestopping rules and regulations, he says, would place all installers on the same playing field. "One of the benefits of regulation is that everybody would be required to firestop, whereas now the low bidder may not firestop at all," says Tobias. "So, the bidding process has something to do with the lack of firestopping."
Uneven enforcement
Manufacturers say that for firestopping products to make inroads and to ensure safety at installation sites, inspection practices must be consistent across each state. "Some municipalities take it very seriously, and they take detailed inspections," says Rich Walke, engineering group leader for the fire protection division of Underwriters Laboratories (www.ul.com). "Others don't take it quite as seriously."
California, Florida, North Carolina and parts of New England are known to foster local inspectors who strictly enforce firestopping measures. But elsewhere, inspections are erratic due to insufficient staffing, lack of training, or even unawareness that such training exists. And the dichotomy doesn't just exist between states, but within states.
Chamberlain recalls how an inspector once questioned him on the depth of a firestopping installation, but didn't push the issue or ask him to reinstall the product. Banks has often installed a 4-in. Smooth Wall Penetrator-a UL-rated device for firewall penetration. But many of these installations were not observed or inspected, and he wonders why. "We are finding, more and more, the electrical inspectors will check out what we do, but a permit is not required (in a particular state) to install low- voltage cabling. It doesn't require inspection," says Banks.
But installers can be equally uneven in their attitude toward firestopping, especially when it can mean the difference between winning or losing a bid. "When I bid on a project, I spec in the UL fire penetrator," says Banks. "My competitor might not do that, though, so there is a difference in my quote and the quote from the guy next door. I hoped to make it so the jobs we were bidding on were apples to apples, and everyone is required to put in the firestopping."
Nevertheless, Tobias says that if networks are not properly firestopped simply because of resistance to regulations, more buildings will suffer from fires, and the people who work in them will be in danger. "I think as a rule of thumb, people resist regulations," says Tobias. "But if someone regulates you and you resist it, the industry itself begins to resist regulation. And the industry will then fail to see the benefits of regulation."
The need for education
Inspectors must be trained to take the rules and regulations seriously, and installers must be trained to do the job right.
"It's a big country," says Walke, "and it's taking a monumental effort to get the word out. Even though firestopping has been around some 25 years, the word has still not gotten to all of the municipalities."
The Firestop Contractors International Association (www.fcia.org) is seeking to raise the bar on the installation of firestop systems. Underwriters Laboratories participates in programs designed to help educate authorities in training. Both conduct training seminars across the country. In addition, Holt has written a book that points out the National Electrical Code's requirements as applied to cabling, and it includes information on firestopping regulations.
Firestopping product manufacturers are also holding training sessions, inviting electrical inspectors and others involved in the inspection process. Hilti, for example, has a fire protection specialist work around North America, educating installers on the specifics of firestopping installation, and designers on what is needed during the construction phase of a new build.
"We try to educate the entire supply chain on firestopping-the products and materials and techniques-so they are much better aware," says Kaul. "All manufacturers have to focus on this."
Holt believes that, increasingly, inspectors are learning that they have to hold a contractor's feet to the fire when it comes to installing a firestopping device. "In many parts of the country, the inspector is not required to have a permit or license, and they do it the way they always have been doing it," Holt says. "Now, they are going to seminars, and it's turning around. On Monday morning, they go to the cabling contractors and say, 'You've got to do this.'"

Brian Milligan is senior associate editor for Cabling Installation & Maintenance.
---
null
Products must gel with expanding data needs

Firestopping products were once very dependent on field labor. Now, manufacturers are trying to develop products that can be quickly and easily installed in the field, minimizing installation time.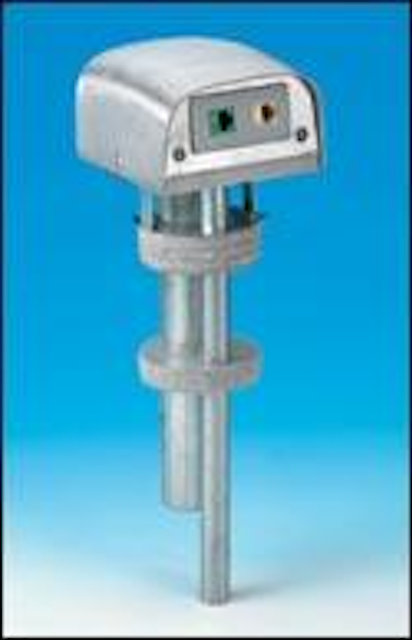 Hubbell Premise Wiring manufactures a fire-rated poke-through. The device must allow cable to come up through a floor, provide voice connections, and maintain the fire rating of the floor. The device is covered with intumescent material that expands if it is exposed to flames or heat. The device is now capable of higher capacity, delivering more data and voice connections than ever before. The device must be capable of allowing four data cables to pass through.
Click here to enlarge image
Products must also the demand of growing data capabilities, telecommunications rooms, and delivery systems that bring cables to workstations. In the past few years, firestopping manufacturers have tried to create streamlined versions of these products that minimize field labor and make it easier for installers to complete the process.

Unique Firestop Products, for example, makes UL-classified mechanical sleeve systems for low-voltage installations. The sleeves act as vessels of containment, can be quickly placed over cables, and used in retrofitting situations or new builds.

Hubbell Premise Wiring (www.hubbell-premise.com) manufactures a fire-rated poke-through. The device lets cable come up through the floor, provide voice connections, and maintain the floor's fire rating. The device is covered with intumescent material that expands if it is exposed to flames or heat.

Randy Minor, product manager at Hubbell Premise Wiring, says "a fire-rated poke-through has to deliver more data and voice connections than ever before. And that's just on the voice line. Now, specifiers want four jacks going to every workstation-one for the Internet and one for voice, one LAN connection and a spare."

"What does that mean?" Minor concludes. "The fire-rated poke-throughs have to get bigger."
null