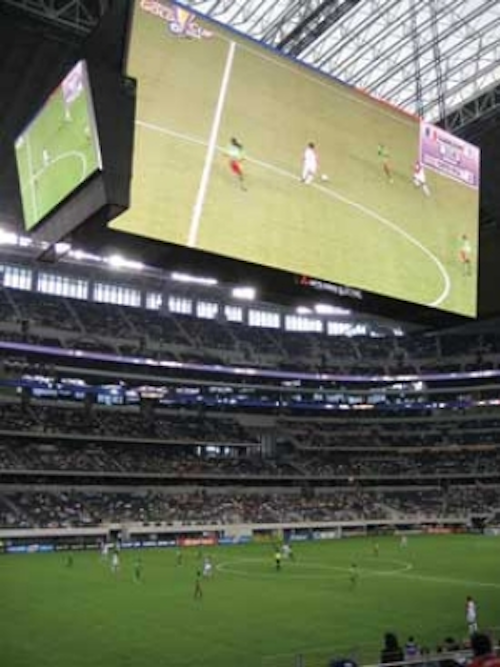 Network owners and cabling installers aim to take advantage of the varied forms of this hot technology.
by Patrick McLaughlin
By just about any measure, the market for digital signage is hot. And perhaps that's the only universal statement that can be made about the technology. In January IMS Research (www.imsresearch.com) pegged the global market for digital signage devices at $3.9 billion for 2009 with a forecast for sharp growth, in the neighborhood of 20% annually, through 2013. The devices considered in IMS Research's study included displays, media players, set-top boxes, computers, networks, and software.
As for putting into a nutshell what a digital signage system is, that proves to be more difficult. "Saying 'digital signage' is like saying 'vehicle,'" remarks Steve Lampen, multimedia technology manager with Belden (www.belden.com). "You could be talking about anything from a boat to a dump truck." In the case of digital signage, a system might include a standard television sitting in a hotel lobby displaying the events taking place at the facility that day. Or it could be a gargantuan scoreboard at a sports facility showing game action, scores, and other information.
Each setup will have its own mission as well as its own infrastructure needs. Those infrastructures "can vary widely," Lampen explains, "and may not even include wires. Wireless can be used as well. Take for example a billboard in the desert between Los Angeles and Las Vegas. The board will need to be powered. Then, you have to decide how you're going to get the signal to it. Does somebody physically load the signal at the site? Do you use wireless? Satellite perhaps?"
Media and architecture
That is one reason there is no such thing as a run-of-the-mill infrastructure or cabling system for digital signage. Another reason is that, like the physical appearance and location of a digital signage system, the bandwidth such a system consumes can fall virtually anywhere on the scale.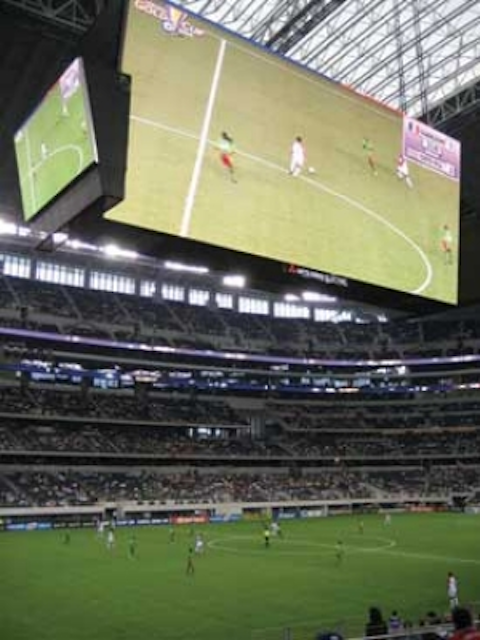 Stadium scoreboards like this one are elaborate digital signs.
Lampen says that in general a signage system's bandwidth consumption will depend on what the user puts on the screen. "A message of just words would be low-bandwidth. A static picture, also low," he explains. "It is relatively easy to build a display that is low-bandwidth and just show that display. A static image is essentially just one frame of video, and is easily done. If you decide to add motion, that's a different story. The higher the quality of motion and the resolution of picture, the higher the bandwidth that will be needed to deliver it." He added that MPEG-style compression technologies exist and provide good picture quality for surprisingly low bandwidth.
Employing digital signage systems over an Ethernet-based network is one of three primary delivery methods. Another is through cable television; the most recognizable example of this method is familiar to hotel guests. The in-room television channels that do not display any video, but rather show information such as daily meetings in the hotel facility, are digital signage systems.
The third delivery method is to have the media player on or very close to the display. Lampen explains that this setup requires "some kind of server or laptop device, which are getting amazingly small, that could be stuck on the back of the display and loaded on a regular basis." Often a laptop is connected to the display and the message is changed either through the laptop or via a USB stick.
Opportunities abound
As the digital signage market continues its upward trajectory, building owners as well as infrastructure-system designers and installers see opportunities to take advantage of the market growth. Design and installation companies can seize the opportunity if they know how to implement these systems, in their various forms, in the many environments in which they can be deployed. Some companies expressly target digital-signage deployments as their primary business. Some of those companies have an even more narrow focus, such as digital signage in airports.
For the building owner, digital signage systems can represent a potential revenue stream. Hotels and other hospitality environments may be the best example. Lampen explains some of the typical examples he has seen. "A hotel owner may put 50 screens throughout the facility. That hotel likely hosts events, and can charge the organizations renting a function room for the inclusion of details" of their events on a certain number of the 50 screens.
While IMS's research is a scientific means of understanding the digital signage market's drivers and growth patterns, the eyeball test also gives a strong sense of the market's success. Not only are more digital signs showing up in public areas like airports and retail facilities; professionals in the networking and cabling industries may also have noticed a growing number of conferences and expositions dedicated to digital signage. This past winter, audiovisual trade association InfoComm (www.infocomm.org) beefed up its programs related to digital signage. Said the group's executive director and chief executive officer Randal A. Lemke, "For more than five years, InfoComm has developed a variety of programs and training to help AV professionals enter the world of digital signage. Due to the continuing evolution of the growing application, InfoComm is developing additional programs to address this evolving and growing segment of the audiovisual industry." Those programs include an online conference, the addition of a digital signage pavilion at the organization's annual exhibition, and training sessions devoted to the topic at its annual conference.
Patrick McLaughlin is chief editor of Cabling Installation & Maintenance.
More CIM Articles