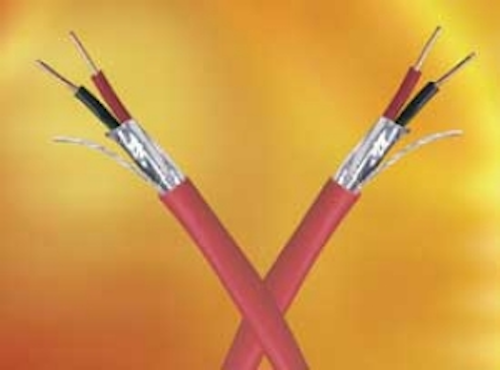 CI and CIC are proving to be practical solutions for buildings today.
by Joshua M. Dixon, Belden
Installing a reliable and effective fire alarm system is of critical importance to owners, managers and tenants of commercial, government and industrial facilities. Because fire and life safety systems are vital to protecting people, property and assets, organizations most likely devote much time and care in choosing an alarm system suitable for the property size and configuration—whether a high-rise office building, a sprawling shopping mall, a busy hospital or a manufacturing plant.
One factor sometimes overlooked in the evaluation process is the signal transmission backbone—the cabling infrastructure—supporting the fire/life safety system. Every enterprise-wide electronic communication system, including voice/data/video, instrumentation and control, wireless and others, relies on the soundness of its infrastructure to prevent unexpected downtime and possible loss of data. Failure of a fire alarm and life safety network infrastructure, however, poses an even greater risk because even a single disastrous incident can result in injury or loss of human life and property.
Survivability key to reliability
Cabling infrastructure survivability codes and standards have been established by the National Fire Protection Agency (NFPA) and its National Electrical Code (NEC) to govern the performance, circuit integrity and safe installation of alarm system circuits in commercial and industrial facilities.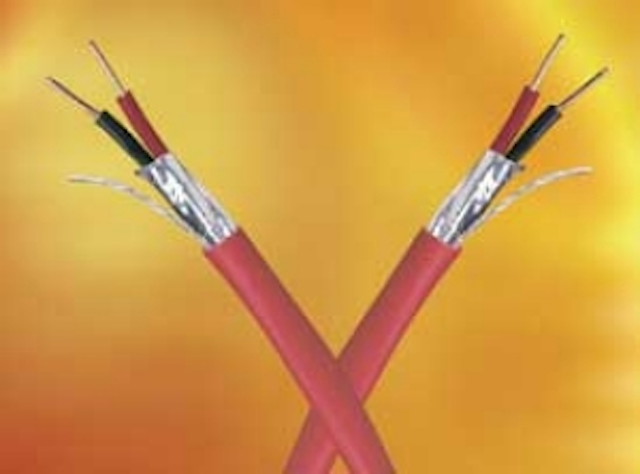 CI and CIC cable, such as this one from Belden's New Generation family of Safe-T-Line cables, are designed to provide sustained operation and survivability in the event of fire and other emergency situations.
For example, the NEC has a two-hour fire alarm survivability requirement that calls for cabling supporting fire alarm and emergency voice-alarm communications (EVAC) systems to be able to provide two hours of fire-resistive survivability in the event of fire or other disaster. The two-hour rule means the system will continue to operate long enough for occupants to evacuate the premises in an orderly fashion. This is especially critical in avoiding panic or injuries when large or densely occupied facilities have to be vacated.
While it is possible to meet the NEC's survivability requirements by making structural changes to the building or by using mineral insulated (MI) cables, both of these options tend to be labor-intensive, complex and costly. A more practical solution for buildings today, whether new construction or modernization, is a specialized cabling category designed as circuit integrity (CI) or circuit integrity in conduit (CIC).
Benefits of circuit integrity cables
High-quality CI and CIC cables are designed to fully comply with the survivability standard, are more economical and easier to install than MI cabling, and do not require any structural modifications to the building. The cable's rugged construction incorporates flame- and smoke-retardant materials, such as low-smoke zero-halogen (LSZH) thermoplastic jackets and thermoset elastomer insulation. When installed properly, these materials allow the cable to deliver life-saving benefits to support fire alarm and voice addressable emergency systems such as EVAC.
Some typical CI and CIC cable types are available in the market today.
CI cables are designed for non-conduit riser installations only and are Fire-Power Limited-Riser (FPLR)-CI rated. They require installation with firestop materials, cable runs without splices throughout the fire protection zone, and terminations no less than 12 inches beyond the fire-rated wall or floor bounding the fire area.
CIC cables are designed for installation in ½-inch conduits and are FPLR rated as well as UL listed for circuit integrity when installed in conduit according to UL FHIT #30.
More-specialized CI and CIC cables are also available.
PLTC-CI shielded multi-conductor cables are designed to handle controlled shutdown or emergency situations in circuitry related to mission-critical industrial machinery and processes. These cables can survive fire for up to two hours and comply with standards for circuit integrity in hazardous environments, such as chemical and petrochemical plants. They are designated for installation in risers or power limited trays, but they cannot be used in conduit if UL listing must be retained.
ABS-type LSZH cables are designed specifically for shipboard installation, typically on cruise ships or large yachts. The cables are approved by the American Bureau of Shipping, which is the leading classification agency governing safety and security of marine-related life and properly.
More information about the codes and standards governing installation of CI and CIC in fire alarm and voice-addressable EVAC systems is available at NFPA.org.
Joshua M. Dixon, CPIM is vertical marketing manager for video, sound and security for Belden Americas Division (www.belden.com)
---
UL 1424 defines fire-alarm cable types
The Underwriters Laboratories standard addressing cables to be used in power-limited fire-alarm circuits is officially titled UL 1424 Cables for Power-Limited Fire-Alarm Circuits. Within UL 1424 are definitions of FPLP (plenum), FPLR (riser) and FPL (general) cables as well as power-limited fire-alarm circuit cables. Following are excerpts from UL 1424 describing each cable type.
Type FPLP Cable - Cable that is intended for installation in accordance with Section 760-82(d) of the National Electrical Code (ANSI/NFPA 70) in a duct, plenum, or other space used to transport environmental air without the cable being enclosed in a raceway in that space is to be tested for smoke and flame characteristics in accordance with the National Fire Protection Association Standard Method of Test for Flame Travel and Smoke of Wires and Cables for Use in Air-Handling Spaces, ANSI/NFPA-262.
Type FPLR Cable - Cable that is intended for use in vertical runs in a shaft, or for installations in which the cable penetrates more than one floor, as specified in section 760-82(e) of the National Electrical Code ANSI/NFPA 70. This cable is to be tested for flame-propagation characteristics in accordance with the Standard Test for Flame Propagation Height of Electrical and Optical-Fiber Cables Installed Vertically in Shafts, UL 1666.
Type FPL Cable - Type FPL cable complies with a 70,000 Btu/h (20.5 kW) vertical-tray flame test. (Two tests are available for achieving this rating.)
Power-Limited Fire-Alarm Circuit Cable - Cable that is surface marked or designated by a marker tape as "power-limited fire-alarm circuit cable" or as "power ltd fire alarm cable" complies with the VW-1 vertical-specimen flame test.
Source: ulstandardsinfonet.ul.com
More CIM Articles