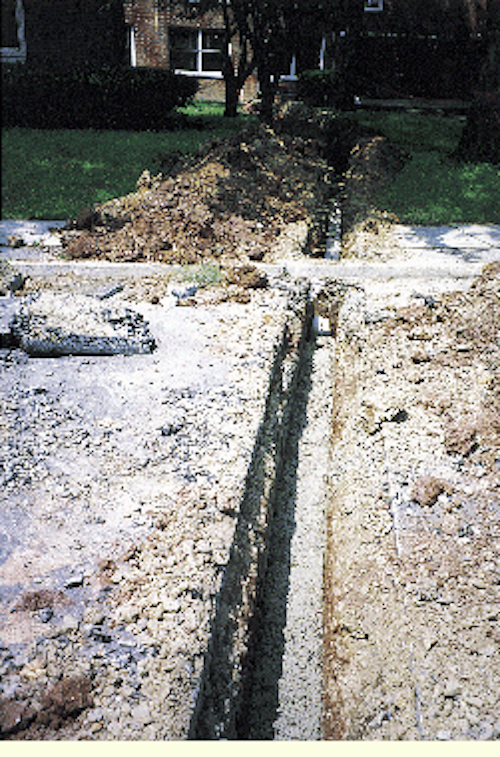 Planning, teamwork and a flexible design can help designers and installers implement an underground optical-fiber cabling plant.
Atikem Haile-Mariam, Corning Inc.
The benefits of optical fiber--high bandwidth, low attenuation, long transmission distances, and immunity to electromagnetic interference (EMI) and crosstalk--have made optical-fiber cable the choice for many backbone and riser portions of premises networks. Today, more than 65% of these network segments are cabled with optical fiber; however the percentage of fiber in the interbuilding, underground portion of networks is probably higher. In addition, the small size and light weight of optical-fiber cable can contribute to a simplified design and efficient completion of an underground-cabling installation, as illustrated by the experiences of those involved in one such underground installation.
Rider University, together with Bell Atlantic Network Integration (bani--Frazer, PA), recently completed the installation of a voice, video and data network at the University`s Lawrenceville, NJ, campus. With an extensive Fiber Distributed Data Interface (fddi) backbone, the $3.8 million network is the cornerstone of a $4.8 million information-technology initiative at Rider. Oliver Communications Group Inc. (Bordentown, NJ) was brought in by bani to install the optical-fiber cable, including digging trenches and installing conduit for the interbuilding portion of the network.
The project included the design and installation of underground optical-fiber cabling to link 39 buildings on a 353-acre campus. At the end of the project, the contractor had dug more than 8200 feet of trenches and pulled 38,000 fiber-feet of optical-fiber cable. Thorough planning and close cooperation among all of the parties helped Rider, bani and Oliver Communications complete this ambitious underground installation on time.
Two factors complicated the work. First, the installation deadline was very tight. Phase I of the project--connecting residence halls and fraternity houses--began in June and had to be completed by August, before students returned for the fall semester. Phase II--involving all academic and administration buildings--was completed between August and January, while the campus was in full swing.
The tight deadline was a challenge, according to Phil Oliver, director of operations for Oliver Communications. "Because of the short time frame for completion of the project, scheduling workers was tough. We had to work 14- and 16-hour days."
Underground obstacles proved to be an even-greater challenge. All utilities on the 30-year-old campus are underground; therefore, bani had to plan the conduit routes carefully and be cautious when digging trenches.
Ultimately, however, the project was completed without major or unexpected difficulties. The university successfully began cutting over to the new network in early January, right on schedule.
"Rider had the foresight to engage me as a full-time project manager," says Tom Brodecki, bani`s project manager. "Also, we had the total cooperation of the entire campus community, including the facilities group. On a large installation such as this, you need continual access to buildings, and the university staff worked in a true spirit of cooperation."
"Rider paved the way by informing their people that they should work closely with us," says Oliver. "Because of the short time frame, we didn`t have time for complaints--and we didn`t get any."
"We all spoke plainly to each other," recalls Phillip Vorhees, director of facilities management at Rider. "We were flexible and accommodated their needs. We knew what had to be done and we didn`t let egos get in the way."
While cooperation and thorough planning were key to the project, the use of optical-fiber cable helped keep the network design simple. Oliver says that fiber speeds things up in an underground installation.
Keep the design flexible
Rider owns and maintains the utilities on campus, except for telephone lines. In the first step of the planning process, Vorhees provided bani engineers with a site-utilities map of the campus. The engineers used it to draw the cable routes and make plans for trench digging and conduit installation. When they completed their initial cable-route plans, they brought them to Vorhees. With map in hand, he and several mechanics then traveled the proposed route to compare the cable route with paths of the buried utilities.
"Wherever there was a crossover with utilities," says Vorhees, "I`d mark the spot with a paint line. If the cables were crossing too many utilities, I`d go to bani and suggest an alternative solution."
The original design did not always take into account the presence of a walkway over the planned conduit route and, at some points, the proposed route passed close to concentrations of water, sewer and gas lines. Working together, Rider and bani made the necessary changes to the design.
Steering clear of underground utilities and other obstructions avoids mishaps during trenching and conduit installation. Keeping the cabling away from utilities and roadways, wherever possible, decreases the chance of damage to the cabling plant during any future digging--to repair a broken water main, for example.
Another concern in the underground cabling design was a 250-foot easement for a Transco high-pressure gas pipeline that runs beneath the campus. On one occasion, the designers had no choice but to run the cabling route diagonally across the easement. This dig took place over one day, with a Transco representative present the entire time. Finally, within 100 feet of the pipeline, Oliver Communications poured a 1-foot cap (encapsulation) of concrete over the conduit--the same procedure that is used for conduit near roadways. The cap provides further protection against future digging mistakes in these high-traffic areas.
Scheduling with local utilities
Two weeks before the start of the dig, Brodecki, Oliver and Vorhees walked the finalized cabling route, painting a white dotted line to show where the contractor would dig the trenches. Vorhees also used spray paint to mark all utilities within 100 feet of the route: green for sewer, yellow for gas, red for electric, and orange for telephone and data. Representatives from the local telephone company came in to mark its lines.
Next, Oliver contacted all local subcode officials--for gas, electric, water, sewer, cable TV and telephone--to come to Rider on the same day for an overview of the two-month excavation project.
"We set up a time for all utilities subcode officials to be at Rider together," says Oliver. "We made a print of the campus map, highlighted the dig and told the officials when we`d be digging where. We gave them our schedule so they could stay ahead of us. When we got ahead of schedule, we called to advise them where we`d be the next day."
By having all the subcode officials at the site for one day before digging began, the project team was able to orient everyone about the design and scope of the installation. Officials could keep track of the schedule and come to the site only when necessary.
"Providing a schedule and keeping in touch save a lot of time for the subcode officials on a big project like this one," explains Oliver. "Actually, the `phone guy` was the only one who had to come out often. We had a pager number so we could let him know if we were getting ahead of schedule."
Once digging began, Vorhees stayed ahead of Oliver`s installation team. Each day, he walked the route to verify the path. If paint marks had faded since the initial marking, or marks on grass had been obscured by mowing, Vorhees re-marked utilities, whenever necessary. This painstaking attention to detail paid off in the end: Only on a few occasions did the installation crew inadvertently strike something underground. When this happened, the crew leader flagged the problem, left the trench open and moved on. Soon after, Vorhees would make repairs and installers would return later to fill in the hole.
"If we hit something--mostly lighting fixtures--Vorhees (and his facilities people) came right out to repair it," says Oliver. "We didn`t damage anything significant, and we didn`t have any power outages, which is unusual for such a large job."
The underground cabling design at Rider called for two to six 4-inch plastic ducts in each trench, depending on the cabling needs at specific locations. At least one duct in each section contains three-tube innerduct. Many ducts are left empty to make pulling innerduct at a later date fast and easy.
The optical-fiber cabling infrastructure consists of a backbone of cables containing 144 strands of Corning multimode fiber and cables of 72 singlemode fibers. In the distribution portion of the network, composite cables of 18 multimode and 6 singlemode fibers connect the backbone to individual buildings. The network design is a dual-star topology, with fiber connectivity to each building from two hubs: one at the main computing center in the Fine Arts building and the other in Moore library.
"Using composite fiber," says Oliver, "with both multimode and singlemode fiber is a plus. If Rider wants to run video, for example, the singlemode is already installed. It would cost twice the labor to install it later, so they really get the singlemode installation practically free."
In fact, using optical-fiber cable brings several benefits to an extensive underground installation such as the one at Rider. Optical-fiber cable is small and lightweight--a plus where duct space is at a premium. "We had places where there was a space concern," says Oliver. "However, we put in a 24-strand fiber-optic cable easily. With a large copper cable, this could mean more excavation and conduit cost. With fiber, you can actually save on installation costs."
In addition, with optical-fiber`s longer transmission distances, compared to those of copper, few outdoor splices and connections are required. This saves time and money, and reduces the risk of future problems with connections.
"If we had to install copper to do what the fiber`s going to do, we would not have completed the job as quickly as we did," Oliver says. "The conduit was built for a fiber installation, with spares. If we had to build a conduit for copper cables that would match the fiber`s ability, the conduit would have to accommodate twice the duct banks as they do now, and there would have been outside splicing. With fiber, there`s none. It`s just a cleaner installation."
Using optical-fiber cabling at Rider has provided other benefits; for example, the campus is lightning-prone and, in the past, electrical storms have disrupted communications. The fiber backbone is immune to EMI and even the telephone traffic is routed over fiber. In addition, because Rider has installed multimode and singlemode fiber, the network has more than adequate bandwidth available for future applications, eliminating the need for expensive recabling in the future.
According to Brodecki, this installation is a "showcase project." Along with the other members of the project team, he credits thorough planning, total cooperation of all participants and the choice of optical-fiber cabling for the quick turnaround time and successful completion of the installation.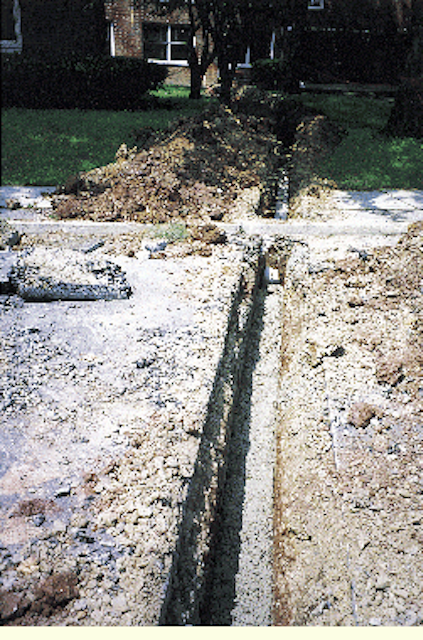 Click here to enlarge image
Typical road crossing--capping (encapsulating) process partially completed--has freshly poured concrete (foreground) and exposed conduit.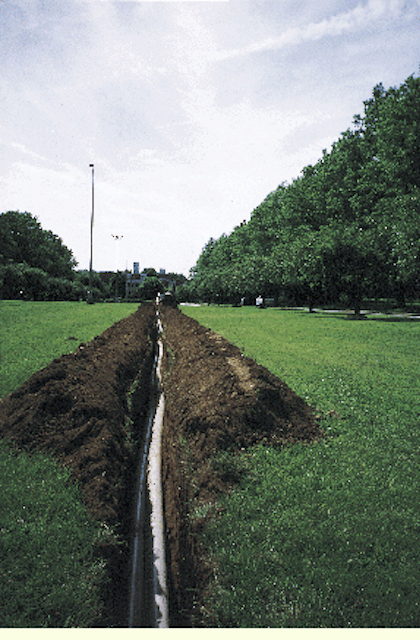 Click here to enlarge image
Ready for fill-in, trench containing tubes of 4-inch conduit, stretches to the horizon.
Atikem Haile-Mariam is market development manager, premises, at Corning Inc. (Corning, NY).