Victoria Trippe, Ortronics Inc.
Problem
Most cable installers take great pains to meet installation requirements and dress cables neatly at the rear of patch panels in the telecommunications closet. Unfortunately, the contractor?s work at the rear of the rack or cabinet is seldom seen. More noticeable is the patching field at the front of the rack or cabinet, which often looks as if a spaghetti bomb had exploded between the patch panel and the hub(s).
Solution
One way to avoid this problem is to install wire managers above and below each patch panel and run patch cords through both top and bottom managers. When routed in this manner, cords will rarely cross over the top of each other in a spider-web fashion. This type of routing will also facilitate maintenance, troubleshooting and cable management.
Procedure
1) Install a wire manager above and below each patch panel in the closet.
2) When ready to install the patch cords, visually divide the patch panel according to port groupings. For example, divide a 24-port panel in half, divide a 48-port or larger patch panel into quarters.
3) While grouping the cords to the closest port in its section, install the cords in the patch panel.
4) Use Velcro tie-wraps to bundle the cords into neat groups (if desired).
5) When installed correctly in this manner, the cords should not overlap on the patching field, which will allow for easier identification, labeling and management.
Note: Always label termination hardware according to the tia/eia-606 administrative standard; for example, Section 6.2.4 recommends that Oan identifier be marked on each termination hardware or its label. Duplicate labeling of termination hardware located in the work area is optional.O And, for termination position labeling, Section 6.2.6 recommends that Oan identifier be recorded on each termination position label. Each termination position shall be labeled with the termination position identifier, except in cases where high termination densities make labeling impractical. In these cases, identifiers shall be assigned to each termination hardware unit and to the actual termination position identifier determined by the conventions used for that unit.O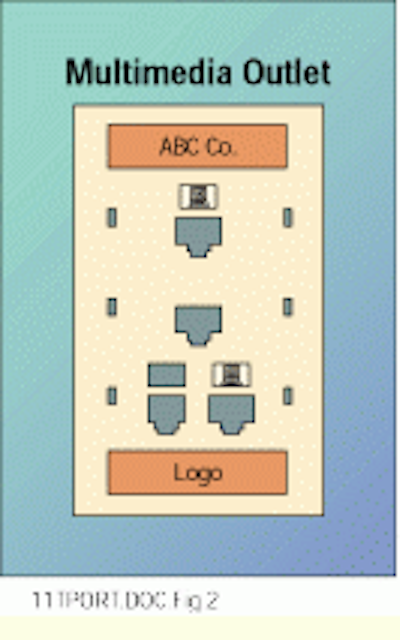 Click here to enlarge image
Incorporate Your Company Logo into the Cable Installation
Potential customers who see your completed cabling installation may recognize good-quality work but may not know who performed the work or how to contact you. Using filler panels, which can be silk-screened or engraved, and preprinted labels at work-area telecommunications outlets, you can exhibit pride in your craftsmanship, while leaving a highly visible business card.
Screen print or engrave blank filler panels with your company`s logo, telephone number and address.
Have paper or adhesive-backed labels printed with your company`s logo and telephone number to fit faceplate labeling slots.
Install filler panels at the top of racks and cabinets in main crossconnects, intermediate crossconnects and telecommunications closets.
Install telecommunications outlet and connector labels in work-area faceplates with your company card.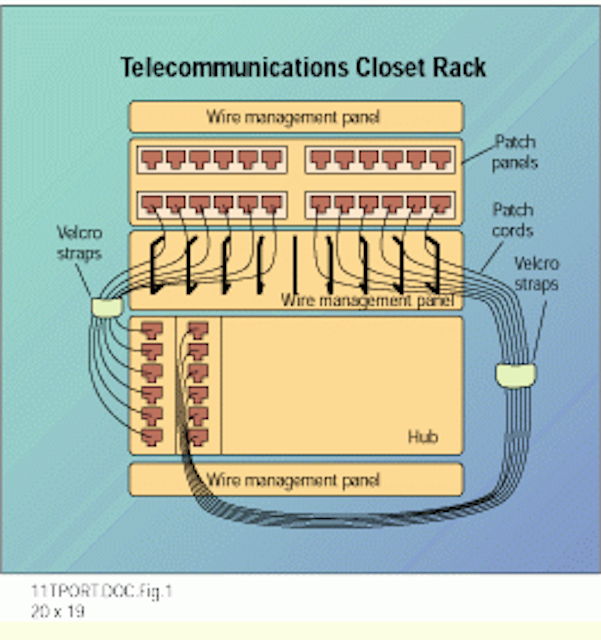 Click here to enlarge image
To manage patch cords in the wiring-closet rack, install wire managers above and below each patch panel.
Victoria Trippe, registered communications distribution designer (rcdd), is a senior systems trainer at Ortronics Inc., Pawcatuck, CT.