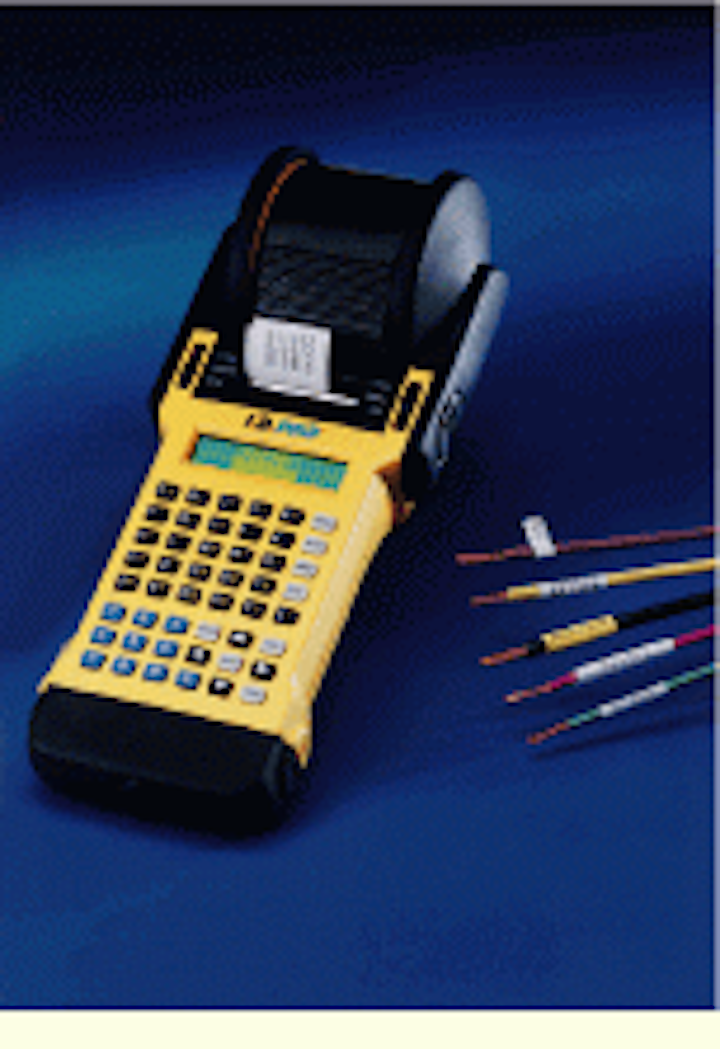 Barbara E. Thompson and Gail Leach Carvelli
The TIA/EIA-606 administrative standard for the telecommunications infrastructure of commercial buildings requires the labeling of all cables, termination hardware, splices, pathways and spaces. In fact, many requests for proposals require documentation as part of the bid. To help the contractor complete this task, manufacturers have developed two types of labeling systems: stand-alone (benchtop) and handheld or portable (see Product Update tables on page 26).
The larger, stand-alone system can be connected to a personal computer and print several types of labels in many sizes and fonts on a dot-matrix or laser printer. This type of system is typically used for generating large amounts of labels; for example, for an entire network installation.
The handheld labeler generally has a thermal-transfer or impact printer and may only print certain types of labels. Small enough to carry on your toolbelt, it is designed for use in the field. However, the handheld model is typically less expensive than the stand-alone system and has fewer capabilities and features.
Stand-alone or handheld
The stand-alone version is generally used in a central location to produce the labeling for an entire network installation. Then, installers use a handheld model to print additional or corrected labels at the site.
"Some of these [stand-alone] labeling systems can be quite expensive," says Dennis Mazaris, president of PerfectSite (Sterling, VA). "It`s not practical, therefore, to have an installer take a system out to the field. Typically, one dedicated person back at the office uses the equipment and software to print the labels. Then, the labels are given to the installer who applies them at the site," he explains.
"If you`re trying to do high-volume labeling on a handheld system, you`ll be paying more per label," says Todd Fries, product manager at Tyton Corp. "If you`re running medium to high volumes, you need to go to a portable stand-alone printer connected to a PC. Not only will you be able to produce more labels quickly, but your price per label will decrease."
Many installers agree that it is critical that cables be labeled at both ends for verifying, testing, troubleshooting and maintenance. In addition, faceplates and patch panels should have a consistent labeling scheme. An advantage of machine-generated labels is that you can make your labels more consistent, and they will be more legible than handwritten identification.
The type of label you need depends on the installation. Labeling systems are versatile and can be used to create heat-shrink tubing, laminated, adhesive and nonadhesive labels, and some provide bar coding and die-cut labels as well. A few systems can even accommodate polyester and cloth labels.
If the installation is in a harsh environment, you may want to use industrial-grade labels, or labels that are solvent- or abrasion-resistant. "Our industrial-grade label has 5 mils of overlamination," says Jeff Yeary, product manager at Panduit Corp. "You would have to scrape it vigorously to destroy the legend."
The system you choose should accommodate the label type and sizes that you need for the installation. "Typically, with a patch panel, the labels are 1-48 or 1-96 and, if you have 200 cables, you`re doing another panel, that`s 1-96 again," says Mazaris. "For patch panels, therefore, I look for a printer that can print one continuous strip of labels that you can run right across the top of the patch panel."
In different temperature ranges, the strength of adhesive can also be important; for example, in hot, humid climates or in refrigeration plants. "Humidity changes in a building can affect the label adhesive," says Mazaris. "For example, in Washington, DC, they shut down government office air conditioners after regular work hours, so there are temperature changes. The labels start to curl up if the adhesive is not strong enough. My advice is to get labels that will work in a range of temperatures."
Another limitation for buyers to remember is that some manufacturers offer patented labels that work only on their own labeling systems.
"When you use a printer from one manufacturer, labels from another and a ribbon from a third, they may not work well together," says Jeff Zeilinger, systems product manager at W.H. Brady. "And then, who do you go to for help: the label guy, the printer guy or the ribbon guy?"
Another type of label--a bar code label--is being introduced in almost all products and industries, and cabling systems may be next. "But, we`re not at that level yet," says Zeilinger. "What installers need is to speed up and automate the whole identification process."
One useful feature of some labeling systems is an RS-232 port, which allows the labeling system to communicate with software programs. Zeilinger explains, "The installer just brings in the portable machine, plugs it into the PC and retrieves all the information needed for the particular installation. This means the installer does not have to key in the information at the site."
For the installer, portability is always a key issue and, as the industry has grown, manufacturers have developed smaller, more portable labeling systems. The handheld (and some of the stand-alone) labeling systems offer portability with battery operation as well as AC power, and most are lightweight--2 to 8 lbs.
Typically, these labeling systems are priced according to the features offered. Some features and options include:
- A liquid-crystal display (LCD) so you can preview your label
- Different fonts and type sizes
- Colors, graphics, symbols and icons
- Print capability in different languages
- Horizontal or vertical print capability
- Random-access memory (RAM)
- Automatic label loading and unloading
- Qwerty keyboard (typewriter-style)
- Carrying case or belt-holder.
And manufacturers are responding to new software programs such as cable management systems to make documentation easier. In fact, Brady USA, in partnership with CableSoft Inc. (Arlington Heights, IL), has developed a technology that allows labels to be printed directly from CableSoft`s Crimp cable management software (CMS) database. Contractors can design or upgrade a system with the CMS and, at the same time, print labels for the new installation. q
The Product Update table on page 26 lists manufacturers of labeling systems and their products.
Types of Labeling Systems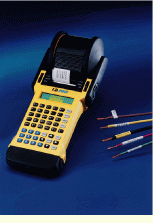 Click here to enlarge image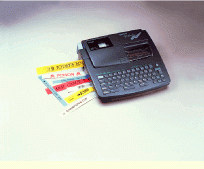 Click here to enlarge image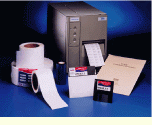 Click here to enlarge image
I.D. Pro from W. H. Brady (top) accommodates three label widths and heat-shrink wire markers. Model PT-540 from Brother International (middle) has a typewriter-style keyboard and can print in four languages, and a thermal-transfer label system from Tyton Corp. (bottom) comes with software and labels.