John Powers, Powers & Co.
INSTALLER TIPS
Problem
Cabling installation projects involve many pieces of equipment, which installers usually track manually. As an installation progresses, technicians often make changes and may not always inform their co-workers. If a problem arises, pinpointing it may be difficult because technicians may not have updated configuration information.
Solution
Relying on a cable management package during installation can alleviate this problem. This product runs on desktop PCs and automates the manual tracking of parts. In addition to easing installation, such a package could bring an installer additional revenue; when the installation project nears completion, the contractor can sell the customized package to the customer.
Procedure
1) Identify an inexpensive cable management package.
2) Train your technicians how to use the package. (These products usually feature Windows interfaces and intuitive point-and-click commands, so they are simple to operate.)
3) Use the system with each new installation.
4) Ensure that everyone who works on the job uses the system and inputs new data into it whenever equipment is being installed.
5) Inform customers about the benefits of using their cable management package--and encourage them to work with it.
6) As an installation project nears completion, offer to sell the package back to the client--at a small profit.
The installation process proceeds more smoothly when the cable management package is used. In addition, the customer receives a complete listing of all device types and connections, which can be helpful should problems arise.
John Powers is president of Powers & Co., a Tewksbury, MA-based consulting company that specializes in the specification and management of enterprise information transport systems.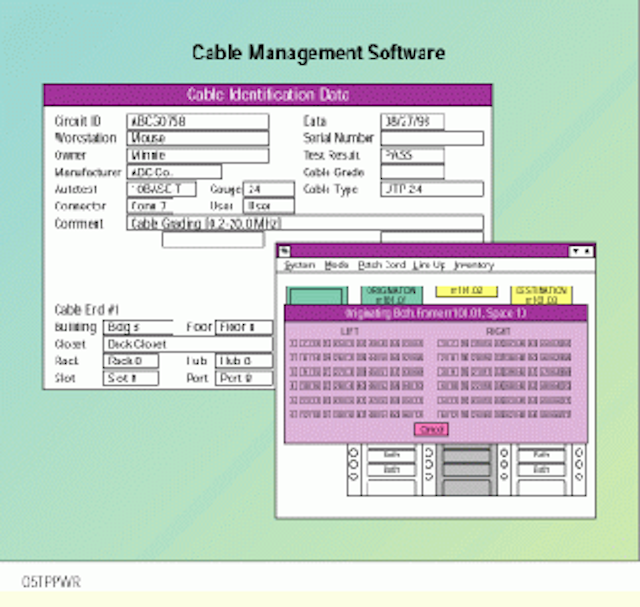 Click here to enlarge image
Cable management software can furnish many different kinds of information. These two Windows screens provide data on cable and crossconnect routing.