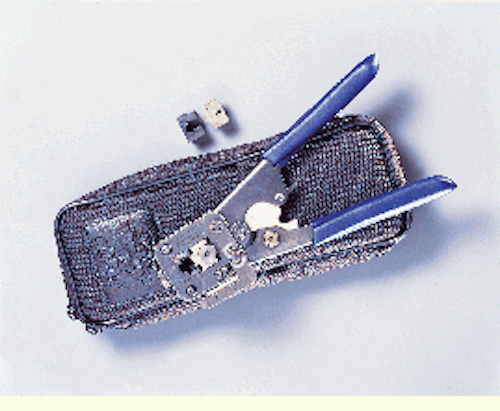 Gail Leach Carvelli
An effective crimping tool forms a permanent physical bond between a cable and a connector. Because this type of connection is widely used and is vital to a system`s successful operation, many manufacturers design crimping tools for connectors attaching to all common types of cable. The most typical method -- and the most practical for field use -- is crimping with a handheld tool (see Product Update table, page 18).
Although crimping tools have many features, David Long, product manager for Ideal Industries, says two stand out. "You need to look for repeatability and consistency. You want to use a tool that, once you start a job, continues until it`s finished," says Long.
Andy Smiley, product manager at Jensen Tools, agrees. "It is most important when making a connection to get a consistent crimp every time. You need to count on your crimping tool to work when you really need it."
Features enhance tool consistency
Some tools use a ratchet mechanism to deliver precise, repeatable crimps. "A ratchet mechanism lets you complete a full crimp cycle that meets the tool`s specifications," says Gary Goetzinger, operations manager at River City Communications Corp. (Sacramento, CA). He recommends a crimping tool with a release lever. "You need to be able to release the crimp if it is misaligned, and you need to do that before the full cycle of the crimp is completed -- before any damage is done."
Several manufacturers combine release levers with ratchet mechanisms. Bob Popdan, product manager at AMP Inc., says the release lever also serves as a safety mechanism in handheld crimping tools "in the event that you need to release the tool quickly."
While some tools are designed to crimp only a single type of connector, more versatile ones use interchangeable dies. When inserted in the jaw of the tool, the removable die determines the crimp configuration for different connectors. "Our most popular tools are those that are universal -- [that let you] change dies and not be limited to just one connector," says Smiley.
This type of flexibility lets installers work efficiently, while keeping costs down. Instead of 20 different crimp tools, you need only one.
When using interchangeable dies, installers rely on the ability of the crimper to be modified quickly, without compromising quality. Popdan says AMP addresses this concern by using the same die shell in its Pro-Crimper II tool. "The die envelope is exactly the same in that series, making it easier for installers to become familiar with how the tool works. That helps them make changes smoothly in the field."
However, manufacturers and installers say it is important to follow specifications when choosing a crimping tool for a particular connector or terminal. In fact, some manufacturers require the use of their own crimping tools on the connectors and terminals they produce.
Comfort plays key role
Today, as the reported incidents of on-the-job repetitive-stress injuries increase, many companies are responding by making ergonomic tools with shorter grip diameters and increased mechanical advantages. Installers and contractors, however, find comfort to be a more important issue.
"Many of the tools today seem to be made for people with large hands," says John Lambert, project design engineer for Teledata Systems Corp. (Souderton, PA). He tries to look for tools that shorten the grip diameter.
Lee Sachs, product management and development at Weidmuller Inc./ Paladin Tools, says his company manufactures tools with ergonomically designed handles. "Our newer handles are round, allowing you to change your hand position or move your grip every time you pick up the tool," he says.
The weight of the tool also plays a role in the comfort of a tool, say some installers. Tools` weight varies from less than 1 lb to more than 2 lbs.
Price can determine quality
As features are added, tool prices begin to climb; they range from $30 to $500. And the cost can often determine how many die sets are included and whether the tool has a ratchet mechanism.
While many installers acknowledge that price is important, they also say you get what you pay for. "You really want a reliable and sturdy tool," says Mike McCarry, project manager at TriComm Services Corp. (Willingboro, NJ). "So we stay away from less-expensive tools because they don`t last very long."
Many installers get the performance they need by staying with manufacturers they know and products they have used before. "As a contractor, you only want to buy the tool one time," says Goetzinger. "I buy from manufacturers that have been around for a long time. Then, I know I`ll get service or find parts when I need them."
Most installers agree that while price is important, they don`t want to sacrifice quality just to save a little. Lambert says he`s willing to pay more to get more.
For a list of manufacturers and their products, see the Product Update table.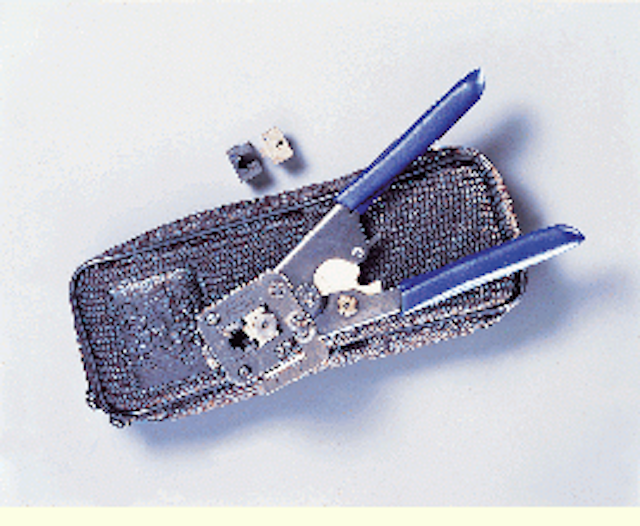 Click here to enlarge image
An example of a crimper is Siemon Co.`s 3-in-1 ratchet-style tool, which cuts, strips and crimps round twisted-pair or flat cables.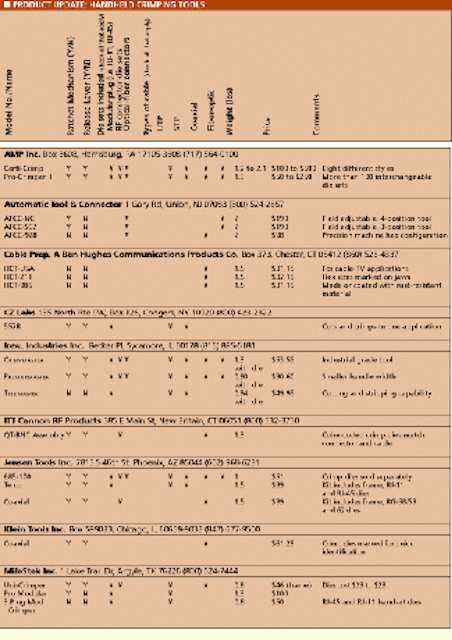 Click here to enlarge image