Let your contractor document your installation
Documenting cabling and connections is vital to prolong the life of the infrastructure, contain the cost of managing day-to-day changes and recover from network outages.
Oct 1st, 1996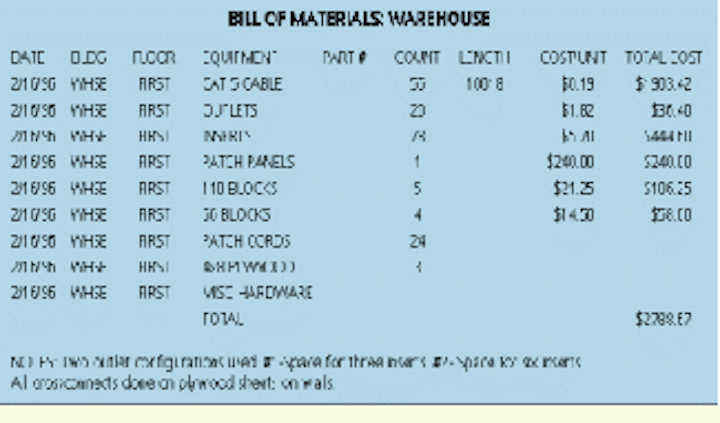 Documenting cabling and connections is vital to prolong the life of the infrastructure, contain the cost of managing day-to-day changes and recover from network outages.
Larry Tivy,
Asset Sentinel Inc.
Most companies use a contractor to design and install their cabling infrastructure. When the installation is finished, the installer usually presents the company with voluminous paper records describing the infrastructure. Frequently, the documentation is not in a format that can be read by a cable management system (CMS). In addition, entering data into a CMS can be tedious and time-consuming, so weeks or months can pass before the system is ready to use. By that time, moves, adds or changes have altered the picture of the infrastructure and damaged its integrity.
End-users can avoid this problem if they require their installation contractor to document the cable infrastructure in a modern, easy-to-use CMS. After all, cable installers are in the best position to implement the system because they work with the floor plans on a day-to-day basis, pulling cable, testing connections and generating the data.
Contractors already need to document the cable infrastructure during installation according to the Tia/eia-606 administration standard. It is recommended that the installer accomplish this documentation in an automated CMS. This, in turn, will allow the company to manage its cabling network immediately after the installation is finished --and readily maintain it in the future. Specialized cable management software packages are available that expedite the documentation of the cabling infrastructure and add little, if any, cost to the job.
Opportunity for the contractor
Implementing an automated cable management system, even in new construction, requires extensive data entry. If we use as an example a company with 1000 employees, then a record of telephone and computer equipment and their connections to voice, data, security and video networks is necessary for 1000 offices.
First, a computer-aided design (CAD) operator places icons for the network telephone and computer equipment on the CMS floor plan and then keys in the record describing the equipment, the connections and the name of the employee in that office. The information for those records -- possibly from different reports -- can involve typing more than 50 fields into the database. An experienced CAD operator can input the information for about eight offices in one hour. Therefore, more than 125 hours --three work weeks -- are required to build the database for 1000 employees and their equipment.
Contractors who provide cabling-infrastructure design probably have CAD capability, and most cable test equipment already generates data needed for a CMS. Therefore, becoming familiar with automated cable management requires only an upgrade in skills. When installers automate the system, they can provide a profitable value-added service.
A sophisticated CMS can be a powerful tool for the installation contractor. The CAD-generated floor plans can help determine any obstacles to installing cable. In addition, the CAD plans, combined with the bill of materials software that many systems offer, can provide an accurate determination of quantities of cable and other equipment required for the installation. In many aspects of the cable build, the system can increase the speed and accuracy of design and installation.
Another opportunity for the installation contractor might be to provide continuing service for end-users who want to outsource the management of their cabling infrastructure. With the infrastructure documented in an automated cable management database, the contractor has built a base for years of continuing revenue.
Automation reduces data-entry time
By adding features that require less data entry, the latest versions of cable management software significantly reduce the time it takes to implement a CMS. When placing icons representing phones, terminals and other equipment on the floor plan, the CAD operator can use Ascii files that the installer has already generated, instead of keying in data from paper records.
The software program reads the Ascii files, builds the database and places the icons in the appropriate office or wiring closet --automatically. Then, instead of the CAD operator manually placing icons for jacks on the faceplates and making the connections, the program automatically connects the telecommunications closet and office equipment and automatically adds that information to the data in the system.
Using these features for our sample 1000-office network, the CAD operator can enter the data and place equipment in less than six hours, compared to the weeks it would take using manual data entry.
Reasons for documentation
The lifeline of most companies lies buried in walls, ceilings and floors. Using an automated CMS at design and installation stages can help preserve the investment in your network cabling infrastructure.
Managing the cabling extends the life of the infrastructure, and accurate documentation shows the amount and location of capacity during upgrades. In an undocumented system, cable frequently is added because of the mistaken belief that capacity has been reached. Soon the system is out of control and under capacity, despite the existence of unused cable and connections.
When it comes to changes, a typical business moves approximately 30% of its employees each year, translating to 300 moves a year for our 1000-employee business. At that rate of change, the system records can become outdated quickly, risking further loss of connectivity with each succeeding change. Expense is also an issue: The labor cost of a typical move is approximately $250; for 300 moves, that equals $75,000 per year.
Network failures can also be expensive. According to a study by the Stamford, CT-based Gartner Group, a standard 150-client local area network with two file servers suffers 23 failures a year. Many -- but not all -- outages involve the cabling infrastructure. Industry surveys show that technicians spend more than 80% of their time on a service call searching for the problem and less than 20% fixing it. In addition, the average failure lasts between four and nine hours at an average cost of $30,000 per hour.
The labor cost of making changes or restoring a network pales, however, when compared with the cost of a business grinding to a halt while waiting for vital telephone or computer systems to be restored. These costs can sometimes be measured in millions of dollars per day.
Independent studies have shown that automated CMSs save up to 45% for each move. More important, however, a CMS that is easy to implement and easy to use will reduce the day-to-day cost of moves, adds and changes, thus increasing the life of the infrastructure.
Not long ago, cable could be installed and forgotten: It was there, and it provided telephone service day after day for decades. Even with advances in telephony, all that was required was unplugging one device and plugging in another. However, that was before the rapidly changing technology of today`s computer, security and video networks.
Technological advances in hardware and software in the last few years have resulted in dynamic opportunities to communicate and share information throughout the enterprise and with organizations worldwide. The ability to access, store, share and communicate that information -- as a combination of data, voice, graphics and video -- has fueled the demand for more-powerful processing and faster communications.
Using today`s sophisticated systems, employees can run multiple software applications at the same time on one or more screens; telephone, fax, send and receive electronic messages and reports; participate in videoconference calls; and have immediate access to people and information anywhere -- all from the desktop. That demand has made the cabling infrastructure an asset; unfortunately, in many organizations, cabling is a hidden asset.
Our example of a 1000-employee organization would require approximately 100 miles of cable and 84,000 connections to bring voice and data to employees` desktops. This infrastructure accounts for approximately 25% of the entire cost of the voice and data networks. According to some estimates, organizations invest as much as $8000 per employee for information-technology tools; therefore, at 25%, the cost of the infrastructure would be $2000 per employee, or $2 million for this typical company.
Benefits of using an automated CMS
Cable management software combines a CAD program with a relational database to generate a graphic representation of an organization`s cabling infrastructure and the equipment connected to it. On-screen floor plans permit analysis at a glance and allow the operator to make equipment moves, adds and changes in seconds, and then print a cable map and work order for the technician.
The CMS provides a detailed picture of the cabling infrastructure, allowing an end-user to:
- Respond to network outages or make changes with minimum disruption to business
- Reduce labor costs for managing the cable network
- Set and maintain standards for all installed cable and equipment
- Control equipment inventory
- Know the status -- used, bad or reserved -- of every installed cable pair
- Eliminate cable record obsolescence
- Automatically update information for equipment and personnel moves, adds and changes
- Minimize the amount of downtime for repair
- Improve disaster-recovery planning
- Establish a proactive plan for growth.
In addition to providing a detailed map of the cable infrastructure, modern cable management software generates:
- Automatic work orders for moves, additions and changes
- Trouble tickets for defective equipment
- Inventory control of cable and equipment
- Bill of materials for pulling and coordinating all parts used in a project
- Personnel module that maintains detailed supporting information about each employee, such as location, title and equipment assigned
- Ad hoc reports and queries.
A CMS can provide benefits right from the start of a cabling project; for example, the floor plans quickly show problems in cable installation and can generate a bill of materials for preparing budgets and purchasing equipment. An automated system also builds the foundation for inventory control of cabling and equipment.
After voice and data networks are installed, a CMS provides substantial reductions in labor costs for moves, adds and changes. Cable maps show where the work is to be done, and work orders can be generated automatically to speed the technician to the job and provide a record of changes. During outages, a CMS-generated up-to-date system sends the technician straight to the problem, saving labor costs and getting the business up and running.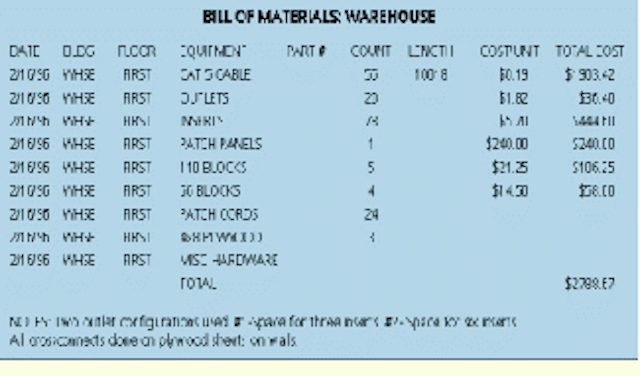 Click here to enlarge image
Bill of materials report provides an accurate tool for costing during installation and for future system upgrades.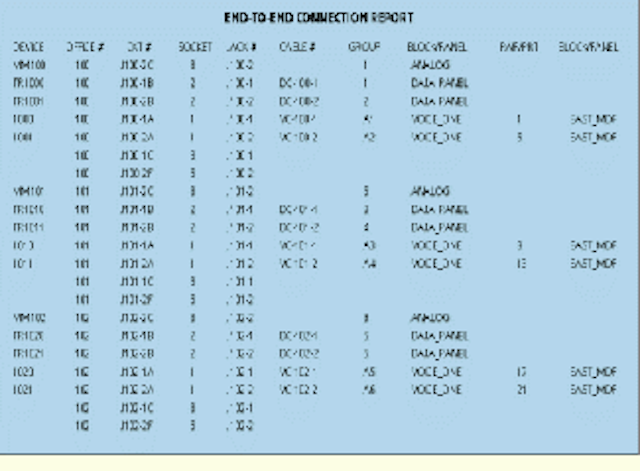 Click here to enlarge image
Up-to-date end-to-end connection reports preserve the integrity of the cabling infrastructure for moves, adds, changes and troubleshooting.
Larry Tivy is vice president at Asset Sentinel Inc. in St. Paul, MN. He has spent 21 years in the telecommunications industry, including eight years developing telemanagement solutions.