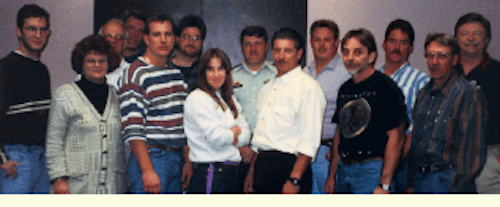 Barbara E. Thompson
At the BICSI winter conference in Orlando, Joe Jones, the education manager for the BICSI Institute (Tampa, FL), advised the audience of the status of the new BICSI Installation Training and Registration program.
Based on information gleaned at a job-and-task analysis meeting in Detroit, MI, and from other training initiatives, Jones says the BICSI Institute will soon complete the course manuals and begin conducting pilot tests for each program and master instruction training. The certification sessions for trainers from other organizations will begin this month.
Although these dates may change, the Institute plans to start open enrollment for the installer program in June. "We are also working on a needs assessment to determine the level of training each applicant requires," says Jones.
Three-step process
The Installation Training and Registration program was conceived in 1995 to provide three levels of registration and training for the telecommunications installer--apprentice, installer and technician--in three media: data, voice and video. Each tier of training will gauge competency levels and provide a career path for telecommunications installers.
BICSI`s goals for this new registration program are to provide the following:
- Competitive advantage in the marketplace for registered BICSI installers
- Multitiered program to fit different levels of education
- Training to a productive level, in the shortest period of time
- Cost savings by offering training at multiple locations.
"We have a three-step process to accomplish these goals," says Jones. The first step is that the BICSI Institute will hire 12 master BICSI instructors on a contract basis to provide training at different locations on a regular basis.
"Because we expect such a large number of students in the first year," he continues, "BICSI also plans to offer a proprietary and a general license for companies to provide training using BICSI course materials."
Proprietary and general licenses
The proprietary license is intended for large companies that only want to train their own employees. Each BICSI-certified trainer at the organization will be required to take two weeks of training and will also have to pass the installation program examination.
"During the first week, we`ll run the trainers through the BICSI course as if they were participants," explains Jones. "Then they`ll study over the weekend and, during the second week, teach it back to our master instructors. We want to make sure that they understand the course content, that they can present it accurately and hold the attention of the audience, and that they know how to run the labs."
The general license is for a training organization or anyone who wants to train the general public in the BICSI curriculum. The fee for a general license will cost more than the proprietary license, and the organization`s trainers will be required to pass the installation program examination.
"We recommend that the instructors have at least five years of data, video and/or voice installation experience, in addition to two years of classroom technical instruction."
The requirements are the same for BICSI Master Instructors, except that they must also be BICSI Registered Communications Distribution Designers (RCDDs)--or become an RCDD within six months of their hiring date.
Once those organizations receive the proprietary or general license, they can offer the BICSI curriculum. They will, however, be required to purchase the course manuals from BICSI and teach the course as designated by BICSI.
Registration exam
The second step in the process is the BICSI registration exam, which consists of 100 written questions and a hands-on performance test. After apprentices, installers or technicians pass those two tests, they receive a registration certificate from BICSI at the competency level at which they successfully completed the test. Each participant will also be given a structured on-the-job training (OJT) handbook to complete as the third part of the registration process.
"There`s a separate OJT booklet for each of the three levels," says Jones. "For example, now that you`re a BICSI-registered apprentice, you bring your booklet to the job and have your supervisor witness that you can successfully complete each specified task.
"The supervisors must sign their name, title and date. They must also provide information on how they can be reached when the apprentice applies for the next level of registration to verify that the tasks were completed successfully," explains Jones. "The main incentive is that, if they [the installers] want to move up, they have to complete the OJT portion."
Apprentices must spend at least six months going through the OJT checklist before moving up to the installer level. The apprentice registration is good for two years, "but it`s not renewable, because we want people to move up the ladder," says Jones.
In comparison, a BICSI-registered installer must spend at least one year in OJT at this competency level before moving up to the technician level. The installer registration is renewable and good for two years, but the installers must be actively involved as installers or technicians in the industry.
Continuing education
Continuing education credits are also necessary. "Some of the credits will be earned through BICSI update courses," says Jones. "Some will probably be given for attendance at the Cabling Expo 1996, and many of these credits will come from training offered by the manufacturers of telecommunications products.
"For example, if someone takes training from a recognized manufacturer of telecommunications products during the apprenticeship, installation or technician registration period and it pertains to the individual`s job as an installer or technician, we will offer a certain number of continuing education credit-hours. We want to encourage, rather than replace, manufacturers` training," he says.
Jones describes the different tasks in which installers would be required to be proficient: site surveying, pulling cable, cable terminations, testing and troubleshooting cabling systems up to Category 5 standards.
But how did BICSI determine what skills would be trained and what the competency areas for registration would entail?
Last November in Detroit, BICSI brought together "10 top technicians" to perform a job-and-task analysis for the registration program. The meeting was facilitated by Katherine Manley and Sid Sytsma of the National Occupational Competency and Testing Institute. According to Jones, this is the first time an industry-wide set of job competency standards and multilevel training standards has been developed for cabling installers.
The installers were chosen from a pool of 250 applicants, representing each region in the United States. They were selected from different-sized companies and various specialties of BICSI`s diverse membership.
"We chose applicants from nine zones across the states," Jones explains, "from large, medium and small companies, and from different telecommunications specialties such as telephone companies, contractors, military and education."
Brent Tocci, lead technician at Sullivan & McLaughlin Inc. (Quincy, MA) was one of those chosen to participate in the Detroit meeting. "I filled out an application with my background, the technical tasks I was familiar with and my responsibilities," he says. "At the meeting, we [the 10 technicians] described what we do on the job each day, and tried to break it down into tasks that an apprentice, technician or foreman should be responsible for."
During this three-day meeting, the technicians discussed the job in detail, the tools needed and safety issues, as well as who should be doing what and how long it should take. "Once that phase was completed, we weighted each task according to its importance: What you need to know and what you don`t really need."
Tocci says he was the only one in the group of technicians who had completed a formal four-year apprenticeship program (given by the International Brotherhood of Electrical Workers local 103 in Dorchester, MA). "On certain jobs, however," he says, "BICSI registration will definitely give you an edge. And it`s certainly worthwhile for a technician to have some training and understanding of the technology. If you`re going to do something, you should do it well."
In his closing remarks at the conference, Jones asked the BICSI members and others who participated in the session for their help, patience and enthusiasm. He said the BICSI Institute still needs an installation program training manager, 12 master BICSI instructors, installation products for the laboratory hands-on sessions, as well as volunteers to serve on the new BICSI Installation Committee.
If you need information on BICSI`s Installation Training and Registration Program, call the BICSI Institute at (800) 242-7405.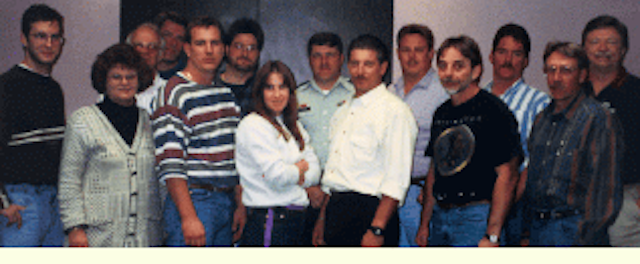 Click here to enlarge image
Those who participated in the job-and-task analysis were (left to right): Brent Tocci, Sullivan & McLaughlin; Katherine Manley and Sid Sytsma, NOCTI; Matt Feeny, LANWorks; Richard Bray, Custom Design Telephone; Bob Daily, Telecom Technicians Inc.; Brenda Jones, University of Washington, Seattle; Joe Medarac, U.S. Army, Ft. Huachuca; Dennis Shea, Metropolitan Data Communications; Gary Scott, Telecom Inc.; Jim Patterson, Bell Atlantic Federal Systems; Jeff Town, Knight Enterprises; Jim Ash, Southwestern Bell and Joe Jones, BICSI Education Manager.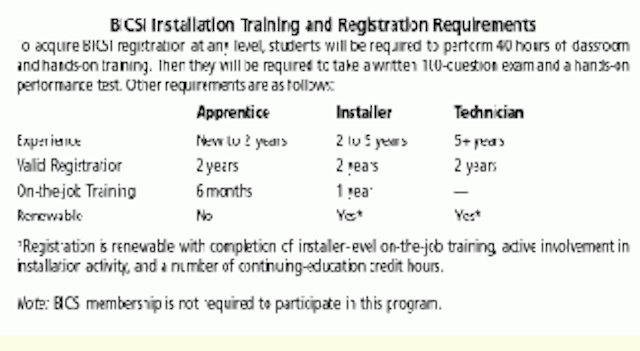 Click here to enlarge image
Note: BICSI membership is not required to participate in this program.