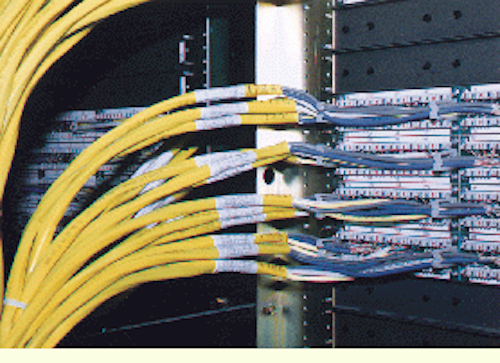 To be competitive in today`s marketplace, designers and installers tailor innovative cabling systems to meet different application needs.
Tom Debiec, RCDD, Berk-Tek Inc.
The decision to use composite or hybrid cables differs from application to application. One customer may decide to add singlemode fiber-optic cable to its copper network to gain additional bandwidth for future applications. Another end user may want to reduce labor costs or improve cable management by using the standard two data/one voice configuration in a single cable to each workstation.
Before considering applications for composite and hybrid cables, however, it is important to differentiate these cabling terms, which are sometimes used interchangeably. The Telecommunications Industry Association/Electronic Industries Association standard, TIA/EIA-568A, for commercial telecommunications cabling defines composite cable as a product that contains two or more elements of the same transmission medium--all copper or all fiber. A hybrid contains two or more elements of dissimilar transmission media--metallic and fiber.
A composite cable, for example, might consist of two Category 5 copper cables for data transmission and one Category 3 copper cable for voice. A hybrid cable, on the other hand, might be a combination of Category 5 copper cable and singlemode or multimode fiber-optic cable. Composite or hybrid cables are generally not made to standard designs; manufacturers build cables to meet specific application requirements.
Factors to consider
Some factors that can influence your decision to use composite or hybrid cable designs include the following:
-Labor rates associated with installing cable vary depending on the geographic location of the installation.
-Installation costs for dressing and terminating composite or hybrid cable can be higher, depending on the type of hardware in the telecommunications closet.
-Custom cables are generally more expensive than single-media cables and also have extended lead times for delivery.
-The life of the cabling plant and future plans for higher-speed applications also need to be considered.
Composite cable is often installed in areas plagued by high labor rates. For example, in New York City, labor rates can reach $70 per hour. Depending on the design, composite cables can reduce the labor and associated costs. Many installers charge on a per-cable basis, so it would be economically sound to reduce the number of cable pulls to each workstation. Consider the following design that uses composite cables for an investment banking network installation.
One application in the investment banking industry required eight outlets at each workstation in the network. Four jacks were used for voice and four for data. Two composite cables, each consisting of four 4-pair Category 5 cables within an overall sheath, were run to each workstation. Each Category 5 cable jacket was color-coded for identification. In addition, different color sheaths were used to identify the voice and data cables. Category 5 cables were specified for voice because of the relatively small cost differential between Category 3 and 5 composite cables.
Installing composite cables is as easy as installing single cables, although you will need a larger set-up area and reel jacks to handle the 30-inch flange reels. [The size and weight of these reels may make installation of this type of cable impractical for small jobs or for multistory buildings with limited elevator access.]
The outer cable sheath of the composite cable increased the cable-pull strength and provided added protection during installation. Because the cable routing had been designed for composite cable, the added cable stiffness and increased installation minimum-bend radius were not a disadvantage. Snagging, which is generally experienced with cable crossovers when pulling single cables, was not a problem with a composite-cable system.
In the telecommunications closet, installers stripped back approximately 15 inches of the cable sheath to expose the individual Category 5 cables. They securely fastened the cables at the edge of the punchdown panel and routed the separated 4-pair cables along the patch panel. Next, the technicians stripped back the jackets of the 4-pair cables to the minimum length necessary, maintaining pair twists to a maximum of 0.5 inch at the point of termination in the punchdown block, according to the TIA/EIA-568A standard. Category 5 cables used for voice were terminated in a similar manner.
In this type of installation, cable management is a major advantage. The cable construction lends itself to structured wiring methodology, and the cables can be routed through conduit and under raised flooring to make an organized cabling system.
Additional labor costs
In the previous application for composite cables, the same media type was routed to the same workstation and location on the patch panel. Using composite cable can be cost-prohibitive, however, because additional labor--and, therefore, installation costs--is required to remove the composite cables` outer sheath and terminate individual components.
Another composite cable system consisted of one 4-pair Category 3 cable for voice, one Category 5 cable for data and one RG-6 coaxial cable for video. Installers were able to terminate the cable easily at the wallplate. In the telecommunications closet, however, voice, data and video were on different walls, separated by approximately 30 feet. Therefore, the installers had to remove the composite- cable jacket up to the point where the cable entered the closet, substantially increasing the amount of time necessary to dress and terminate the cable. After completion of the initial phase, this installation was completed using individual cables instead of composite ones.
Cables have been developed that overcome this installation problem. In bundled cables, the outer extruded sheath is replaced with a spiral-wrapped binder thread, which is easily removed and, therefore, reduces the time required to dress the cable. Bundled cables are also smaller and more flexible than cables with an outer sheath. Combinations of Category 3, Category 5, coaxial, singlemode and multimode fiber are available to meet specific requirements.
Conventional composite and hybrid cable designs are limited by some restrictions, however. These cables must meet Underwriters Laboratories, or UL, flame-resistance ratings based on the requirements of the installation; for example, a riser or plenum area cable. Each manufacturer uses a set of design restrictions based on testing performed by the UL, which limits the design choices available to the end user.
Underwriters Laboratories allows the use of a binder wrapped around multiple single cables as a cable-pulling aid, without additional UL approval. Certification by UL is based on the ratings of the individual components in the design.
Composite and hybrid cable designs are based on the individual needs of the end user; for example, many high-technology companies are specifying fiber-to-the-desk. A few companies are installing multimode and singlemode fiber to prepare for bandwidth-hungry applications such as asynchronous transfer mode or Fibre Channel, and other applications yet to be developed.
A major university recently installed a hybrid cable comprising 48 62.5/125-micron multimode fibers and 24 singlemode fibers. Because conduit space was at a premium, a hybrid construction was chosen because of its reduced outer diameter--as compared to a single cable construction. Hybrid cable requires less space in congested innerducts and provides room for future cable pulls. This telecommunications network currently runs over singlemode fiber-optic cable; therefore, it can be patched anywhere on the campus using hybrid cable.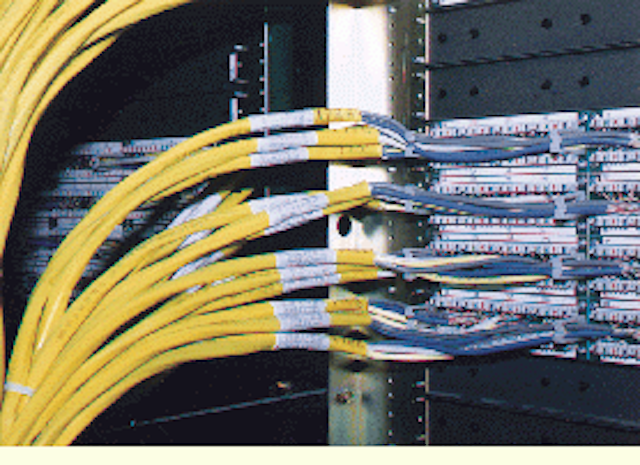 Click here to enlarge image
Composite cables, with their outer sheath stripped back approximately 15 inches, are fastened to the punchdown block. The Category 5 4-pair cable jackets are then stripped, maintaining a maximum twist of 0.5 inch.
Guidelines for Using Composite and Hybrid Cables
Composite and hybrid cables are alternatives to the installation of single cables. Listed below are some basic guidelines when considering their use.
Y When specifying cable routing, plan for the larger diameter of hybrid and composite cables.
Y Take into consideration that the initial cost of composite and hybrid cables is higher than that of single cables; however, this may be offset by increased efficiency during the installation process.
Y Because composite and hybrid cables are custom designs, plan for longer lead times than for single components.
Y If data and voice services are separated by 20 to 30 feet in the telecommunications closet, increase your budget to accommodate for the increased labor to dress and terminate cables with an overall sheath.
Y When distance between services is a consideration, use bundled composite and fiber cables as an alternative to sheathed cables because of their flexibility and smaller outer diameter.
Tom Debiec, RCDD, is an applications engineer at Berk-Tek Inc., New Holland, PA.