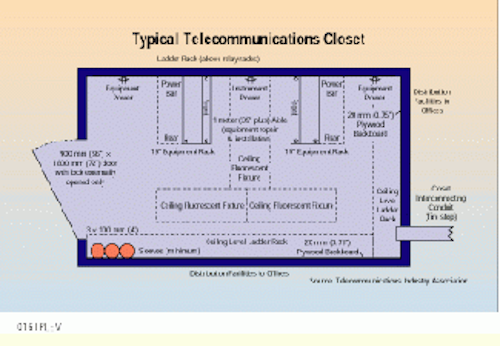 DeWayne Anderson, Leviton Telcom
Problem
Anyone who has worked in a telecommunications closet knows that it can be hot, dirty and dimly lit. These conditions may not only be unpleasant for the installer but they can also adversely affect the equipment located in that space.
Solution
As the hub of the horizontal cabling system, a well-organized telecommunications closet is key to the operation of both voice and data networks. It is especially important to set up the closet with future moves, adds and changes in mind. When planning the layout of a telecommunications closet, here are some factors to consider.
Procedure
1) The closet must be of sufficient size to handle the crossconnect field, associated electronic equipment, backbone and horizontal cabling, and pathways--such as conduit and wireway--to hold the cable. There must also be enough room for a craftsperson to work without disrupting service. The Electronic Industries Association/Telecommunications Industry Association standard 569 for pathways and spaces standard recommends a minimum closet size of 10x7 feet to serve 5000 square feet of office space, a 10x9-foot closet to serve 8000 square feet and a 10x11-foot closet to serve 10,000 square feet. These sizes may seem a little large to the experienced installer, but they must provide enough room for future as well as current equipment.
2) The lighting in the closet must be adequate for general safety and so that the craftsperson can distinguish small lettering and identify wire colors.
3) There needs to be sufficient electrical service and outlets to provide power for installed electronic equipment and the installer`s power tools and test equipment.
4) The telecommunications closet should be clean and free of clutter. It should not be located in a storeroom.
5) Most electronic equipment designed for telecommunications closets requires a limited-temperature environment. For that reason, separately controlled heating and air conditioning are almost always required.
6) To reduce the risk of having delicate electronic equipment affected by electromagnetic interference, locate the closet in a room that does not contain power distribution equipment or mechanical apparatus used in heating, ventilation and air conditioning.
7) Make sure the closet can be locked. Access to it should be limited to authorized personnel to prevent theft, vandalism and undocumented changes.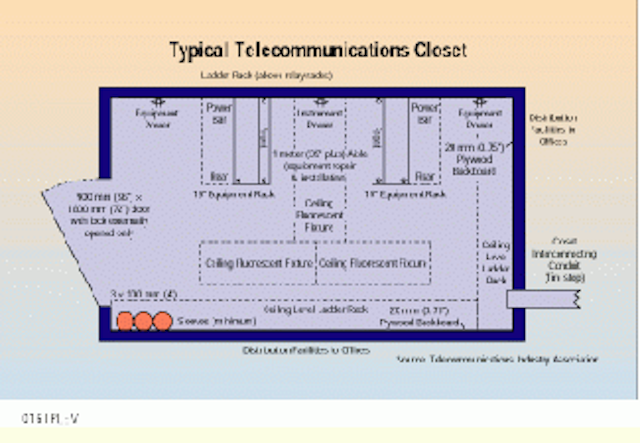 Click here to enlarge image
This closet layout provides adequate space and takes into account the lighting and power needs of installation and maintenance personnel. The two equipment racks are accessible from both the front and back.
DeWayne Anderson is a product manager at Leviton Telcom, Bothell, WA. This tip is excerpted from Leviton Telcom`s installation guide, Strategies for Long-term Cabling System Success. For a free copy of the guide, call (800)