Small company finds big success in harsh environments
A hands-on work ethic, plus its own proprietary cable pathway have helped a small Denver company land numerous big opportunities.
Nov 1st, 2003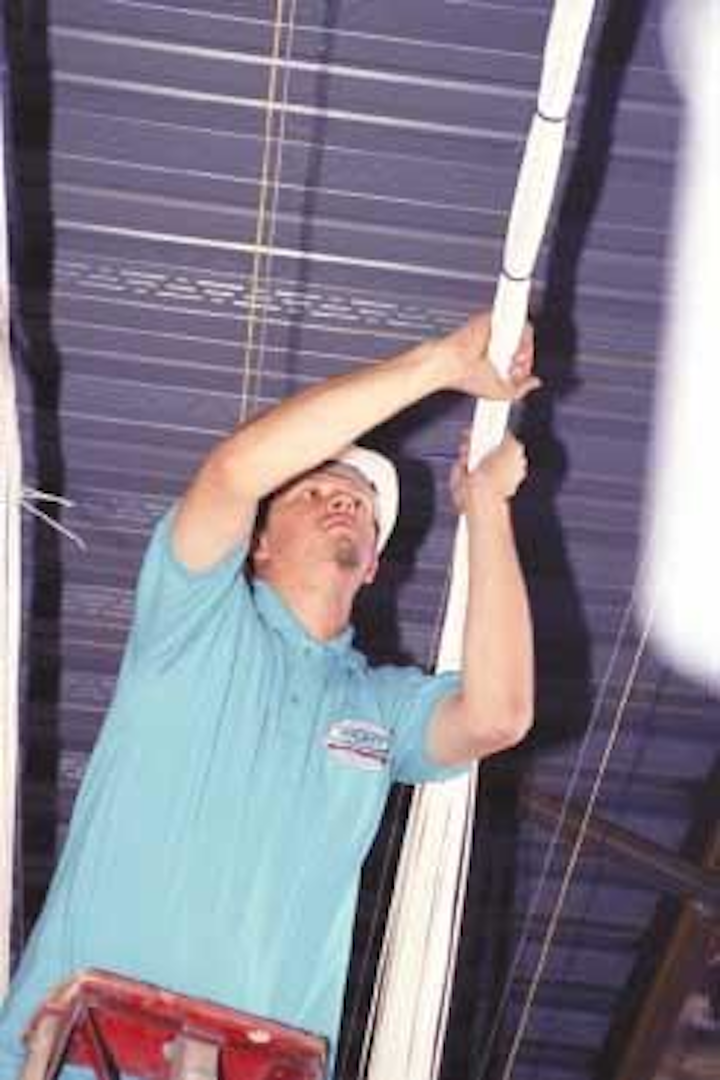 According to Jane Ozga, vice president operations, and Sue Walker, president of Denver-based Network Integration Design (NID), being women in the male-dominated cabling industry is not for the faint hearted. But the co-owners agree the respect and satisfaction they receive from succeeding by specializing in harsh environment industrial cabling are the greatest rewards.
A natural progression
Ozga has 40 years of experience working in the telecommunications industry, including programming, telephone systems, and optical fiber. "I was experimenting with fiber long before it was even well known," says Ozga. As a project engineer with Antarctic Support Associates (ASA), Ozga installed the only optical-fiber network system in Antarctica for the National Science Foundation, Division of Polar Programs. Walker's experience includes PC and network support, along with savvy business and accounting expertise.
In the beginning, Ozga and Walker worked as consultants, offering basic network and installation seminars to corporate and government entities throughout the nation. Their seminars addressed computer and network problems, and provided solutions and practices on how to avoid them. "We began hearing from IT personnel who attended our training sessions," explains Walker. "They were having trouble finding companies who understood the basic principles we had taught, or who understood how to install newer high-speed copper and fiber optic cabling systems."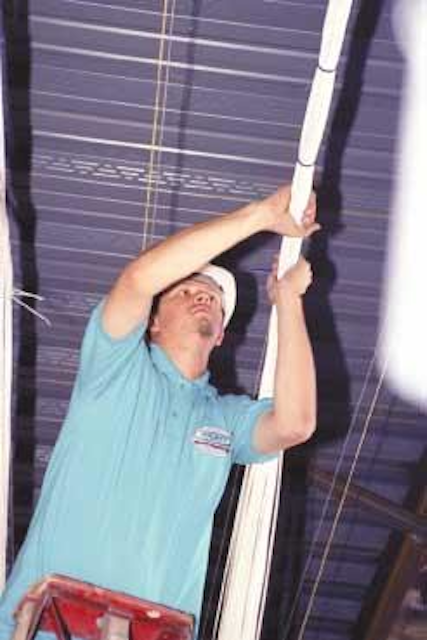 Network Integration Design's proprietary telecommunication wire suspension system (TCWSS) supports the cable the entire length of the run, not just every two or three feet.
Click here to enlarge image
Already understanding linear cable runs, bend radii, cable tie tensions, and EMI/RFI problems, Ozga and Walker transitioned NID in 1993 to provide network design, engineering, integration, implementation services, and support to IT departments of medium to large corporations. "At that time, companies were beginning to look for strategic partners who could provide one-stop-shopping—IT and system support, engineering, cabling, and computer room and closet construction," says Ozga. "It was a natural progression for us to hire, train, and deploy personnel who could provide these services with a sophisticated level of quality and service."
According to Ozga and Walker, getting started in a male-dominated industry was initially difficult. "Crazy maybe—a women-owned business doing this type of work!" says Ozga. "But persistence, proving ourselves, and utilizing a strategic business approach, has paid off in the long run."
Doing it better
NID designs and installs local and wide-area networks, industrial process control systems, and telephone systems to a variety of local and national firms. NID specializes in optical-fiber cabling and structured wiring solutions, primarily for plant and industrial environments. Ozga and Walker founded NID with service and quality as the cornerstone of their business, and they diligently manage projects from beginning to end.
"We decided that if we were going to do this right, we would do the installation ourselves with only permanent, full-time crew members who are completely safety certified," says Walker. "This avoids the inconsistent work and scheduling problems that are seen with temporary crews." NID crews are expected to show up on time and work all day, which means they often need less supervision on the job and are better at staying on schedule.
"Go into almost any IT department and you'll see that the vast majority of personnel is male," says Ozga. "This is especially true in the operations and construction areas of the industry. For us to succeed, we had to become so knowledgeable and quality-oriented that it was tough for decision makers to ignore us."
Ozga and Walker attended seminars, held information meetings with engineers, set up practice situations, and undertook various techniques to find the best cabling plant foundation. "It's important to remember that as a woman in a male-dominated environment, you must know more and be better at what you do than most," says Ozga. "We had to be able to do anything that our crew members could do, and do it better and faster."
Often, when Ozga and Walker walk into an initial meeting with a room full of men, "We know from experience that if we don't get their attention immediately, and if we're not prepared, we have lost," says Walker. "We have actually had people say, 'You're women; what could you know about cabling?' It can be an uphill battle sometimes, and we have to convince them we know what we're talking about."
Ozga and Walker have not only had to prove their knowledge of cabling, but also their knowledge of other trades with which they may interact or be dependent upon—including HVAC, plumbing, security, and furniture.
For weekly project meetings, Ozga and Walker usually send their project manager. "Our project manager is a very low-key male, and sending him to weekly meetings seems to work well," says Walker. "As projects progress, however, clients begin to see our expertise; we're able to prove ourselves, and the respect grows."
Sue Walker, president of Network Integration Design, investigates business opportunities at the new Tech Center in Denver, CO.
Click here to enlarge image
Ozga and Walker strive to always be prepared and on top of any issue that may arise on the job. "When we're called in to a meeting to discuss an issue or problem with a project, we usually already have the situation analyzed and a solution in place," says Walker. "It always impresses our clients when we're ahead of the game."
A solid foundation and approach
The approach that NID takes with all projects has helped them design and install some of the highest performing networks in the country. "Our approach is to think of the network cabling plant as if it were the foundation of a house," explains Ozga. "If you build a house with no foundation, or a weak foundation, the house will eventually collapse around you. We strongly believe in building a solid cabling foundation so that no system problems can be contributed to the cabling."
NID approaches any project involving expansion, new system acquisition, or increased system productivity and performance with a complete information analysis and concept planning based on customer needs. "We start every project by asking four basic questions: Where are we? Where do we want to be? How do we get there? When do we go?" explains Ozga. "It's the answers to these questions that form the foundation for our system designs, and helps the client to understand all business and technology issues." NID's information analysis can include everything from power grid, hardware, software, and remote access to satellite technology, cabling plant, security, and connectivity.
In today's multi-vendor cabling industry, customer support needs have grown more complex. Companies can benefit from using a single integration and support corporation, like NID, with the expertise to install and troubleshoot many different products from various manufacturers. "We sell only one product-networking solutions that futureproof a client's data communications investment," says Walker. "We base all of our services on a client's specific needs and requirements, not on sales quotas imposed by manufacturers." This business approach lets NID offer an unbiased service while providing quality products and materials at the lowest possible cost.
Through experience, Ozga and Walker have learned the importance of providing customer service from the onset of a project and following the installation. NID offers 24-hour telephone support to clients for the life of the install. If problems cannot be fixed via telephone, NID provides on-site repair and support within a 4 to 8-hour response time, depending on location. "Our customer service policy has been in effect since the inception of NID," says Ozga. "With our telephone support, we've been able to solve 99% of a client's user problems."
Good business practice
Going from a two-person consulting firm to a construction and installation corporation requires initial personal investment and good business practices. Investment money is required for everything from vehicles, tools, and salaries, to licenses, insurance, and taxes. Ozga and Walker met several obstacles from mainstream lenders, but eventually found financing from local small business lenders they discovered through the Denver Chamber of Commerce.
According to Walker and Ozga, it is imperative for a women-owned business to seek out professional help. "Just because you're good at something, do not for a minute make the mistake of thinking you can survive without professional advisors, such as a business and labor attorney and CPA," says Walker. "And, don't be afraid to replace them if they don't have your best interest at heart. Let's face it; as a women-owned business, people will try to take advantage of us, so it's important to have professionals to review contracts, supplier and distributor agreements, and equipment and vehicle leases." Both Ozga and Walker believe that spending money on these professionals not only saves money in the long run, but also lets them spend time doing what they do best.
The right niche
To continually succeed in the cabling industry, most contractors develop a niche market. Installers often complete cabling infrastructures for similar clients, such as educational facilities, hospitals, or hotels. Selecting a niche lets installers become specialized in one type of environment. Unusual for a women-owned business, NID chose commercial environments, with a focus on industrial manufacturing and processing plants as their niche market. That choice has been a major factor in their success.
"Our focus comes out of Jane's work in Antarctica where she had the challenge of building an infrastructure in a bizarre, harsh setting," says Walker. "You have to be creative to ensure data transmission maintains performance through hot, cold, wet, or dry environments."
Ozga and Walker have also found that many other contractors are not as willing to work in manufacturing and processing facilities where regulatory issues can affect working times. "It may be the American way to work Monday through Friday, nine to five," says Walker. "But if we have to work nights or weekends, we do it. We understand there is a need in this market, and we make money while helping companies to continue their automation processes and prevent downtime."
Success along the way
NID's success led to its founding in 2000 of Network Electrical Services, Inc. (NESI), established to provide electrical services in support of IT, plant, and industrial environment tasks and projects—including motor control centers and programmable logic controllers for factory automation and process control applications. "NID installers and NESI electricians all work as a team on most large projects," says Ozga. "In some cases, staff cross over with tasks where needed."
In testing various techniques to determine the best cabling plant foundation, NID developed a proprietary telecommunication wire suspension system (TCWSS). With two patents and a third pending, NID's TCWSS offers several benefits over traditional bridal ring or J-hook support systems.
"With our TCWSS, all cable pathways are clearly defined and identifiable by the suspension wire," explains Ozga. "The TCWSS also meets all bend radius requirements prior to pulling cable, and it provides support for the entire length of the cable run—not just every two or three feet." NID installs TCWSS whenever possible, because it keeps cable away from electromagnetic interference devices, prevents the sagging of cable bundles, and avoids damaging the outer jacket of the cable that can lead to performance problems.
Taking no nonsense
NID has used their business approach and expertise to provide services to major companies like the fulfillment bureau EDS and ConAgra Foods—makers of more than 30 well-known brands, including Armour, Banquet, Chef Boyardee, and Healthy Choice. In 2001, NID designed and installed a fully integrated network for ConAgra Beef headquarters. The system included a voice-over Internet protocol (VoIP) telephony system and full audiovisual capabilities converged on a high-speed Category 6 network.
"Going in as a women-owned corporation presented some challenges at the beginning of the ConAgra project," says Ozga. "The general contractor's project manager and foreman did not understand the amount of work we had, and our need to be installing pathways as soon as the steel frame was up."
After constant persistence, NID crews finally were able to begin working, and once the general contractor personnel observed NID's work and expertise, respect increased and the project progressed.
"We've succeeded because of our persistency and because we've been able to prove ourselves," say Ozga and Walker. "As women, if we're going to continue to thrive in this industry that is 99.9% male, we've got to be 'one of the guys' and take no nonsense. This industry is not for the faint hearted."
Betsy Ziobron is a freelance writer covering the cabling industry, and a regular contributor to Cabling Installation & Maintenance. For more information about NID, call Jane Ozga or Sue Walker at (303) 770-8334, or e-mail them at jeo@nid.com and sew@nid.com