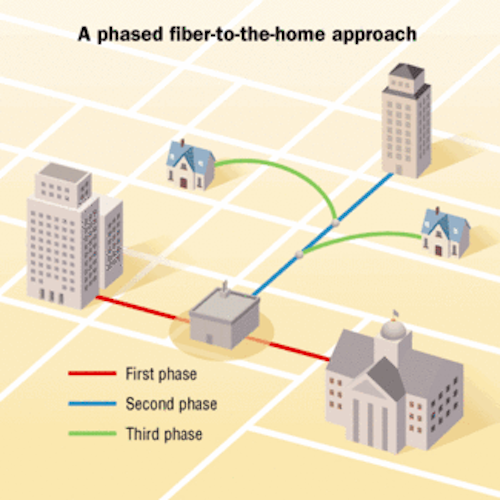 While roadblocks to fiber-to-the-home deployment are regulatory issues, funding and lack of consumer understanding, national broadband policies and the growing desire for more broadband will drive the fiber-to-the-home (FTTH) growth.
That was the general consensus from the Fiber-to-the-Home Conference & Expo, held in New Orleans in October, and sponsored by the Fiber-to-the-Home Council. Many of the speakers at the conference argued that FTTH represents optimism for an industry that has slowed greatly during the past two years.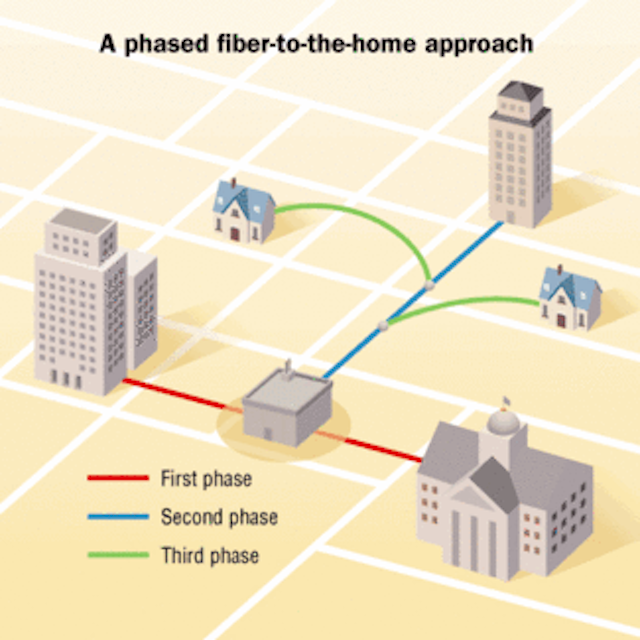 The Fiber to the Home Council argues that a phased optical-fiber deployment approach is the most efficient method. Customers in a downtown area, who are most easily reached from a central hub, receive service shortly after the initial fiber placement. From here, the deployment is expanded to remaining customers. The phased approach has the benefit of giving the project time to prove its feasibility and desirability.
Click here to enlarge image
"Despite negative telecom news, broadband is the light at the end of the tunnel," says Bob Whitman, global development manager international for Corning Inc. (www.corning.com), based in Corning, NY.
The conference drew at least 1,000 people, many of whom represented communities that were curious about the costs and promises of FTTH. To adopt FTTH, such communities would have to build central hubs and outside plant networks, using existing telephone poles to bring fiber out to residences, small businesses and schools.
"We have some communities that are requesting fiber-to-the-home, and we've come to hear about the latest technologies," says Vincent Taylor, project coordinator for the City of Vero Beach, FL. "We're going to give it some consideration."
During the three-day conference, attendees learned how most of the countries where FTTH is flourishing have national broadband policies that foster its development. Asia remains one of the leading sectors of the world where FTTH is deployed, with Japan having the highest concentration. China, where online gaming enthusiasm is driving the demand for FTTH, also remains committed. The country is investing $543 million in broadband infrastructure this year alone and bringing 67% FTTH growth annually. Italy has the lowest deployment, with only 2% penetration.
North America is in the early years of adoption; Whitman describes a "slow but steady" progression of FTTH here. He notes that with more than 280 million people living in America, there are, to date, only 94 FTTH deployments nationwide. But that is expected to change. "We are at the early years of very strong growth," says Whitman.
Michael Bowers, principal for Icon Broadband Technologies, based in Woodstock, GA, and other speakers say communities in the U.S. are starting to seek FTTH because they want higher bandwidth for voice, data and video applications—especially for people who work out of their homes and who need the increased bandwidth for computers and streaming video. Online gamers and users of Wi-Fi devices also are seeking it.
"More and more communities are putting in one kind of [FTTH] network or another," says Bowers.
One such community is Dalton, GA. The town launched a FTTH project in 1999. The network now brings fiber to all schools in the city of 25,000 people. It also brings fiber to 947 residential customers. Dalton Utilities, which conducted the installation, will begin the next phase of its project and bring FTTH to the nearby county in January.
"We learned that we can't get out there fast enough to get services to people who want it," says Ray Buzzard, an information technology representative from Dalton Utilities. "The demand is huge."
Some say that FTTH represents a mass-market extension for commercial cable installers who have been frustrated by dwindling commercial work assignments and want to broaden their opportunities.
"I wouldn't classify this as a breakthrough marketplace that will be a bonanza, but it will create additional opportunities," says Barry McLaughlin, president of B. McLaughlin Associates, based in Wellesley Hills, MA. "Anything that adds to the pot has got to be better."
But while the concept is promising, speakers warned that there are still many challenges before FTTH truly catches on in the United States. Some warned that regulatory issues remain a block, as does the overall cost of building the central hub and outside plant infrastructure needed. Bower says outside plant costs can range anywhere from $500 to $5,000 per fibered mile.
Another challenge is consumer indifference. Many speakers said that while most people have heard of optical fiber, few have heard of the benefits it can bring to a home. But speakers at the conference believe this is going to change. "The opportunities are there," says James Farmer, vice president of the Fiber to the Home Council.