Raising the bar on firestop systems
Continuing the push for proper firestopping while responding to the need for easier installation.
Nov 1st, 2003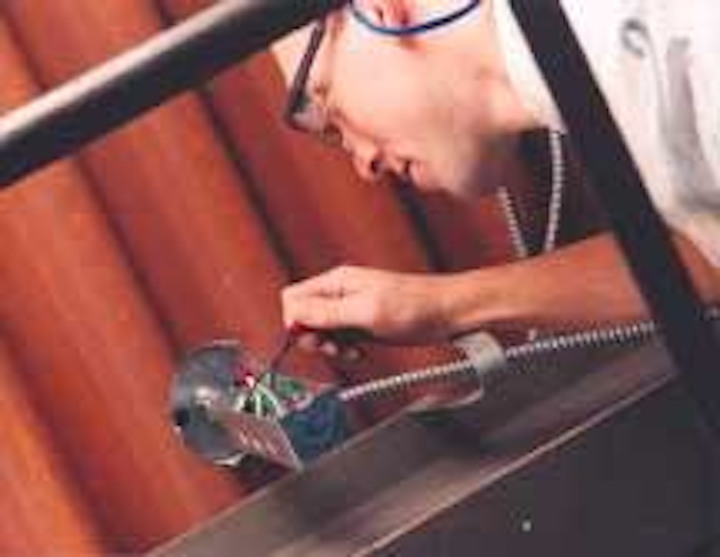 Proper firestopping in commercial and industrial construction across the nation remains at the forefront of concern among manufacturers and educators, and many building owners are becoming increasingly aware of the need to address life safety issues during the initial phases of design and construction.
Fire-rated walls and floors must resist the spread of fire for a specified period, and firestopping seals holes in those walls made by cable, pipes, and other penetrations. Codes state that a firestopping system must restore the hourly fire rating of a wall or floor, and ASTM and UL standards are used to establish suitability for firestop products in specific applications.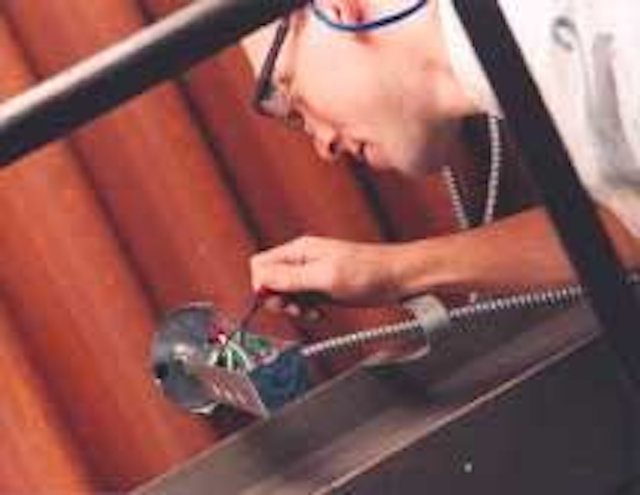 Historically, poke-thru devices did not have firestopping capabilities and contractors were required to install firestop material to meet code requirements.
Source: The Wiremold Company
Click here to enlarge image
Mechanical firestop products are pre-sized and shaped to fit around cables, while non-mechanical products include putty, caulk, blankets, and other materials that can be molded to fit into an opening. Some of these products are intumescent, meaning they swell within the penetration when exposed to heat and seal the opening.
Many contractors continue to look for firestopping devices and materials that save time and money (see table, page 44), but firestopping professionals also believe the solution to ensuring properly installed firestop systems is a significant shift in industry thinking.
Quality protocol
"The biggest obstacle to the growth of quality firestopping is the lack of licensed contractors that specialize in firestop systems," says Dick Lintelman, general manager with Nelson Firestop Products (www.nelsonfirestop.com). According to Lintelman, the number of firestopping contractors is miniscule compared to the amount of construction. "There are also many in the construction industry that still resist the idea of firestopping," says Lintelman. "Some believe a sprinkler system is sufficient, but they don't realize that it's not always the fire that kills people; it's usually the smoke and toxic fumes."
The Firestop Contractors International Association (FCIA, www.fcia.org) is a non-profit association of building construction contractors with a specific interest in the installation of firestop materials and systems. According to executive director Bill McHugh, firestopping is a zero-tolerance situation that is best suited for an FCIA member contractor or FM4991-approved contractor. (FM4991 is the Factory Mutual Approvals Firestop Contractor Approval Standard that qualifies a firestopping contractor via office and field audits and designated responsible individual testing.)
"There's a precise protocol to performing accurate firestopping, and an approved contractor allows for consistency and value from both a life safety and economic perspective," says McHugh. While firestopping has dramatically improved in the past 10 years, firestopping contractors are not always specified during the construction process, and many states and jurisdictions do not require a firestopping license. "Anyone with any type of construction license can install firestopping," says Lintelman. "If there's a problem with the electrical or the plumbing, the general contractor knows to go to the electrician or the plumber. But when five or six different entities are installing a variety of firestopping systems, it's difficult to know who installed it correctly and who didn't."
Specifying firestopping as a prime contract of the construction process is one answer to increasing the number of licensed contractors and ensuring properly installed systems. "We don't want to take work away from other contractors," says Lintelman, "but if they want to do their own firestopping, isn't it obvious that they should be licensed to do it, especially when we're talking about a life safety issue?"
Know enough
Although specifying an approved firestopping contractor may be the best approach, the fact remains that many contractors—including datacom cabling installers—continue to perform firestopping. "A lot of datacom cabling is done after the other trades have left the building," says Mike Tobias, CEO of Unique Firestop Products (www.uniquefirestop.com). "That's when we should take a minute to step back, open ceiling tiles, inspect fire walls, and question whether people will be able to get out of the building fast enough."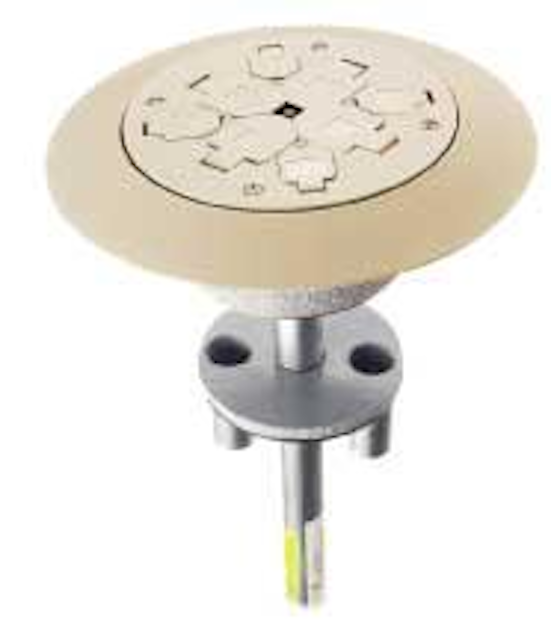 To eliminate the possibility of contractor error, a ring of intumescent material is integrated into today's fire-rated poke-thru devices.
Source: Hubbell Premise Wiring.
Click here to enlarge image
One practice that concerns Tobias is the cutting of large-sized holes for running cabling through firewalls. "Because it's difficult to properly firestop and maintain large holes, it's often done in an inferior method, which is not good for the owners, the occupants, or the contractor who can end up with the responsibility," says Tobias. "A series of smaller holes with sleeves is better for running cable."
Because smoke and toxic gases flowing through a building are as much of a danger as the fire itself, manufacturers have the option of UL-testing their firestop systems for the passage of air to receive a voluntary "L" rating. The "L" rating measures how much air flows per cubic foot, per minute, and per square foot of an opening area. "Systems that do not provide a seal around each cable in a penetration usually have lower "L" ratings," says Gerald Thomas, vice president of sales for Roxtec, Inc. (www.roxtec.com). "While systems with a lot of bundled cable assemblies may be proven to contain fire, they don't thoroughly eliminate the passage of smoke and toxic gases."
Sleeves are commonly installed in data-communications penetrations and, according to Thomas, exceeding the recommended percentage fill of a sleeve is a dangerous situation. "The greater the fuel source [cable], the higher the potential is for failure," says Thomas. "To ensure proper installation, it's important to refer to the manufacturer's or third-party test assembly instruction." Sleeves require more room due to spacing requirements, but when installed correctly, Thomas says, they can offer benefits for the datacom industry: "Using the number of sleeves required for the volume of cable and additional sleeves for future pulls helps prevent the overpulling of cable in existing penetrations during moves, adds, and changes."
Saving labor
While involved in promoting proper firestopping, manufacturers also strive to introduce products that make it easier and less time consuming. "When a contractor looks at an opening in a wall, he knows he has to use a certain amount of firestopping materials regardless of whose product it is, so the only thing to save on is labor," says Lintelman. "That's why virtually everyone strives to have their product be the easiest and fastest to install."
Firestopping products designed specifically for the communications industry are intended to support faster installation, cable management, and reduced cost during futures moves, adds, and changes (MACs). This year, Specified Technologies, Inc. (www.stifirestop.com) launched the EZ-Path Fire-Rated Pathway for datacom applications. "The EZ-Path solution needs no additional firestopping material and allows for removal and addition of cable," says Ray Bruno, marketing vice-president for Specified. UL-classified and FM-approved for up to 4-hour rated floors and walls, the EZ-Path consists of a galvanized steel pathway and wall plates lined with intumescent materials.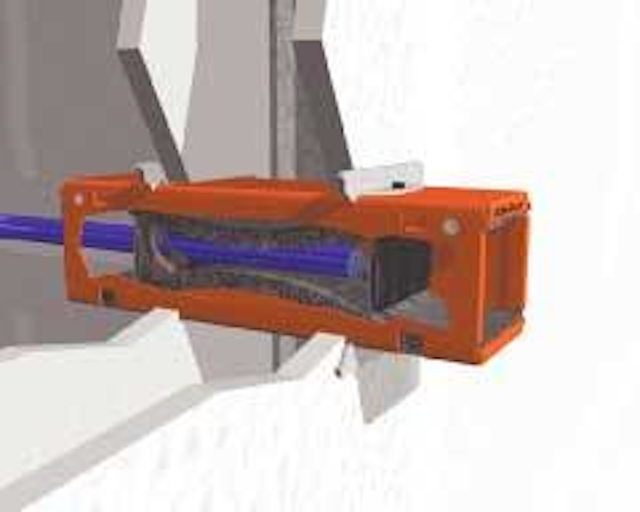 Introduced this year, the EZ-Path fire-rated pathway requires no additional firestopping and allows for cable removal and addition.
Click here to enlarge image
According to Bruno, the EZ-Path is compliant whether empty or 100% visually filled, which is a new concept in firestopping. "EZ-Path is completely out of the box, and building owners love that you can put them in ahead of time," says Bruno. "Because you can pull them out and put them back in, the EZ-Path pays for itself after the first MAC." The EZ-Path is designed to fit into a 4-inch core hole and remains low leakage, unlike conventional sleeves that are noncompliant when empty or when cable capacity is exceeded. EZ-Paths can also be ganged in threes for expansion or segregation of cables for cable management.
Manufacturers of fire-rated poke-thru devices are also striving for ease of installation. "Historically, poke-thrus did not have firestopping capabilities and contractors were required to install firestopping materials to meet code requirements," says Ray Rodden, product marketing manager for Hubbell Premise Wiring (www. hubbell-premise.com). "To eliminate the possibility of contractor error, a ring of intumescent material is now integrated into the poke-thru, making the unit as a whole fire-rated."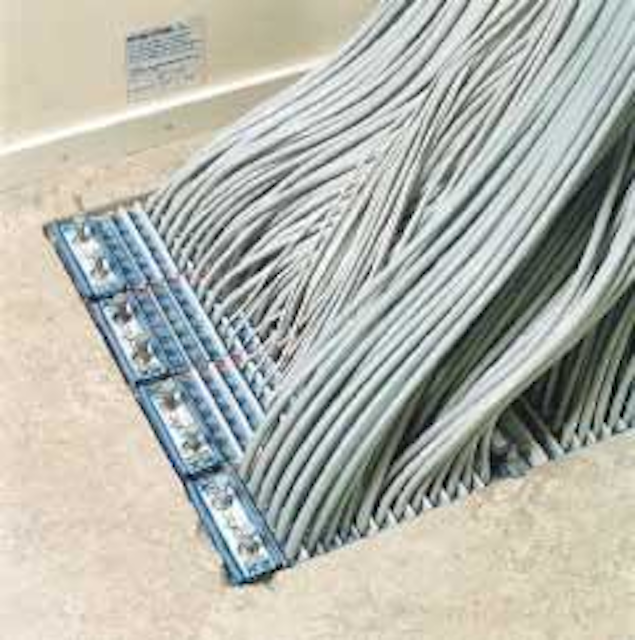 Some products designed for datacom networks, like this system by Roxtec, combine sealing with efficient cable management and fire-stopping qualities.
Source: Roxtec, Inc.
Click here to enlarge image
Generally used to provide power and data connections in the floors of open environments, fire-rated poke-thrus must be properly installed to maintain fire rating. "To maintain a floor's fire rating, you cannot modify or put more cables in a poke-thru than it's designed to accommodate, and they can only be installed every two feet on center," explains Rodden.
In June, UL introduced a new scrub-water standard for fire-rated poke-thru devices, requiring all manufacturers to redesign their products. "Because any material that you add to a device can affect how it performs in a fire test, each poke-thru device redesigned to meet the new scrub-water standard had to be re-tested for the fire rating," says Mike O'Brien, product business manager for The Wiremold Company (www.wiremold.com).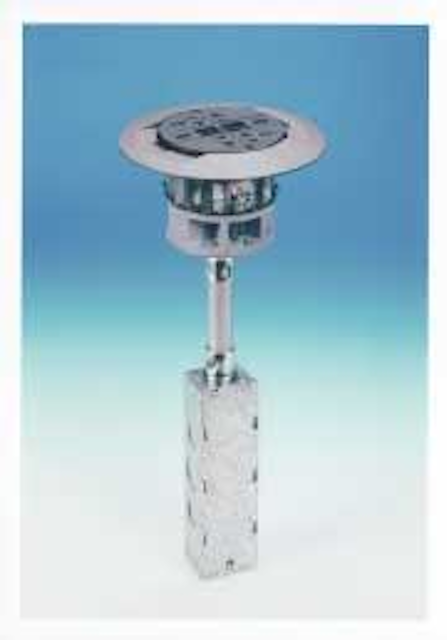 In June, UL introduced a new scrub-water standard for fire-rated poke-thru devices, which required redesign and retesting for fire rating.
Source: The Wiremold Company
Click here to enlarge image
Adds Rodden, "As the number and diversity of applications increases, we're offering more options for multimedia applications and fiber to the desk. The capacity will always be limited by the need to meet the UL fire rating."
Today's high-capacity poke-thru devices fit into a 4-inch core hole and provide four power and four data connections.
Consequential reminders
Manufactures, specialty firestopping contractors, and educators agree that regardless of who is installing firestopping systems, it must be done properly and in accordance with the ASTM- and UL-tested and listed system documentation.
"Engineers have more design considerations than they did three years ago, and they should not be tolerant of improper firestopping or money-saving substitutions that impact the safety of a building," says Roxtec's Thomas. "Detailed documentation can help prevent any miscommunications as to what firestopping should be used and what can't be used."
The FCIA's McHugh adds that it's not just a product that makes a firestop system. "Firestopping is an assortment of material put together and tested as a system," he says. "It's the combination of cable, whatever firestop material you're using, the wall or floor, and a proper installation that makes a true firestop system."
Click to download Firestopping Devices and Materials {pdf size=20Kb}
Betsy Ziobron is a freelance writer covering the cabling industry, and a regular contributor to Cabling Installation & Maintenance. She can be reached at: bziobron@comcast.net