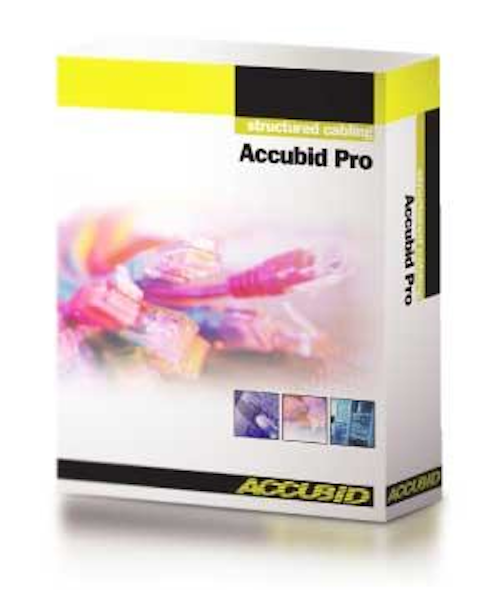 Contractors who are working in the structured cabling realm say estimating software solutions are helping them streamline a process that has until now been very difficult. Many who have used Excel spreadsheets in the past to come up with a comprehensive bid estimate agree that these and other efforts are primitive compared to the benefits of today's software programs.
"Before, it (the estimating process) was a dartboard," says Chris Payne division manager for Contra Costa Electric (Martinez, CA). "We found flaws in those programs, and it was up to you, the contractor, to put all the information in there."
Today's estimating programs, however, are designed for efficiency, accuracy, and saving time. Estimation software is designed to provide the contractor with functions that enable an attractive proposal, and produce bid summaries for end users. Some, like McCormick Estimating programs, are now offering PC-based products that are scaled-down versions of their main software system.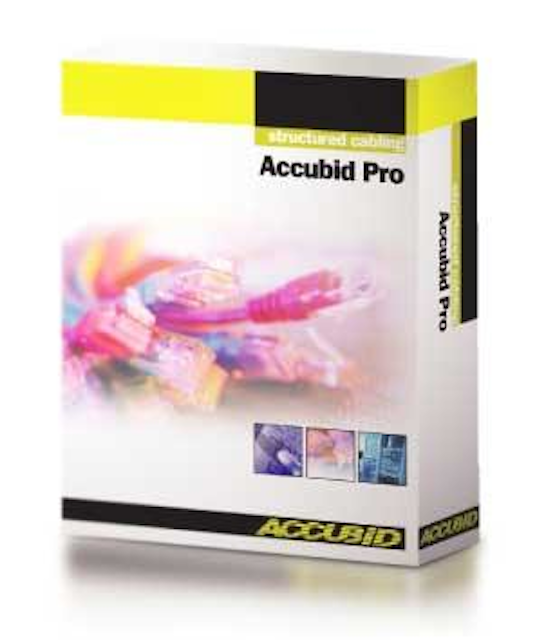 Click here to enlarge image
null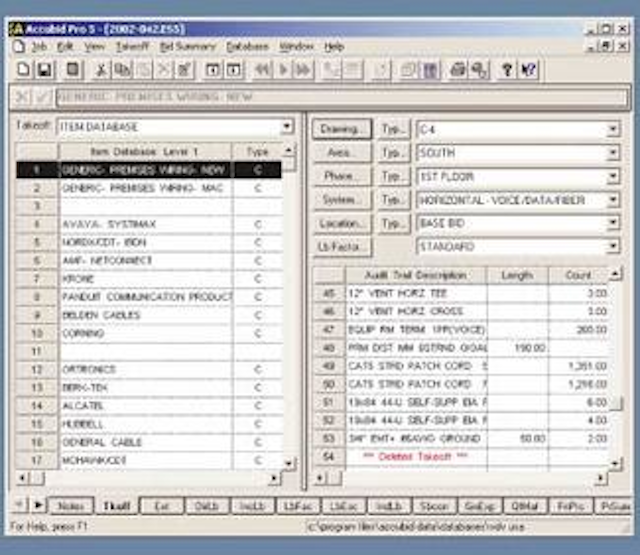 Software from Accubid Systems includes a ChangeOrder program that helps you assess the entire project, pricing not just labor, material, and equipment, but also clean-up, material handling, overtime, and relocation delays.
Click here to enlarge image
null
"I look for a program that is comprehensive on the structured cabling side, and that has been missing from the structured cabling world," says Payne. "There has been a lot of programs out there for the electrical side; they've been great for that," Payne continues. "But not all have tried to get involved in the structured cabling side."
The software forms estimates based on product SKUs and specific pricing, which let you find your favorite cables, connectors and cable management products in the database.
Database magic
The efficiency comes when the software helps streamline the process of estimating, bidding, creating bills of materials and managing the manifold aspects of a job. Instead of conducting manual calculations, consulting books or labor units, you use the software to consult a database. Using a computer, you can list a bill of materials and read a blueprint, conduct take-offs, or count workstations that need to be wired, and then accurately price all labor and equipment.
"Once you have created a database and all the components you require for the jobs, you assign the price of labor to it," says Giovanni Marcelli, president of Accubid Systems (Toronto, Ontario). "Anyone in the camp can do similar take-offs and arrive at similar values."
Estimating software systems also let you break down a potential cabling job into different components; for example, the cost of cabling a multi-story building on a floor-by-floor basis. This feature helps you come up with breakdowns required for an accurate and detailed work schedule, getting the information needed to conduct material management and coordination.
The systems let you know if you are progressing according to budget and help a foreman establish the expected hours of a given area of installation. Software can include granular product tracking or database, take-offs, or workstation counts that can lead to an accurate bid, reporting capabilities and labor time-estimating. You can call up details on areas or systems, and fine-tune each line of take-off.
Contractors and installers interviewed by Cabling Installation & Maintenance say they are seeking estimating software solutions that are user friendly, not overly convoluted or complex, and that are committed to the structured cabling industry. Here is an overview of how some software manufacturers are responding:
Assessing the entire project
Accubid Systems (www.accubid.com) offers a line of estimating software products, including Accubid Pro, BidWinner Plus and BidWinner.
The Accubid ChangeOrder program helps you assess the entire project—not just labor, material, and equipment, but also clean-up, material handling, overtime, relocation delays, and additional supervision and project management. The ChangeOrder products are designed to guide you beyond the direct costs and the defined scope of work to assess indirect costs.
"I think one of the biggest things that separates it from other products is that the estimator has the ability to accurately, and efficiently conduct take-offs," says Gary Rutledge, product industry advisor and product trainer for Accubid Systems. "We have a large organization of materials in our database."
"The estimator can say, 'I want to take off a workstation.' He can define the type of plate he will use, what jacks will be in the cable, and if he needs Category 3, 6 or 5e,'" says Rutledge. "That way, he will be assured of not missing anything. It increases an estimation's speed considerably."
Rutledge says Accubid can provide an overall cost summary, analyzing the entire project floor-by-floor. Accubid's structured cabling/VDV database includes approximately 51,000 items and 53,000 assemblies. "I could (use Accubid) to tell you it will take a thousand hours to do this job, or we can sort out the project based on the labor involved in the job," says Rutledge.
"If you or I are a successful contractor, we need this information to manage the job properly," Rutledge continues. "This [program] will break it down further and further, look at the amount of labor needed and the materials you need on each floor."
Payne used the Accubid products to price out a structured cabling system for the CalTrans district headquarters in Los Angeles. The 16-story high-rise required high-speed copper and fiber cabling to serve some 4,000 workstations.
"We went through and got the specs, and did a physical take-off of the different floors for horizontal and riser cable," says Payne. "We put it into the computer and came up with a final price that showed the breakdowns."
Payne says it took roughly a day and a half to input all of the information into the program. In the end, his team won the bid for the $1.4 million job. "I've seen customized Excel programs out there, but there is nothing that remotely touches this," he says.
Adjusting costs as you go
Estimating software from ConEst Software Systems (www.conest.com), based in Londonderry, NY, offers an auto-labor factor that adjusts installation costs as you install. If you're pulling three cables at once, for example, the software will reduce the labor by 20% due to duplication. This eliminates having to make manual adjustments during installation.
"It amounts to letting you work on a low ceiling," says George Hague, president of ConEst Software Systems. "If you are up 20 feet in the air, it will take you a little longer to pull that cable in. It will add 10% more on the labor because of the height."
ConEst provides electrical and cabling contractors with three estimating solutions: IntelliBid Lite, IntelliBid Plus and IntelliBid Pro. Each level comes with an industry-smart, electrical database of more than 23,000 electrical material items with more than 22,000 pre-built electrical assemblies. The system also offers a voice/data/video database called DataBid.
IntelliBid Pro, for example, is designed to easily generate change orders, letting you create an estimate within the original estimate without having to open and track a separate job. Use the information to link the estimate and change order to the project management software, JobTrac, so you can track the project and changes to the original contract.
The system can also take into consideration changes in working conditions, allowing for adjustments in labor units. And, the solutions can break down different areas of a project, showing overtime costs and shift differentials.
"[The software] can apply this portion of the job to our overtime rates or apply shift differential rates, or apply regular rates," says Hague. "It separates these hours from the take-off process so the correct labor rate is applied to those hours."
The ConEst solutions also provide labor classes, showing labor rates on different scales; for example, how technicians who complete the technical portion of the job will be charged more for their work.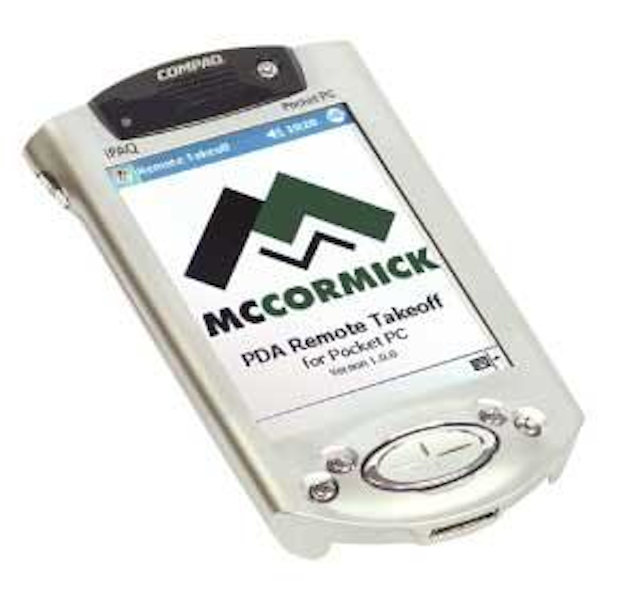 McCormick Systems Inc. manufactures software that can be used as a simple one-window take-off system or a multiple-window system for faster take-off. The product offers bid labor, and also 3 to 5 additional labors that may be used for change orders.
Click here to enlarge image
null
"A technician will get more per hour than the person who does the pipe and wire, so the system allows for breaking them up into two different labor classes," explains Hague. "The hours for the technical portion of the job are separated, so you can extend them out to different rates and costs."
The ConEst solution includes a program called the Lost Labor Calculator that lets you set up a number of resources in each of your crews; you can then input a start and finish date, determining whether the work can be done with the resources and crews by the finish date. The system will then kick out the number of hours, unscheduled overtime, scheduled overtime and anything over and above normal business hours. "This [program] can calculate how many hours per day you will need to have your crew working overtime, and then run it through a labor fatigue calculation," says Hague.
Check, please
RapidBOM Estimating System, by Catalyst Data Inc. (www.catalystdata.com) of Athens AL, is billed as a complete network estimating system that automatically creates a bill of materials (BOM), pricing, and labor costs needed to design a network.
RapidBOM contains materials and cost information from cabling manufacturers and distributors, as well as labor rates. In fact, the system has more than 85,000 products available in its updateable database.
While performing a facilities walk-through, you can create a bill of materials by entering information into a RapidBOM-loaded laptop concerning cable lengths, closet distance, cable type, and network closet placement. The RapidBOM system can then calculate the material cost, based on the number of drops, cable distance, cable type, number of closets, and other pertinent data.
When the walk-through is completed, you can calculate materials and labor costs and determine the associated part numbers needed. This information can then be used to quote the job and generate a bid, or to submit an RFQ to distributors for quantity pricing.
RapidBOM is designed specifically for voice/data installations, and lets you design the network as you go while at the same time provide estimates via an iconic representation of the installation space on the laptop display. "You can see each closet, each room, and then expand on the drawings to see what is in each closet," says Tim Wilbanks, president of Catalyst Data Inc.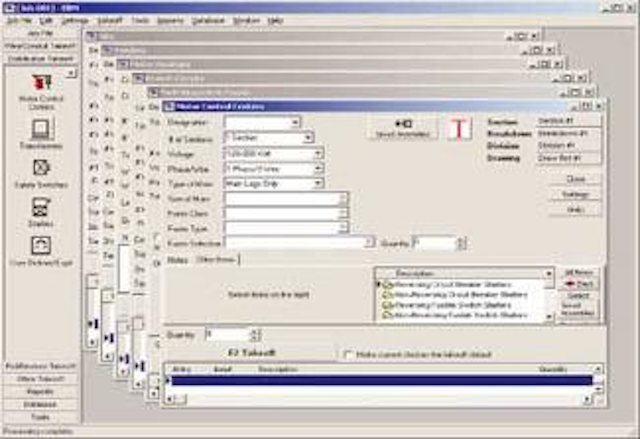 VisionInfosoft manufactures Electrical Bid Manager, billed as being easy to use, with easy-to-read screens available for take-off designs.
Click here to enlarge image
null
You can view EIA/TIA BICSI standards, create a bill of materials from the products selected, and then compare the products to the standards to see if there are any deficiencies in the design. Finally, RapidBOM will verify the design, calculating the work area outlets and showing the appropriate number of terminations for copper and fiber.
"It checks you at every level at EIA/TIA standards for making sure you are working according to those standards or specifications," says Wilbanks. "It looks over the shoulder of the user."
With RapidBOM, you can go to an online catalog to add racks, cross-connects, and closets. The system also lets you send quotes by clicking on a bill of materials, checking the products against existing standards, then creating a spreadsheet report and breaking it down project-by-project to show costs of labor, materials, and individual components.
The system will also let you change labor costs, units, rates, materials and travel expenses. It can also display a market analysis report, showing direct costs for equipment, sub-contractors, taxes, and material.
A CAD advantage
McCormick Systems Inc. (www.mccormicksys.com), based in Chandler, AZ, manufactures software that can be used as a simple and easy one-window take-off system, or a multiple-window system for faster take-off. The product offers bid labor, as well as 3 to 5 additional labors that may be used for change orders. The McCormick system also contains a labor multiplier that may be used according to different types of cable installations or difficulty.
The McCormick system includes an electrical/datacom estimating system that has a Computer-Aided Design (CAD) program so you can take a CAD drawing from an architect or engineer and add the structured cabling system.
"That extra benefit is that our CAD Estimating system will perform accurate counts," says Richard Manrod, applications support and trainer for McCormick Systems. "It's not uncommon for an estimator, in electrical or datacom, to make a manual error. Sometimes, items are omitted. Sometimes, errors creep into things like the number of linear feet of a cable run. That doesn't happen with McCormick's CAD Estimating. The accuracy is 100%."
Manrod adds, "If you forget to tell the system what a specific symbol means, you get a nudge from the computer-so, there are no omissions."
To help you submit an attractive proposal, the McCormick Estimating software contains a proposal form that can automatically pull information from the estimate. The software contains a graphing feature so that you won't need to export numbers from the system and use them in another program to produce graphs.
The solution also includes scheduling software, and an on-screen Edit Extension, which lets you make last-minute adjustments to estimates. You can also run "what if" scenarios on the final bid summary. Once an estimate is finalized, you can use the information to look at different ways to do the job.
"He [the contractor] can say: 'What if we suggest an alternate using fiber optics instead of copper? What happens to the price?'" says Manrod. "What-if games enable a contractor to submit a 'best bid'—the one that best serves the customer while also protecting the contractor from a potential loss."
Off and running
VisionInfosoft (www.visioninfosoft.com), based in Carlsbad CA, manufactures Electrical Bid Manager. The company bills the software as being the easiest of its kind to use, with simple-to-read screens available for take-off designs.
"We get the user up and running as quickly as possible," says Brian Heffelder, training director for VisionInfosoft. The system's database provides two price levels and three labor columns that help you learn how long it will take to install cabling and components, and price it accordingly.
"The target price is something that can be very readable," says Heffelder.
Click to download Product Update: Estimating Software [pdf size=64Kb]
Brian Milligan is senior associate editor for Cabling Installation & Maintenance.