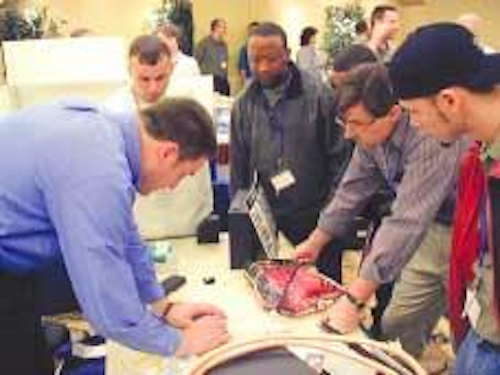 Contractors today are calling on distributors to step up their efforts to provide them with training on structured cabling installation.
If they do, contractors say, distributors will take a large step toward returning to their core directives of price, service and availability. And this step will help build a much needed bridge between installers and the distributors that serve them.
To jumpstart the training, contractors interviewed by Cabling Installation & Maintenance say distributors must make a conscious effort to hire more full-time voice/data specialists. Such training—long considered a tertiary role at best for distributors—has taken on new importance with the arrival of more complex Category 6 cabling. Contractors describe their relationships with today's distributors as hopeful, but still in need of change. And their needs are simple, but imperative.
"They (distributors) are aligning themselves with us, and meeting our needs," says Ken Sollie, information technology specialist for Kitsap County (www.kitsapgov.com), Port Orchard, WA. "But we need to have more knowledge of the products they are selling."
Training problems are intensifying in today's market as contractors try to help end users make the leap from Category 5e to Category 6. Training is needed to help fortify installers, many of whom are already receiving training from manufacturers, but who need still more direction as they leave a distributor's shop and head out into the field.
"Today's contractor is too busy to try and keep up with technology," acknowledges Ed Constantine, product manager for structured cabling for ADI (www.adi-dist.com), a distributor based in Melville, NY. "They expect the distributor to be ahead of the curve, and say, 'This is what's happening in your world.'"
"I believe the distributor needs to step up to the plate," agrees Randy Guhl, vice president of sales for Accu-Tech (www.accu-tech.com), based in Roswell, GA. "It (training) is a value add, and we have to be more than a fulfillment center."
But some say the responsibility does not lie entirely with distributors, and that contractors share much of the responsibility for mending what can at times be a tense relationship. Contractors and the cable installers who work for them need to make their needs known to distributors, while distributors of all sizes need to hire adequately trained personnel who can direct contractors and installers to the quality cable and components that are now being demanded by end users.
"The distributor out there is doing a good job, but it could be more," says Ron Molgaard, an instructor for Elizabethtown Technical College (www.kctcs.edu), based in Elizabethtown, KY.
"From what we've seen, in order to get the quality of data transmission up, they are going to have to do more," adds Doug Brockman, also an instructor for Elizabethtown Technical College.
Aligning with distributors
Cable installers are continuously looking for distributors that can offer them competitive pricing, product availability and service—aligning themselves with distributors who will treat them as partners.
The good news, contractors say, is that distributors have come a long ways when it comes to offering product selection, inventory awareness and replenishment, logistics, and Internet capabilities. In some cases, distributors are going the extra mile by offering leasing programs that will help a contractor's customer pay for an expensive product. Some offer incentive programs that encourage contractors to buy their products.
Contractors and manufacturers alike say they are delighted that distributors are taking an interest in the Internet, offering Web pages that can help connect with contractors as they seek orders. But contractors add that many of these sites too often indicate solutions and stocking availability, but little else. They say they could use information about what products are compatible with other products, or would help the latest cabling systems work efficiently.
Working to change an image
Distributors say they are working hard to change their image. Many are now holding training sessions across the country that are designed for contractors. The sessions, to a large extent, focus on Category 6 cable and its proper installation.
"We do a lot of ad-hoc training for our contractors; hands-on installation type stuff," says John Crandell, vice president for integrated supply for Anixter, Inc. (www.anixter.com), based in Skokie, IL. "It's important, primarily because a lot of times these contractors need to become familiar with new products. The manufacturers do a good job of training, but there are more of us (distributors) out there than manufacturers."
Fiber Instrument Sales Inc. (www.fiberinstrumentsales. com), based in Oriskany, NY, holds training courses in two cities each month. Kirk Donley, strategic accounts manager, says contractors' interest in these sessions is growing, with more and more of them seeking to learn how to splice and connect fiber. "We build relationships," says Donley. "We are growing in these areas."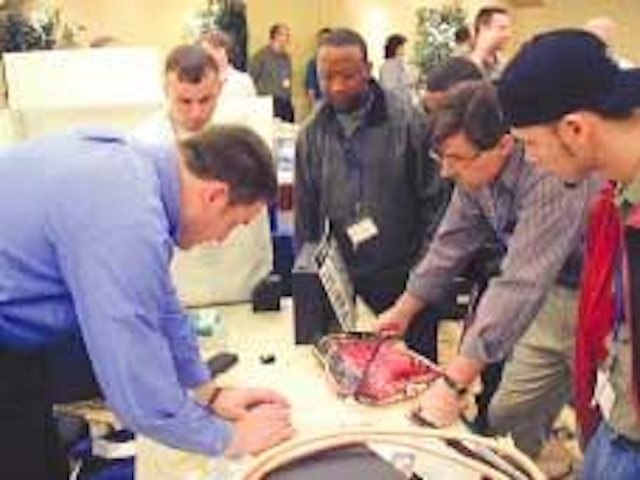 Representatives from Corning Cable Systems demonstrate a unicam fiber connector for contractors attending the Graybar Technology Showcase in Columbia, MD.
Click here to enlarge image
ADI also sponsors regional training sessions—run by manufacturers' representatives—for contractors 36 times each year. The sessions are considered mini trade shows.
Graybar (www.graybar.com), based in St. Louis, MO, has nearly 200 certified voice/data specialists on staff. Each year, the specialists receive updated training at a national comm/data conference. "They are trained to sell and how to install. They have a high level of certification on how to install products for the end user," says Al Eddings, vice president of comm/data products.
Despite all of these efforts, the relationships between contractors and distributors can sometimes remain strained, at best. Some contractors say that distributors will sell goods to them, but the size of the order in the end will earn them the most favors when it comes to pricing and other rewards.
"It's because we're not a big volume user," says Molgaard. "They don't want to be bothered with the small orders. Contractors will set up an account with a distributor, but you can't say they will always get treated fairly."
Others say they have actually lost installation projects because an unscrupulous distributor led another installer to the project, or sold the end user material directly.
Edward Donelan, president of Telecom Infrastructure Corp. (www.telecom-wiring.com), based in Brewster, NY, says that, too often, distributors will require contractors to tell them where they will conduct an installation. The distributor can then be free to contact the end user and sell them the material direct, cutting out the installer and any profit they might have made on the sale. In some cases, Donelan says distributors have even cost his company an installation job— the distributor helped another contractor win the bid for a given project.
"Distributors need to clean up their act if this business is to be what it used to be," says Perry Buffington, an installer for Protocol Communications Inc., based in Milford, OH.
Today's components
Tension seems to be building anew as installers find themselves working with the newly ratified Category 6 cable and its components. Installers, who are just now becoming familiar with the cable, say high-end distributors are hiring voice/data specialists on staff, and working with contractors to provide them with the training they need on the latest products. But installers say they, too, are in need of proper component installation training. An improperly installed Category 6 system, they say, can result in a much shorter bandwidth margin, making a Category 6 cabling system only as potent as a Category 5e system. And end users will not be satisfied with those results.
"The installer of the Category 6-compliant cable system right now is not the same-old, same-old," says Donald Nicholson, general manager for global cabling products testing for Intertek Testing Services (www.etlsemko.com), based in Cortland, NY. "Installers' procedures out of required TIA documents have to be followed to the letter to ensure the Category 6 performance. You can't hodgepodge."
Some contractors say this is where distributors can add "service" to their offerings. Since distributors are their last stepping stone before making their way to the end users' facilities, contractors say that when they make the purchase, distributors need to also help them match component with cable. And many distributors, they say, are falling short when it comes to structured cabling knowledge.
Brockman says the knowledge stops or starts with voice/data specialists. He believes that most of the high-end distributors have ample voice/data specialists on staff who can assist contractors when they are making their purchases. But smaller, regional distributors are falling short when it comes to hiring these specialists.
Installers are not the only ones who've noticed. End users say they have, on occasion, been pressured to buy products from distributors that they know they do not need. A voice/data specialist on staff, they say, could have made a difference.
"I've had distributors tell me that I need Category 6. But I don't need Category 6," says Mike Lopez, telecom systems analyst, information technology for Catholic Health Initiatives (www.catholichealthinit.org), based in Tacoma, WA. The hospitals under Lopez's administration have a solution that includes copper for voice and data. The administration is attempting to upgrade part of the system to 50-µm optical fiber during the next year.
Manufacturers respond
Some manufacturers say they recognize the tension and are trying to work with distributors to rectify it.
But some believe that distributors need to stick with what they do best—distributing structured cabling products. They say that distributors are, by their very nature, a biased source, and that any attempt to train contractors in product use could be construed as an attempt to sell products. They also say that distributors' staff members are too often under-trained in a given product and so should not attempt to provide the installer with instruction.
Instead, manufacturers' representatives say the real training should come from organizations like BICSI (www.bicsi.org), the Category 6 Consortium, the TIA (www.tiaonline.org) and, ultimately, the manufacturers who build the products.
Brian Milligan is senior associate editor for Cabling Installation & Maintenance.