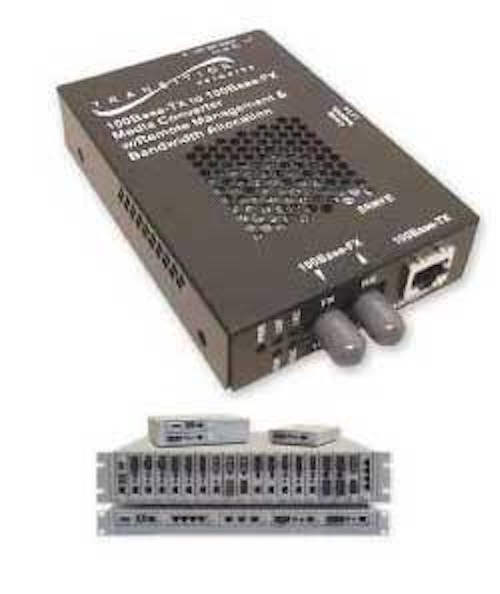 End users whose cable networks are straining at the leash are turning to contractors to install media converters so they can inexpensively extend fiber to remote locations.
Low-cost media converters are being used to comfortably upgrade backbone speeds to effectively run networks at 10 times the speed of their backbone connection. They help increase bandwidth and connect more users to the network.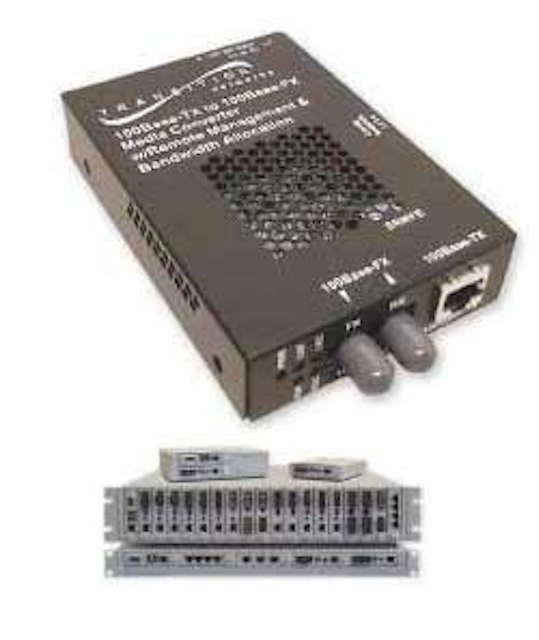 Click here to enlarge image
Media converters are also a less costly alternative to ripping out an old network and replacing it with a new one.
Tom Bushong, a technical support representative for RAM Electronics Industries Inc. (www.ramelectronics.net), based in Pennsauken, NJ, describes this process as the "Frankensteining" of a network. "They [media converters] will be around for a long time," says Bushong. "People can't spend the money to go to newer technology every year. Any time there is a need to upgrade in some way without taking out all the old equipment and replacing it with new, they will marry those technologies. That is what media converters are for."
Others say that media converters will be needed as long as end users have copper in their networks and find the need to extend those networks in a cost-friendly manner.
"I think there will always be a need to have a converter for fiber," says Patrick McCurdy, product marketing manager, industrial data converter product line for Phoenix Contact Inc. (www.phoenixcontact.com), based in Blomberg, Germany. "You'll have someone who has not planned for fiber requirements when they first did a network design, and then— whoops—they have to add a media converter to extend it."
What's hot
The most common media converters are still copper-to-fiber. Newer models are designed to accommodate almost any application, speed, and protocol for both inside and outside the LAN. They can convert from10 Mbits/sec, 100 Mbits/sec, or Gigabit UTP to multimode or singlemode fiber.
Here are some of the latest converter offerings:
AMP Netconnect (www.ampnetconnect.com), based in Harrisburg, PA, offers the 10/100 Mbits/sec Fast Ethernet Media Converter family. The compact units extend 10Base-T and 100Base-TX Ethernet LAN signals from Category 3, 5 and 5e cable.
GarrettCom (www.garretcom.com), based in Fremont, CA, now offers hardened 10 Mbits/sec fiber media converters for industrial applications.
IMC Networks Inc. (www.imcnetworks.com), based in Foothill Ranch, CA, makes the MiniMc 10/100 Mbits/sec switching media converter that features 10/100 auto-negotiation, making it both a media and speed converter.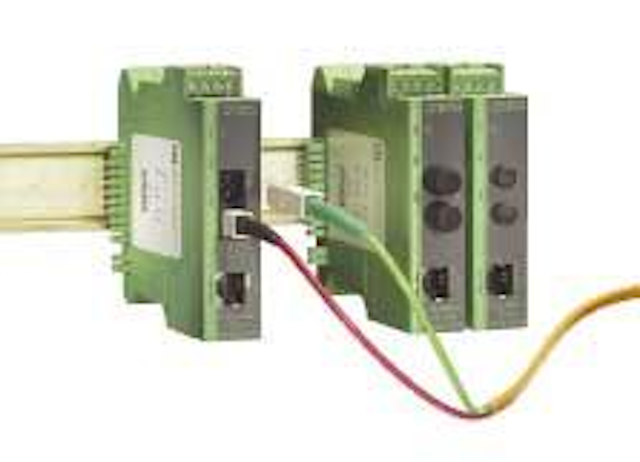 Media converters from Phoenix Contact convert 100Base-TX data signals from a copper interface to a 100Base-TFX optical-fiber interface, promising interference-free data transmission.
Click here to enlarge image
But not everyone sees a strong future for media converters. In a recent online Quickvote poll, Cabling Installation & Maintenance (www.cable-install.com) asked respondents how they characterize media-conversion technology. The majority of the respondents (33%) said they see the technology as a short-term fix that will not be around five years from now. Only 3% of the respondents said the technology is an effective means of implementing an optical-fiber system.
Still, of those that responded to the CI&M Quickvote, 29% said they see media converter technology as a long-term strategy for cost-effectively upgrading data speeds. And 24% of the respondents describe media-conversion technology as a tool whose potential is still largely untapped.
Many contractors argue in favor of that last point. They see media converters as a viable technology that has gone untapped but may now be gaining ground.
Distance extension?
Contractors, who once approached media converters as a temporary solution for users who wanted fiber in the horizontal or required link distances that copper would not support, now say media converters have evolved to become part of a permanent solution. And end users see them as being an integral part of their networks.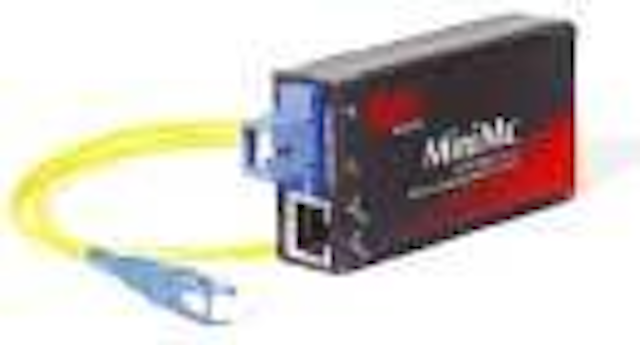 IMC Networks' MiniMc 10/100 Mbits/sec switching media converter features auto-negotiation, making it both a media and speed converter.
Click here to enlarge image
"They [end users] see this as part of a long-term plan," says Sev Sadura, product manager for Transition Networks Inc. (www.transition.com), based in Minneapolis, MN. The company has introduced a 10/100/1000 Mbits/sec media converter that converts the electrical signal of a copper Ethernet signal to fiber. "They will use it as long as they can because they are already invested in their copper equipment."
Conversion, however, is only a part of the picture; end users are also increasingly turning to media converters to extend their networks—integrating the technology with existing copper-based equipment to extend fiber networks beyond 100 meters.
"So, instead of throwing away the switch they purchased a year ago, they can keep it and still install fiber and use it in their network," says Sadura. "Distance extension becomes a form of the natural extension of fiber, while the converters integrate the fiber into the network."
Bushong, however, says it is a mistake to categorize a media converter as a booster for an optical-fiber network. "These are more for exactly what the name says: They take one type of media and switch it to another type of media," says Bushong. "They do extend their network to another building, but they don't use a media converter for that. They are not so much a booster as a converter."
Even so, media converters are being particularly sought after for cabling distance extension projects in industrial cabling installations. In these settings, optical fiber is an important network medium; unlike copper, fiber is not susceptible to electromagnetic interference (EMI).
"There are two reasons for a customer to choose fiber," says Phoenix Contact's McCurdy. "To extend the distance [of the network] and to be immune to electromagnetic interference."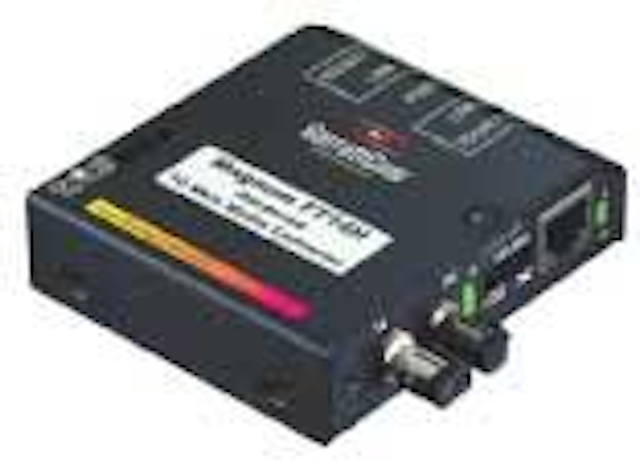 GarrettCom's Magnum FT14H is a "hardened" converter designed for industrial environments.
Click here to enlarge image
McCurdy says his company recently supplied converters for an installation project at a wastewater processing plant. Contractors needed the converters to network the control room with remote devices in field offices. If the contractors had been forced to use copper cable, the plant would have been limited to a maximum of 500 meters if they were seeking 100Base-T. But by using a media converter, they converted the copper over to optical fiber and increased the network distance to 10,000 meters.
Cutting costs
Contractors say media converters will have longevity because most end users strive to keep costs under control when they attempt to extend an optical-fiber network.
"In today's economy, that is the question that the company will ask the IT person: 'Why do we need to switch out when things are working fine right now?'" says Ron Thompson, director of systems development and training for Signamax Connectivity Systems (www.signamax.com), based in Miami, FL. The company's 065-1400 series Managed Switching Media Converters are modular SNMP-managed media converter cards available with a variety of interfaces to provide copper-to-fiber conversion for mission-critical networks.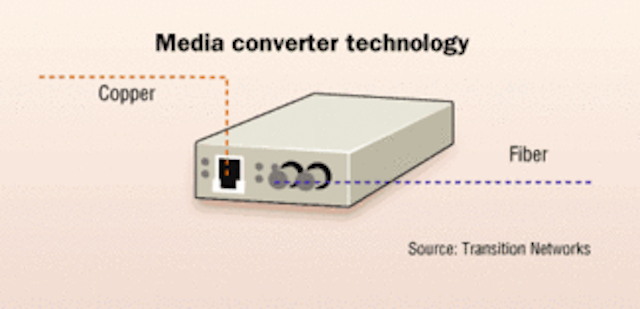 Media converters were created as a stop-gap measure to convert copper to optical fiber, and vice versa. But end users today are treating media converters as part of a long-term solution and an integral part of their network.
Click here to enlarge image
Thompson says media converters make the most economical sense when a company wants to extend its optical-fiber network. "This enables them to avoid making a complete changeout and the associated expenses, and they can extend the life cycle of the legacy equipment to which they connect," says Thompson.
Ed Ingersoll of Gainsville (FL) Regional Utilities (see "Going the distance," [below]) says his company managed to save thousands of dollars by using media converters during the installation: "A pair of media converters would cost me less than $1,000, particularly with new gigabit rings."
The Merrillville (IN) Community School Corp. (www.mvsc.k12.in.us) turned to media converters as a means of achieving redundancy without the high cost. Jay Shoup, telephone coordinator for Merrillville Community School Corp., says the T-1-to-fiber converters chosen by the installer were the most economical solution.
The school had previously used a set of multiplexers in the buildings in its central high school facility, where phone switching was completed. The district used two T-1 cables from each remote elementary school, middle school and junior high, sending the signals from a central system to each remote system through optical-fiber cables. Remote call boxes would connect the phones back to the central system.
The district decided to make changes when the number of failures on its multiplexers began to increase due to weakening output from aging lasers.
"Using a converter reduced our costs to $2,000 per school," says Shoup.
Brian Milligan is senior associate editor for Cabling Installation & Maintenance.
---
Manufacturers see converter interest moving toward Gigabit Ethernet
As contactors use media converter sales as a means of observing what end users are seeking for data rates, they can't help but notice how there is starting to be a slight tip of the scale toward gigabit speed.
Ed Ingersoll, senior telecommunications specialist for Gainesville (FL) Regional Utilities, says his installation team installs mostly 10-Mbits/sec and 100-Mbits/sec media converters. But one customer recently sought a Gigabit Ethernet converter, and he expects that more such orders will come.
The Merrillville (IN) Community School Corp. also may soon go to a Gigabit Ethernet backbone. "We'll go to Gigabit in the next two years at the latest," says Jay Shoup, telephone coordinator.
Jukka Rissanen, director of marketing for IMC Networks Inc., says that of the media converters sold by his company, 70% are 100 Mbits/sec, and the remaining 30% is divided between 10 Mbits/sec and Gigabit. Salvador Lara, marketing communications manager for Unicom Inc. (www.unicomlink.com), based in City of Industry, CA, says Unicom's Gigabit converter sales are "up and coming."
Some manufacturers readily admit that increased data rate speeds are not a big issue for their converters—yet. Patrick McCurdy, product marketing manager, industrial data converter product line for Phoenix Contact Inc., says his company manufactures the types of sturdy media converters that are used in industrial environments. Phoenix Contact's FL-MC industrial Ethernet media converter takes 100Base-TX data signals from a copper interface (RJ-45) and converts to a 100Base-T FX optical-fiber interface for interference-free data transmission.
McCurdy says end users who have industrial cabling needs are not typically seeking high data speeds that will let them download streaming video. Instead, most of his company's customers are seeking 10 Mbits/sec, while some are now using 100 Mbits/sec. "But it's just getting to that point," says McCurdy. "The biggest driver in the industrial world are the kinds of packaging and the robustness of the product."—BM
---
Going the distance
Chuck Mettille, an installer for Information Technology Infrastructure Constellation Energy Group (www.constellation.com), based in Baltimore, MD, recently used 10-Mbits/sec media converters to extend a fiber network beyond the 300 feet of copper at Brandon Shores Power Plant in Baltimore. By going this route, he says his installation team was able to save a lot of money.
"We use converters to extend the distances," says Mettille. "It's costly to put the fiber in, so we use media converters to extend it.
Sajid Hasan, an IT manager for Infinite Energy Inc. (www.infiniteenergy.com), based in Gainsville, FL, agrees that media converters may have been once thought of as a means of converting copper to fiber, but his company uses them to extend a fiber network."For us, it allowed us to connect over a bigger distance on a private network," says Hasan. "It's definitely an advantage for us."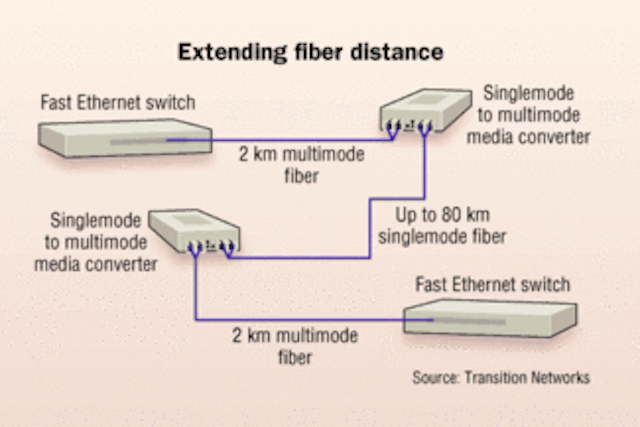 A singlemode-to-multimode media converter is used to extend the distance between two Fast Ethernet switches up to 80 km over singlemode fiber.
Click here to enlarge image
Infinite Energy Inc., a natural gas marketer, had four buildings it needed to tie together via an optical-fiber network. The company needed higher bandwidth than the 1.544 Mbits/sec offered through its existing T-1 lines. The buildings are all located in a seven-mile radius in Gainesville, and include the company headquarters and three remote offices. The company was seeking the higher bandwidth promised by a 10-Mbits/sec ring. "These would allow us to set up computers in each remote office, working as if they were in the main building," says Hasan.
Prior to the installaion, the buildings were connected through a leased circuit using T-1 media coverters between the main office and one remote location through the Gainesville Regional Utilities Synchronous Optical Network (SONET). The installation team connected two additional offices, bringing in the faster 10-Mbits/sec optical-fiber solution. A media converter was installed at each office, and the installers then used the converters to connect all four offices.
To complete the job, installers from Gainesville Regional Utilities (www.gru.com) used gigabit distribution rings for distribution around the city, and brought fiber off of these rings to the last mile through media converters. "It's a low-cost alternative for the last-mile service," says Ed Ingersoll, senior telecommunications specialist for Gainesville Regional Utilities.
Hasan says his company's growth pains will not end here. The company is now building two new additional buildings on the campus that will need to be part of the 10-Mbits/sec circuit-and possibly a 100-Mbits/sec circuit that may be built in the next two years.
Ingersoll says most of the end users who are seeking media converters today are taking the same approach—to extend their fiber networks to other buildings. A typical installation uses media converters to extend singlemode fiber to four or more remote buildings.
"That is where the future is: Deploying our SONET and Gigabit fiber rings into business parks and then fanning out from there, using some type of media converter to get it to the customer," says Ingersoll. —BM